Memoir is about handing over your life to someone and saying, This is what I went through, this is who I am, and maybe you can learn something from it.~ Jeannette Walls
Memoirs Authored and Signed by Saloma Miller Furlong
For many, the idea of growing up Amish sounds idyllic. A culture with a slower pace of life and less dominated by the fashions and technologies of the mainstream culture can seem so much simpler. Saloma Miller Furlong complicates this view in her memoir, Why I Left the Amish. She endured abuse from family members. Questions kept boiling up from within that no one would answer. She felt she didn't belong in the only community she knew. During her school years, she lived for what she was learning in school. Then came the abrupt end to her formal education when she was thirteen years old. The rule that children could not go beyond an eighth grade education was firmly rooted in the Amish tradition.
Readers find themselves rooting for Saloma as it dawns on her that there just might exist a different life for herself. She longed to see the beauty of Vermont she'd only glimpsed in her geography books in school, and in Vermont Life magazines. Discover how Saloma managed to find her way to Vermont in this story that offers a look into Amish life, yet is a universal story of leaving home and overcoming adversity.
Why I Left the Amish is out of print, but you can still buy copies while they last directly from Saloma.
Why I Left the Amish: A Memoir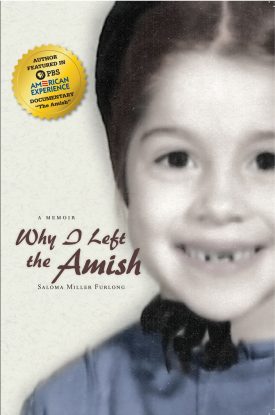 Price: #24.00 (includes shipping)
Bonnet Strings: An Amish Woman's Ties to Two Worlds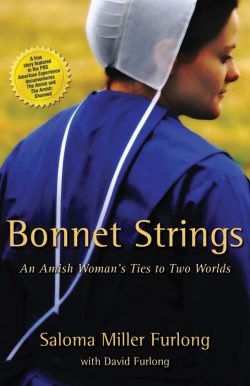 Price: $19.00 (includes shipping)
Bonnet Strings: An Amish Woman's Ties to Two Worlds continues Saloma's story where Why I Left the Amish left off. When Saloma stepped onto the porch of the YWCA in Burlington, Vermont, with a suitcase in each hand and less than $400 in her pocket to start a whole new life, she wondered what she'd gotten herself into. Before long she found a job as a waitress, made plans to take college courses, established a social life, and began dating a young toymaker named David.
After seven blissful weeks of courting, she came home from work one night to find a group of Amish at her front door with the intention of returning her to the fold. Saloma could not resist the ties that bound her to kin and culture, so she returned only to find herself torn between her loyalty to her family, and her longing for the freedom she had experienced in Vermont. The young toymaker wanted to continue the relationship, but she kept saying, "I'm Amish and you're not, this is impossible." In the end, she decided to take the hand that offered her love and the freedom of Vermont. Find out how Saloma and David persevered despite the wide chasm of their cultural divide.
Bonnet Strings was published by Herald Press in 2014. To buy a print copy, you can order from Saloma by clicking on the button. You can also buy ebooks from Amazon until the end of 2022.
You may also buy a copy of both Bonnet Strings and Why I Left the Amish for a discount of $5.00.
Price: $38.00 (includes shipping)
Liberating Lomie: Memoir of an Amish Childhood
Saloma is in the process of self-publishing her third book, Liberating Lomie: Memoir of an Amish Childhood, which replaces her first memoir, Why I Left the Amish. This revision contains mostly new material of her childhood years, though the ending chapters about her exodus from the community are similar to the final chapters in Why I Left the Amish.

Saloma's perspective has evolved and is reflected in this new telling of her story Liberating Lomie. The summer after she published her second memoir, Bonnet Strings, Saloma began wondering why she had omitted the abuse she'd endured at the hands of her mother (Mem), and realized she was still under the spell of believing that Mem was a martyr and a saint — a martyr for putting up with Saloma's father as her marriage partner, and a saint for being the "good parent" to her children. Mem had promoted this view of herself to all her seven children.
Nine years after Mem's death, Saloma was finally ready to take an honest look at what really happened. In her years-long struggle to come to terms with her relationship with Mem, Saloma takes an unflinching look at experiences she wasn't yet ready to face when she wrote Why I Left the Amish.
Saloma has been publishing excerpts of her memoir on her blog, About Amish. You can read those excerpts that start here.
Liberating Lomie will be published sometime in 2022. Stay tuned!
If you would like to have Saloma speak at your college, university, library, church, or other venue, you may leave her a message on her Contact Page.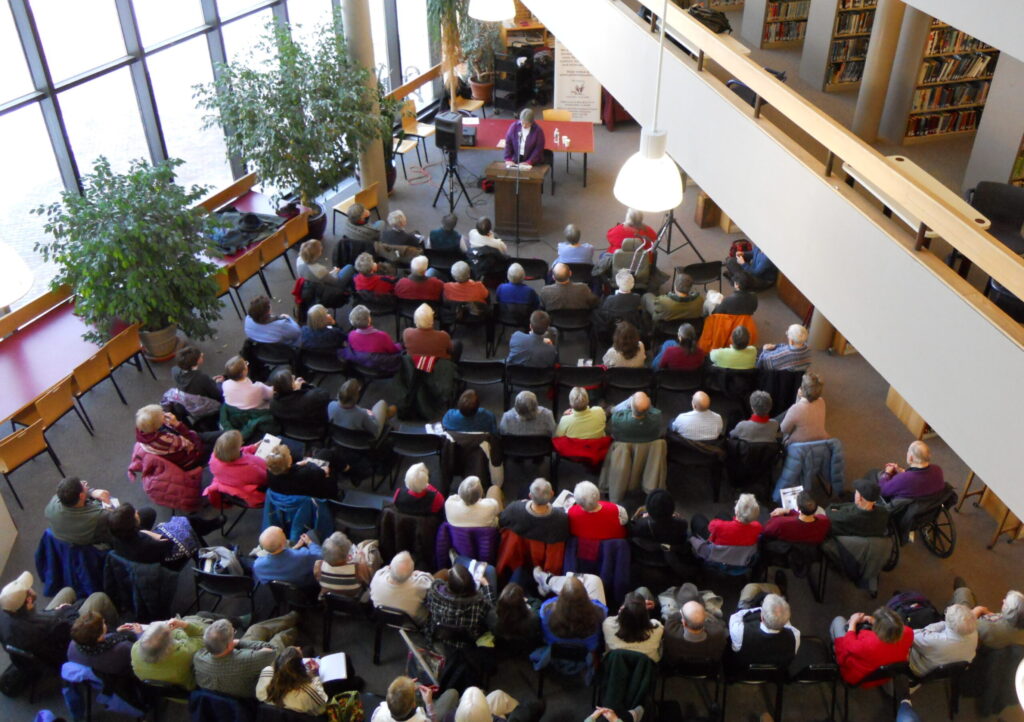 Photo credits: Landscape by Austin Curtis on Unsplash, portrait of Saloma signing books by Pam Munsell, photo of book launch by Barbara Lalancette