The clock just struck midnight. A year ago today, I was at my older sister Elizabeth's bedside. She had just died a peaceful death at twenty minutes before midnight. She had lost her four-year battle with cancer. We all thought she still had several weeks to go… after all she had been sitting up and taking nourishment the night before. But now she had breathed her last… so peacefully, compared to her tumultuous life.
Elizabeth and I were both blessed to have our Aunt Martha (our mother's younger sister) and two of our cousins show up literally hours before Elizabeth died. Aunt Martha talked to Elizabeth and the cousins sang hymns to her. Our aunts and cousins are Mennonite and had been close to Elizabeth ever since she had contracted her cancer. Because our cousins and aunt were Mennonite and we were Amish, and because they lived in Missouri and we lived in Ohio, we didn't know them well when we were growing up. We missed out — the people in Aunt Martha's family are such beautiful and loving people – they have become such good friends.
That Elizabeth's end was peaceful was indeed a wonderful blessing. As a child she was both difficult and misunderstood. I've mentioned before that our family was the black sheep family in our community, and Elizabeth was the black sheep of our black sheep family. We all thought she was slow, but when she died, I found surprises, such as records of her 4.0 GPA at the local community college and how she kept meticulous financial records. What I realized is Elizabeth was intellectually more intelligent than she was emotionally. I had never made the distinction. So sad not to have known before….
Elizabeth spent her late teens and early twenties feeling stuck in the Amish community. In her last few years she told me that I had saved her life when I had returned to the community for a visit. She claimed that she had confided in me that she was thinking of committing suicide. I asked her if she was feeling stifled by the Amish religion and she admitted she was. I apparently asked in a matter of fact way why she doesn't leave the Amish then, instead of committing suicide. I don't remember this conversation, but she claims it was after this that she began making plans for her getaway.
When Elizabeth left the Amish, she went to Kansas. She had met a friend, Ada, who helped her to leave when Elizabeth asked for help. Elizabeth subsequently became a nurse's aide, she loved to travel, and she got into biking. When she was in her best physical shape, she biked across Kansas.
Elizabeth got married in her mid-thirties, had a daughter, and then subsequently got a divorce. An ugly custody battle ensued. Eventually Elizabeth lost custody of her daughter, which seemed to undo her. Coupled with this emotional difficulty, she also injured her back, which left her disabled. It seemed her dreams, or reasons for living, withered and slowly died. When she contracted cancer in 2005, she fought it, often for her daughter's sake. Six months after her emergency brain surgery, we thought she was going to die. Then her cancer went into complete remission, and she lived another year and a half. When her cancer returned, it came back with a vengeance. She died two weeks later.
Though we often thought Elizabeth wasn't that intelligent, she said one of the wisest things I have ever heard from anyone. When her cancer had come back in 2007, I sympathized with her and said that her life has been pretty rough, it seems like she ought to have a break. She said to me, "You know Saloma, I've been thinking of that, and what if I had exactly the life I was supposed to have?" That sat me on my bum. It is so easy to believe such a thing when our lives are going well, but for her to come to this conclusion in her darkest hour, was truly remarkable to me. Whenever I hit a bump in the road, I have to think of what Elizabeth said. As I remember her life, I find she was my teacher in ways I had never before recognized.
There is a song, sung by Lisa Kelly
http://en.wikipedia.org/wiki/Lisa_Kelly that really soothes me when I a missing Elizabeth. I will include the lyrics at the bottom of this post, but first I will post a few pictures of her life.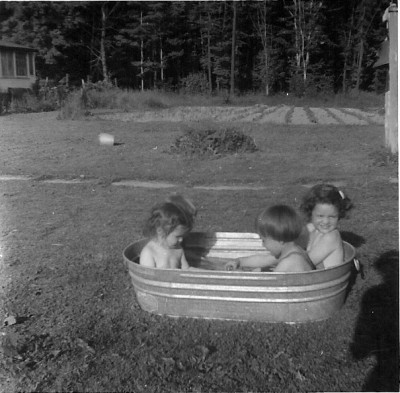 Lizzie on left, Brother Joe and Neighbor, Susan Sykora on right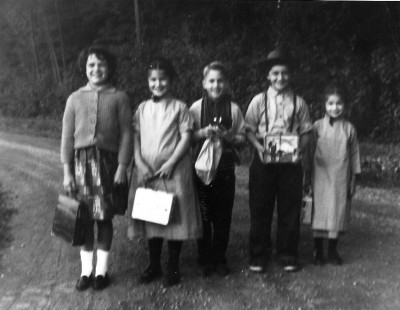 From left: Neighbor Susan Sykora, Lizzie, Brian Sykora, Brother Joe, and me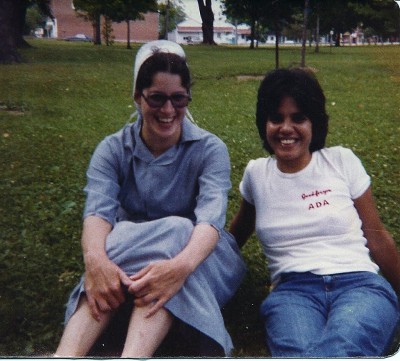 Elizabeth and Ada when they met (Ada helped Elizabeth to leave the Amish)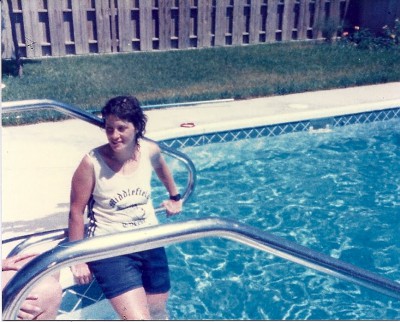 A dip in the pool during her bike tour across Kansas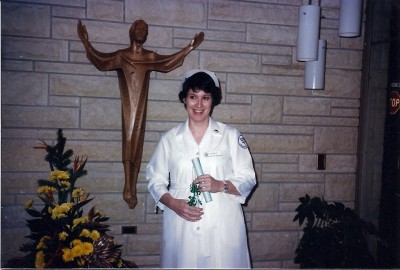 Getting her nurse's aide diploma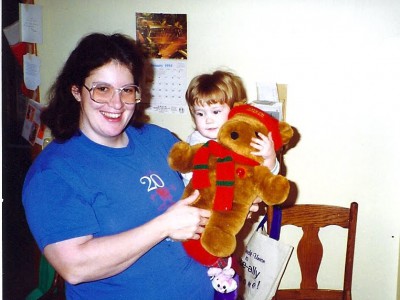 Elizabeth and her daughter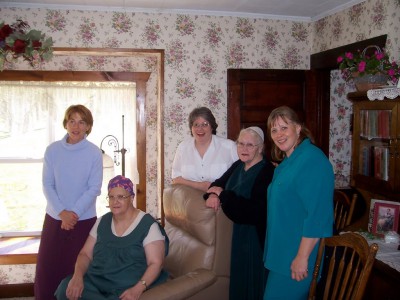 From left: Sister Susan, Elizabeth, me, Aunt Martha, Sister Sarah
In this last picture, Elizabeth was so beaten back by her cancer — and perhaps by life in general. This picture was taken at a family reunion at our Mennonite cousins's house. This is the closest we sisters will ever have come to posing for a picture with our mother — Aunt Martha looks, acts, talks, is so much like our own mother, it is uncanny.
I couldn't make the post work last night to insert the lyrics of the song by Lisa Kelly and I was too tired to type them out. Here they are:
When the light begins to fade
and shadows fall across the sea,
one bright star in the evening sky
your love's light leads me on my way.
There's a dream that will not sleep,
a burning hope that will not die
so I must go now with the wind,
and leave you waiting on the tide.
Time to fly, time to tough the sky.
one voice alone, a haunting cry.
one song, one star burning bright,
may it carry me through darkest night.
Rain comes over the gray hills,
and on the air, a soft goodbye.
hear the song that I  sing to you
when the time comes to fly.
When I leave and take the wind
and find the land that faith will bring,
the brightest star in the evening sky
Is your love waiting far for me.