Lucinda's love of flowers fit right in to German culture — her balconies were laden with flowers of all shapes and colors. She and I had many talks among her flowers. We had intellectual discussions about German and American culture and about religions such as Quakers and Anabaptists. We discussed her research on Pietism. She gave me feedback on an intercultural children's story I was writing in German for my children's literature course. I often confided in her about the difficult time David and I were having around our younger son's troubled behavior. Lucinda was not only a good listener, but she also had a helpful way of reflecting things back to me. She helped me with practical things, such as doctor visits. She and I attended several Quaker meetings and we visited a Mennonite church, where she introduced me to one of the ministers there who has a connection to the Young Center. We also visited Menno Simons' printing cottage in
Bad Oldesloe
.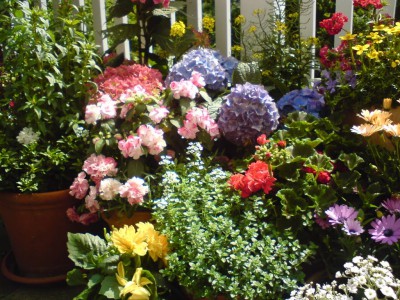 Among Lucinda's flowers
I love birds, as Lucinda loves flowers, so I often interrupted our conversations to watch yet another new kind of bird – they are so different in Germany than in New England. I was learning their German names and their calls. One night when we were sitting on the back balcony, Lucinda asked me what that bird was that we were hearing. At the same time I said, "It's a zilp-zalp, Helge pointed up in the sky and said, "It's a Beluga." Helge thought birdwatching was silly, but he was definitely into planes — he had an engineering job with a subsidiary of Airbus. The "Beluga" was a plane that resembled the beluga whale, and was used to transport wings for a giant model of Airbus to the other side of the Elbe, where Airbus had its German headquarters. Ever afterwards, whenever Helge saw a bird, no matter what size, shape, or color, he would call it a "zilp-zalp." I suppose I should have called all planes "belugas" after that.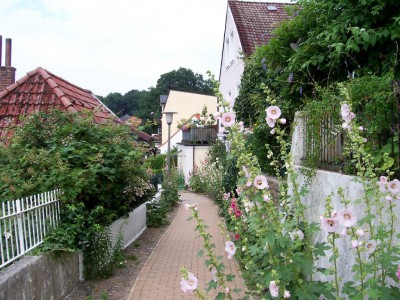 A Stroll through Blankenese (click to enlarge)
Lucinda and Helge and I hung out together a lot — we had dinner on their balcony; we played Scrabble, using both English and German; we visited the Botanic Gardens; we took walks down to the Elbe River, where we saw container ships heading for the port of Hamburg, the second largest harbor in Europe. We also joined the festivities for the 817th. Hafengeburtstag (harbor birthday) in Hamburg. More than 800 years old! — as an American, it's hard for me to fathom anything being that old. I have never seen so many people in one place before in my life (okay, maybe one other time at a march in New York City back in 1982 when there were eight million people who attended). Usually the Germans were quiet and stoic, but not on this night — it was loud and chaotic wherever we went. At some point we witnessed several young people being hustled to the ground by the police.
Container ship heading for the port in Hamburg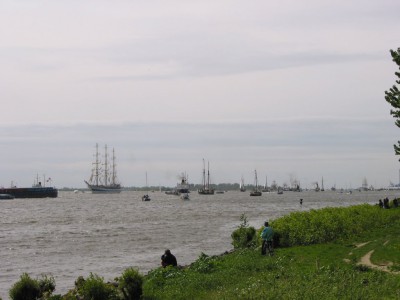 Hafengeburtstag (click to enlarge)
Ferries were a mode of transportation that evening. The three of us boarded one, and it took off really fast. I got butterflies in my stomach. Lucinda and I were leaning out over the railing, when I just went with what felt good. I looked at her and let out a "Whooo-hooo!" She looked back at me and responded with a "Yeeee-haaaw!" I noticed the Germans around us were eyeing us with criticism. Later I asked Lucinda, "So if the Germans felt excited about something like that, how would they express it?" She responded with, "They wouldn't." We laughed, while Helge just smiled his amusement and said nothing.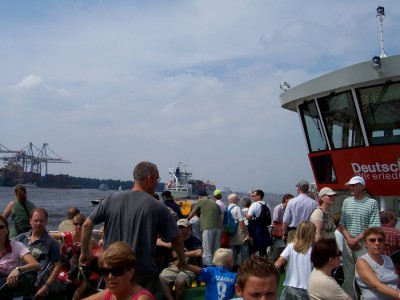 Ferry ride in Hamburg
David arrived in Hamburg on our twenty-fourth anniversary. Frau Kaiser had already given us permission to use the bedroom with the double bed in it before David got there. I took David out to dinner for our anniversary. When we got back to the apartment and opened the door to our bedroom, there was the most romantic scene awaiting us. This could only have been Frau Kaiser — Lucinda had told me that she had strewn rose petals on the stairs the weekend Lucinda and Helge had gotten married. Now, for our first night together in three months, David and I had a bed made up with white, ironed linens, including two feather ticks with clean, ironed, duvet covers. The pillowcases were embroidered white on white, and she had lain green leaves next to the embroidery, and several chocolate hearts, wrapped in bright red, to make it look like the hearts were growing on vines. There were flowers in vases on the nightstands. It took our breath away.
After David got there, the visits with Lucinda and Helge continued, on their front and back balconies, or in their living room. Lucinda and Helge took a vacation to southern France for several weeks, and when they came back, they showed us the pictures of their trip, including many of them in fields of lavender. It seemed like our summer would never have an end. One night we had dinner by candlelight and kerosine lanterns with the Kaisers and Lucinda and Helge in the Kaisers' "Laube" in the back yard.
David and I traveled to Switzerland and Austria for ten days, during my semester break. Our trip is another whole story, but we had a fabulous time.
Riding the "Bernina Pass"
During the two months that David was in Hamburg, he would often go and "explore" the region, by taking day trips while I was studying. He came back with many pictures, including the whimsical one below of someone's "Gartenhaus." In Germany, it is common for people in the city to have a spot outside the city center with a little garden house among flowers and shrubs, where they can get away on weekends.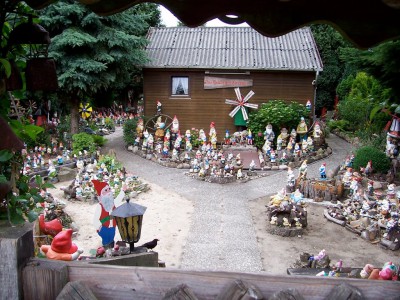 Das Reich der Zwerge (The Kingdom of the Dwarfs)
Quite so!
To be continued…