Last night David and I decided we were going to take a much-needed break from the upheaval in our home. We couldn't decide between taking our bikes to the bike path on Cape Cod or going to Rhinebeck, New York for a book event. Rosanne Cash was going to be interviewed by Joe Donahue, from WAMC's The Roundtable.
We decided to go to Rhinebeck because, weather permitting, we will still get a chance at biking on the Cape sometime this fall, but we may not get another chance to see Rosanne Cash and Joe Donahue in person. I am almost embarrassed to say this, considering we live less than three hours from the Cape, that I have never been to Cape Cod. It is a must for a visit there this fall.
So, we went out for brunch, then drove over to New York State, and headed south on the Taconic State Parkway. It is a very different experience to drive on that old highway. For those of you who have never been on it, there are no shoulders on this highway… there are two narrow lanes, a curb on either side, with grassy roadsides. The speed limit is 55 mph. Because I wanted to make it on time, I was urging David to set the cruise control at 60 mph. Sometimes when David is driving, he breaks out in random acts of comedy… he can launch into a monologue that really makes me laugh. In a matter-of-fact tone of voice, he said, "Officer, we were in the middle of a compromise here. She wanted me to go 80 and I wanted to go 60, so I was going 70. It's called matrimonial bliss, don't you know… so back off Big Boy."
Perhaps it was his tone of voice and the way it just came spilling out as if on its own accord, but that really hit my funny bone. I laughed for the next five miles, until I was wiping away tears. David's humor can make traveling with him a lot of fun.
We got to Rhinebeck and found the Parish Hall where the event was taking place in time to get a good seat. Joe Donahue had just come off of fourteen hours of fundraising yesterday, so he was exhausted. Yet his interview with Rosanne Cash was phenomenal, as usual. She is a delightful person to interview, too. She is personable, self-aware, articulate, and engages well with her audience. I had heard a recent radio interview with her, which made me want to meet her even more. Once in a while I'll meet someone with a similar worldview to my own, which can be really affirming of my own philosophy. She said something that really resonated with me when she paraphrased Wadsworth, that the sorrow we endure in our lives make room for joy. I cannot find the exact quote, otherwise I would share it. But I believe this wholeheartedly. It sounds like she has had her share of difficulties in her life. I am very much looking forward to reading her book, Composed. I will write a review of it when I finish.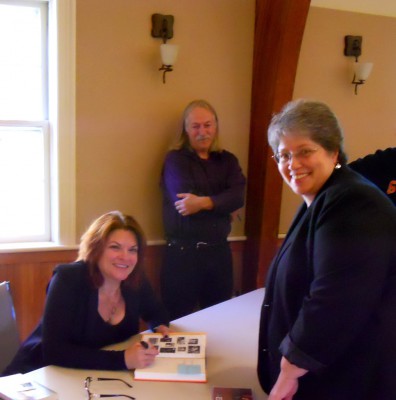 While I was standing in line to get my book signed, Joe Donahue was nearby, so I introduced myself and handed him a galley copy of my story. Some people have aspirations of being on Oprah…. I have aspirations of being interviewed by Joe Donahue on The Roundtable. He is very skilled, and he reads between 15 and 20 books a week. I would be so honored if he read my book and invited me for an interview.
We had dinner just outside the town of Rhinebeck, and then drove back up the Taconic as the sun was setting over the Berkshires. It was a perfect way to spend a beautiful October day. And I love the symmetry of it — 10-10-10.
I hope you all had a perfect 10-10-10. If so, please share what that was like. If not, please describe what a perfect autumn day would look like for you.