My editor at Michigan State University Press, Julie Loehr, called me yesterday and the first thing she asked me was, "Are you the proud mama?" We had a good laugh, but the sad thing is, I am! I know that my book is not a living, breathing being, so it's not quite the same as having my first child, but it certainly works as a metaphor. She had asked me several weeks ago, when I was anxiously awaiting the arrival of my books, "Do you feel like you are ten months pregnant?" And she was right on then, too!
I received my shipment of books on Tuesday — oh, what whooping and hollering there was between David and me, when we opened the first box and held the books in our hands! We've had the advanced copy around, but it isn't quite the same as "the real thing." Now if someone wants to buy it, they actually can. It is so exciting!
When David and I were unpacking the books and storing them on the shelf that I had emptied in preparation (much like setting up a crib, while awaiting the arrival of a baby), I looked around at all the books and I said, "Ahh, there is too many of me!" (An apparent drawback of having an image of yourself on the cover of the book.)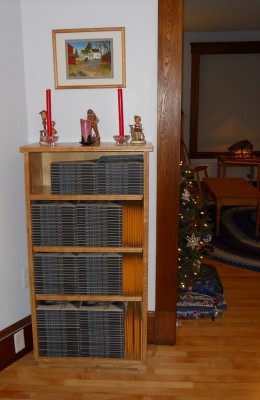 Lots of books… all ready to be shipped in those envelopes.
My sister, Sarah, painted the picture of our homestead hanging above the bookshelf
All jokes aside, this is an exciting time for David and me. We look forward to seeing what the book does in the market and to collaborating on the sequel to this book. This is all very challenging with each of us having a job and our house project still to be completed.