Sally wrote:

What are the customs of head coverings? I know they vary a bit from community to community, but on the "A Joyful Chaos" blog, Marianne said that she switched from a black one to a white one. I've seen little girls, however, wear white, so I'm guessing this is not a universal custom. Also, at what point would a girl begin to wear one?

Would I want to be Amish? I confess that the sense of community appeals to me, as does the simpler life. If I were born in it, I don't know how I'd feel, but I do think I'd be awfully curious about what else there is besides Amish. I've always chafed at chauvenism, even though that mind-set was what I was taught, so I think the submissive / subservience of women would never have set well with me – whether or not I was born Amish.
The customs for head coverings indeed varies from one community to another. I can try to explain what these were in my home community. It would be interesting to find out how different/similar it might have been in Marianne's community.
Girls wore head coverings from the time they were babies in my community. Young girls wore simple "koppa", made from organdy material for "everyday." For Sunday church services, we wore a more elaborate finely-pleated black kopp. Later, as young women begin to develop physically, they give up their little-girl dresses with buttons down the back for a "front-closing" dress, pinned down the front. At that same time, they also give up their simple black organdy kopp for a white, pleated organdy kopp for everyday. On Sundays and at weddings, however, they wear their black silk coverings, as they have since they were young.
The day an Amish woman gets married, she wears her black, silk head covering for the church service and the actual marriage ceremony. As soon as the service is over, she changes into her white organdy head covering, which she will wear all her married life. Changing from the black to the white on her wedding day is a physical symbol of going from being single to being married.
The pleated koppa were very elaborate in my home community. I don't know of any other community in which the koppa were that elaborate.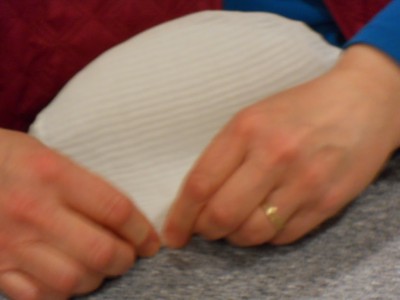 Me trying to pleat a 33-year-old kopp.
Tonight I pulled out the covering I used to wear that I kept over the years. The pleats didn't stay from 8 years ago, when last I pleated it. So, I tried ironing it and seeing if I could pleat it again, but it needs to be washed, starched, and ironed again. I think the material might be too old for it to "hold" the pleats. You basically fold it over, turn over the covering, and fold it again, like an accordion. it takes a lot of patience. Look at the detail that went into making this covering: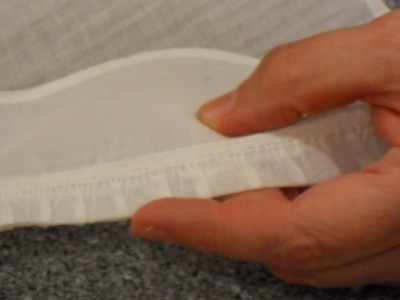 While I was going through my Amish mementos, I found the "hankies" I used to take to church with me. The young women "wore" these hankies in their pockets. Interesting that the fanciest things we had were tucked away in our pockets.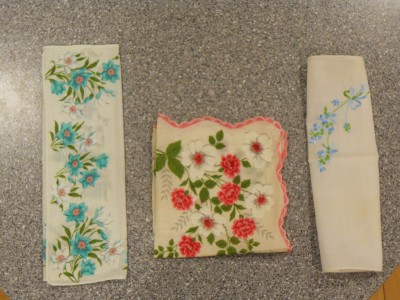 Sally, your questions were cause for me to go down memory lane. Thank you!