For some reason I've been thinking of my mother, who we called Mem. It is customary to celebrate Mother's Day in May, but for me this has become "reMEMbering month."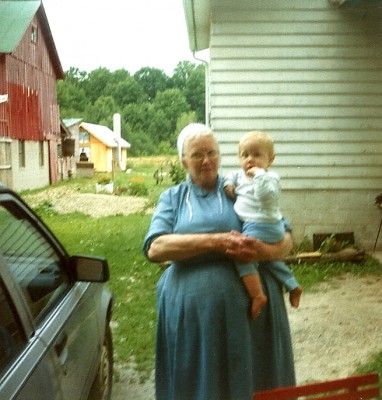 Mem with our son, Tim. This is the only photo Mem ever posed for us.


Often when someone dies, we have a way of "purifying" our memories of that person. When my feelings of missing Mem were their keenest, I did dwell on my good memories of her, and not on the ones that complicated my view of her. However, now that several years have gone by since she died, I keep trying to understand her and I find that my feelings for Mem are as complex as she was. She had two contradicting sides to her — she could be soft, understanding, and nurturing or she could be harsh and cruel with her whip or leather belt; she could be brutally honest or she could be evasive of the truth; she could sometimes espouse to the Amish values and question them at other times; she could support me in my endeavors and my freedom from the Amish set of restrictions, while eliciting sympathy from the Amish that I had left; and she could play the martyr that she was in such an unhappy marriage, yet be the lonely widow once Datt died.


One of the things Mem was good at was to elicit feelings of sympathy, especially when she cried. I used to feel so guilty and horrible when I made her cry. When I left the Amish the first time, I could not think about how sad she must be, or else I would have gone back out of guilt. Just before Mem died, she was still saying, "You girls all rejected me." I was talking to her on the phone during the hospital stay that would lead the doctors to conclude that there was nothing else they could do for her, and she was sent home. I tried to tell her that we sisters had all decided as adults to leave the community, but it had nothing to do with rejecting her. By the silence at the other end, I could tell Mem was not convinced. I changed the subject.


When Mem first found out that I was writing for publication, she wrote this to me in a letter: "Let me give you some advice: you should write only good things about the Amish, and then your books will sell better." Mem was right — at least if I go by all the romantic versions of Amish life depicted in "bonnet fiction." But that would not have been telling my truth. Recently I read something in Poets and Writers magazine that really resonated with me. Poet Nikky Finney describes how her grandmother made a stunning, fervent request after reading one of Finney's books — she asked that it be her last. Finney wrote: "I would've promised to sail the seven seas in five days if I could have, for my grandmother. She meant that much to me. 'Promise' she said. But I couldn't. Even for her, I couldn't."
Perhaps the time we feel the most vulnerable to our loved ones' wishes is when we know that they are dying. And so it was for me when Mem, on a day that she had truly lost her dignity — she had no hair from chemotherapy, and even the scarf she tried to wear on her head for a covering kept slipping off; she couldn't wear her teeth; and she was eating ham without a knife or fork — literally taking a big piece of ham between her fingers and thumb and gumming it. It was in this pathetic situation that she asked me "to not publish anything bad about Joe or me." I couldn't promise Mem any more than Finney could promise her grandmother.
I've been asked whether I have forgiven Mem and Joe, to which I answer that it is something I still struggle with. I suppose it depends on one's definition of forgiveness. Then I read something else from Nikky Finney that spoke to me when she wrote: "I too forgive, but I don't forget. In the forgetting we miss something important about the climb, the loss of life, the loss of dreams. My responsibility as a poet, as an artist, is to not look away."