I had so much fun yesterday! David and I went to Cape Cod to celebrate our birthdays (his was on Saturday, mine yesterday). I cannot believe it took me fifty-four years to make it to Cape Cod, especially since we have lived within three hours of it for the last three years. I am fairly sure that it will not take me that long to return there — in fact I have several book talks scheduled in the next three months.
When David and I were getting ready to leave, we couldn't help take pictures of the clematis that we bought two years ago for our birthdays. While we were at it, we also took pictures of roses that the former owner of the house had planted, and then we transplanted. She had lived here all her married life, and apparently she loved roses. And the hydrangeas that were planted before we moved here are also in bloom.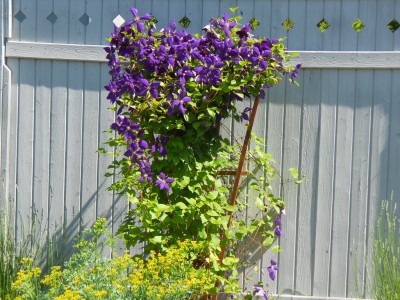 Our birthday flowers are blooming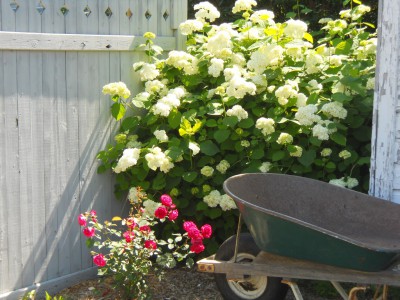 Here is with the wheelbarrow…
I could not decide which photo I like better — the one with the wheelbarrow, or the one without. I'll take votes…
David and I left for the Cape around eight o' clock. We had our bikes on the bike rack and our ride was pleasant. I don't know if this is true for other people, but David and I tend to have some of our deepest conversations in the car. The day was beautiful — sunny, a smattering of clouds across the sky, and the temperature was perfect.
We got to the Cape around 11:30. We had seafood for lunch, then we drove to Wellfleet and left the car. We rode our bikes for twelve miles on the Rail Trail, which was really fun. David and I rediscovered our passion for biking together after I insisted on buying him a bike for his birthday last year.
We went looking for the seashore after our bike ride. And we found it… first we found it from atop a high sand dune, and there was the ocean, spread out before us. I had to think of the words of Captain William Clark: "Ocean in view! O! the Joy! We are in view of the ocean!" Perhaps my joy at this view of the Atlantic yesterday is small compared to the joy for the people in the Lewis and Clark expedition, but it didn't feel small. The smell of salt in the air, the sea breezes blowing through our hair, the sound of the waves washing over the shore, and the ocean stretched out under the vast, blue sky was unbelievable.
David and I took pictures of one another atop this dune. I wanted to ask someone to take a picture of the two of us together, but David wouldn't have it. Had I thought of the fact that it was my birthday at that moment, I would have talked him into it. But as it is, we have separate pictures of this moment.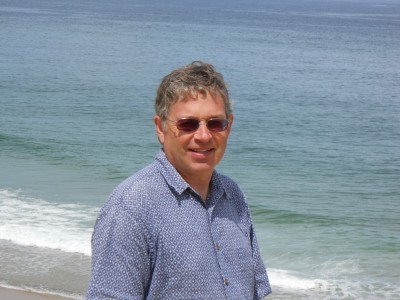 A very typical David expression — hard to capture on camera — he can get goofy in front of the camera.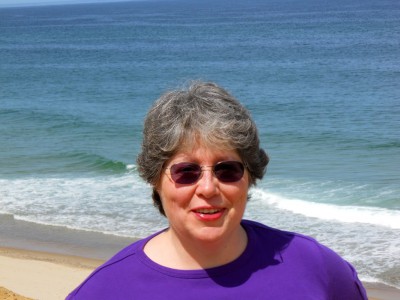 We found another beach that was more accessible and that wasn't too crowded. David and I stood in one place for a while and let the waves wash over our feet. Then David went farther up the beach, and I stood there, mesmerized by the waves. I was in deep thought, looking right in front of me, not knowing that if I had picked up my gaze, I would have seen two seals swimming by. David got them on camera, one with its head out of the water.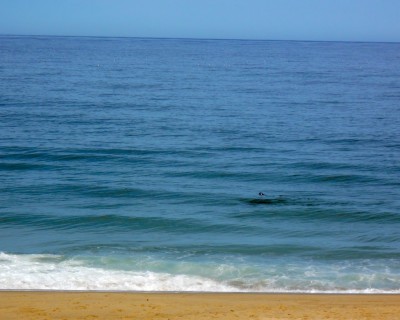 Seals (click to enlarge photo)
I love seals and dolphins, and I would so much have liked to get a close view of these seals. I did see them later, farther down the shore. This same thing happened some years ago when we took our boys to Nags Head for an April vacation. We were playing in the waves and squealing from the cold of the water. Later someone asked if we saw the dolphins swimming around us. I wonder why I've not been looking in the right place for those things I want most to see?
We walked alongside the waves for a while. I wondered at some point why David was lingering behind me. He was sneaking pictures of me. I thought for sure I would be deleting them, but the one below made me think about life in general, and so I kept it.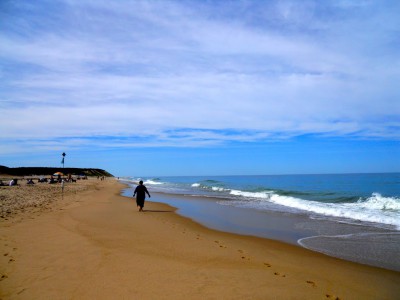 Footprints in the sand are temporary — they only exist until the ocean waves come in and wash them away, one at a time, and then no one knows they were there. These footprints are like the memories that live in the minds of those whose lives we have touched when we leave this earth. Eventually these memories die also, one at a time, as those we loved also leave this earth. But the most beautiful thing about it is that there will be others making footprints in the sand…
The fact that my life on earth is temporary is humbling, especially now that I have lived more than half of it (unless I were to live to 109), but moments like yesterday at the beach make me catch my breath for the sheer beauty, gratitude, rapture of it all.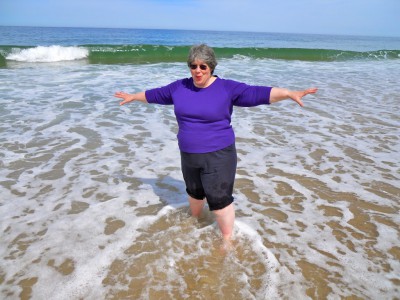 Do you have particularly memorable birthday experiences? I would love to know about them.