After Iowa, David and I drove to Missouri to see my Mennonite cousins, aunt, and uncle. We went to the reception of my cousin Martha's youngest daughter, Miriam's wedding. And I thought Amish weddings were big! Here are some pictures taken at the wedding: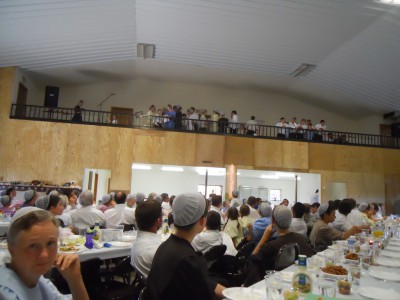 Three-hundred people attended the wedding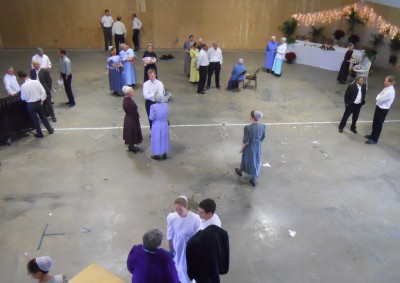 A glimpse of the bride and groom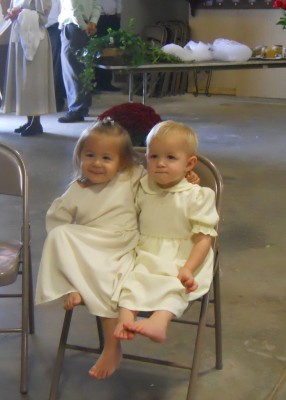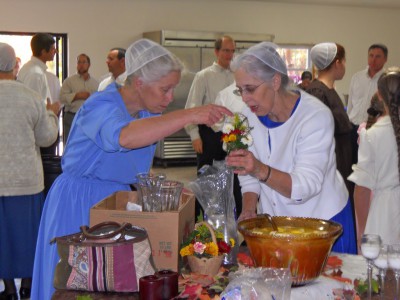 My cousins, Martha and Emma (Martha is mother to the bride and Emma is an aunt to her)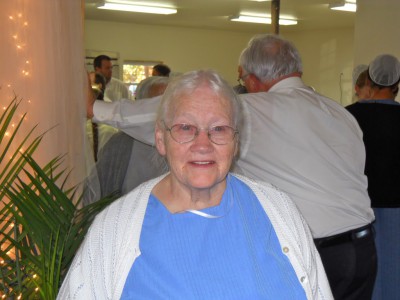 My Aunt Martha, who is like a smaller version of my late mother. She looks, acts, talks, IS so much like Mem that David calls her "Little Katie." When I told her that, she said, "Well, I'm glad he added the 'little' part."
The day after the wedding, David and I had the privilege of being at the Apple Butter Festival that is put on every year as a fund raiser for the Mennonite School. Here are some of our photos taken at that event: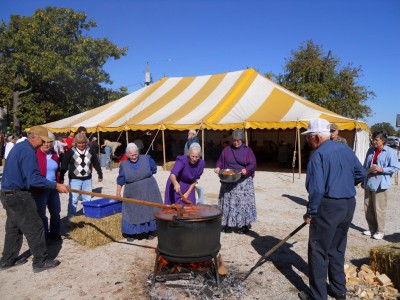 Uncle Dan is stoking the fire… he and Martha are in charge of making the apple butter every year. He is 90 and she is 81.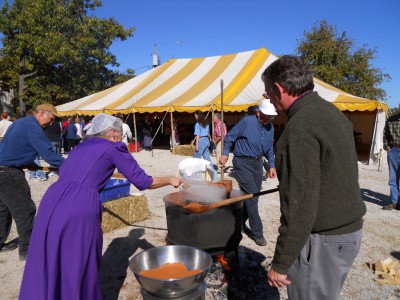 David got in on the act — he and Emma are adding the brown sugar and cinnamon.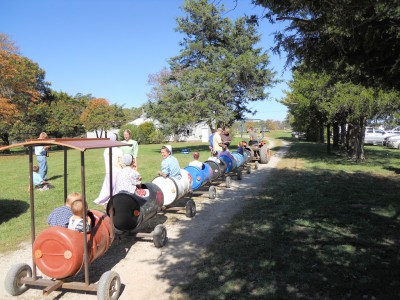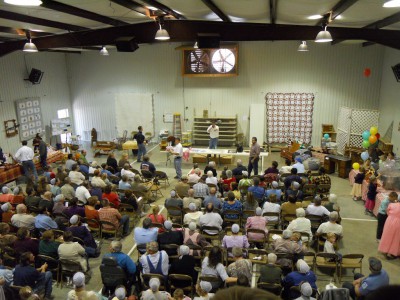 Silly me for not taking photos of the fun gatherings when we were together with Emma's and Martha's children and grandchildren. David and I thoroughly enjoyed ourselves at all the events. I feel so blessed that I discovered my Mennonite relatives. We always knew of one another, but my family was Amish and they were Mennonite, which makes a big difference to the people in my original community. Dan and Martha used to be Amish, but they left and joined the Mennonites. They are such Christian, good-hearted, loving people, and it is amazing to me that it took me until I was fifty to get to know them. This happened when my sister Elizabeth was ill and in the hospital. They then hosted that family get-together that included Amish, Mennonites, and those of us who are neither. I mentioned this in a blog posting
here
. Aunt Martha, Cousin Martha, and Cousin Emma were at Elizabeth's deathbed with me, which was an absolute Godsend. I will always be grateful for that.
I have one more post to do of our travels — this time through Kentucky and Ohio. Then after that I will be posting answers to questions posed by readers while I was on tour.