There are many things I am grateful for today, and so I am offering a Christmas giveaway of my memoir,
Why I Left the Amish
and a one of my fabric reusable gift bags to go with it. First of all, I am grateful to all of you for visiting my blog. I know how hard it is to choose how to use one's time and I also know how many other interesting blogs are out there. So, I feel like giving a token of my appreciation. Simply leave a comment after this post, stating clearly whether you'd like to be included in the drawing. I will be drawing a name on Monday morning, so the winner can still receive the book before Christmas.
David's business of making mini villages is starting to blossom. He is very gratified when people recognize the talent it takes to make such wonderful little creations. If you haven't had a chance to see his Vintage Village Designs, please visit his blog by clicking here. He is offering a giveaway of one of his mini designs. He also has posted his larger Vintage Village Designs. There is still time for you to receive an order for Christmas, depending on where you live, so be sure to visit his blog.
Now a little of this and that.
Last night I delivered my last author talk for 2011 — it was number 70. This was in the beautiful town of Guilford, Connecticut, on a mild December day. David and I drove down there, past the hospital where he was born, in Middletown, Connecticut. We got a glimpse of the ocean at sunset at Guilford Harbor.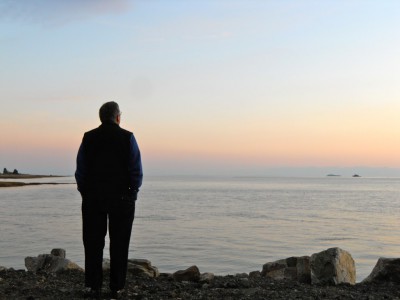 Here is David looking out to sea, less than ten miles from the place where he used to play along the shore as a toddler. Guilford happens to be near Clinton, where his family lived until he was three years old.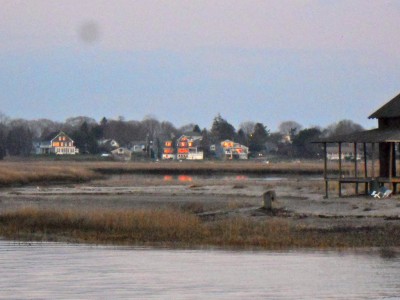 When we got there, the sunset was glowing off the windows of these houses so that it looked like they were on fire. It was so cool to get there at that moment, because it faded really quickly. For a better view, click on the image.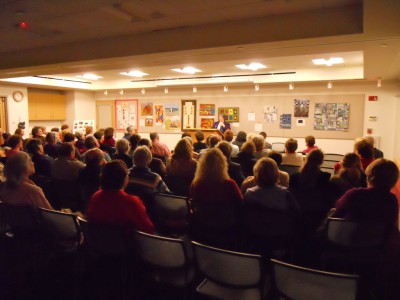 I gave my talk in the community room of the Guilford Free Public Library, where they had a fabulous quilt display. I had an enthusiastic audience, made up of 75 people. It is always a wonderful feeling to connect with the audience. When that happens to the degree that it did last night, I come away from my talk feeling energized. The questions were great; the response to the talk was exhilarating, and the dialogue afterwards was engaging. I think I wasn't the only one who didn't want this evening to end.
So, as I bring my book talks to a close for 2011, I am grateful for all that this year has brought. I'd like to thank Julie Loehr at Michigan State University Press for deciding to publish my book. None of the book talks could have happened without that. David and I have gotten a chance to connect with more than 3,000 people that we would not have, except through the book talks. We had the opportunity to travel to many places we wouldn't have otherwise. We both enjoy traveling and I think David is the best traveling companion there is.
And finally I'd like to end with expressing my gratitude for David's sense of humor. The other day we were walking to the local market. We were talking about ideas. David is an ideas man and most of the time he has good ones. Once in a while, I have a good idea and when I do, David is sometimes hesitant to acknowledge it. I was fishing for a compliment, and he wasn't giving it. So I said, "You have a lot of good ideas, but you are not the sole owner of them, you know. Maybe you are too proud to recognize that." He said, "I didn't grow up practicing competitive humility like you did in the Amish." I laughed so hard, I almost couldn't walk. Did I mention that David also has the best lines? He nailed this one!
May your holidays be filled with peace, love, joy, and good cheer. (David says "and humility.")