One joy scatters a hundred griefs. ~ Chinese Proverb
The message in church this morning was one about the River of Life and how we need to get into the middle of the river, rather than clinging to the shore, if we are to live life to its fullest. The pastor also invited us to celebrate life, even in the face of our toils and struggles.
I wholeheartedly agree with this message. Of course when life's struggles become overwhelming, it is not always easy to find something to be grateful for or to celebrate. However, even when we are downtrodden, the sun still rises in the morning and sets in the evening, the birds still sing, there is still beauty in nature. We only need to be open to perceiving these gifts from God.
One evening last week, I was cutting up veggies for dinner, and I looked out my west window. The sunset was startlingly beautiful. And it changed by the minute, getting deeper and more beautiful. Finally, I just had to go and grab the camera and take pictures.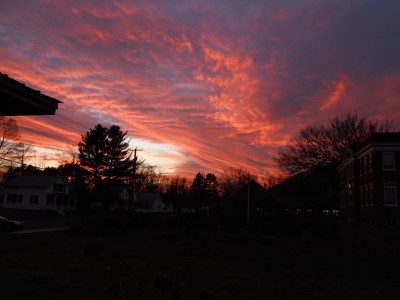 David and I were celebrating that 34 years ago today, we had our first date. We just recently wrote about this for our book. I will give a little excerpt of my account of that date and another of David's recollection. I had changed my name to Linda when I left the Amish.
The wonton soup was served. I was glad for the interruption because I didn't really want to think about what was happening at home. There were times when homesickness snuck out of the shadows and took me by surprise. I wondered if the closing hymn was being sung in our church district. I decided to change the subject.
"Do you have any brothers or sisters?" I asked.
"Yes, two brothers and two sisters."
"Where do you fit in?"
"I'm smack dab in the middle — I'm third, with an older sister and an older brother and I also have a younger brother and a younger sister."
"I'm third in line also, with an older brother and an older sister."
"Do you follow astrology?"
"I know I'm a Gemini, but I don't know much else."
"Oh, when's your birthday?" David said excitedly.
"June nineteenth."
David's blue eyes widened and a grin crept into his face. He rearranged his fork and spoon on his napkin and said, "You're not going to believe this."
"What?" I said, now curious.
"My birthday is the day before yours — on June eighteenth."
"Oh, really!"
"Does that make us the Gemini twins?" David said, the grin having spread across his whole face. Little crinkles formed at the corners of his eyes.
"Oh, you're right!" I said laughing. "What year were you born in?"
"1954."
"So we are three years apart — I'm twenty."
David looked at me with those blue, blue eyes and I could see that the attraction I felt for him was mutual. At that moment there was no other place I would rather have been than sitting with David at the Tiki Garden on Shelburne Road in South Burlington, Vermont, with the sun sparkling on Lake Champlain in the background.
Sometime later than day, David recalls…
"I should allow you the rest of the day, Linda. I had fun," I said.
"So did I and thank you so much," she said.
"Would you like to go out again?" I asked.
"I'd love it," she said with a big, beautiful smile.
"I have a craft show in Massachusetts next weekend, but perhaps we could have dinner a week from Friday?"
"Friday is my best day."
"That would work for me." I said. "I will call next week and set a time."
"Sounds great!"
I took her hand and gave it a gentle shake, then walked out the door to my pickup truck. As I drove past the kitchen window, I saw Linda looking out at me. She waved, and I waved back.
On the way home, I thought about how much I enjoyed the afternoon with Linda, and I sensed she enjoyed it, too. I had never experienced this kind of understanding with any other woman before. Then I knew — just as clear as the crisp, blue, winter sky on that bright Vermont winter day, I said out loud in the cab of my Datson pickup, "Gemini twins."
So, besides the beauty in nature, today I am grateful for that Sunday afternoon in January 1978, when my relationship with David was just beginning. I am even more grateful that we share our life's journey with one another now.
What are you celebrating?