The other day, David and I were driving east on Route 340 in Lancaster, Pennsylvania. I was talking with David when I caught quite a sight out of the corner of my eye. We'd met a buggy driven by a man with a long gray beard that was blowing in the wind. Right next to him was this little long-haired dog, with his hair blowing in the buggy breezes, too. He must have been sitting on a box next to the man, cause his head was even with the man's beard and looked almost like it was an extension of it. The dog was sitting at full attention, as if he were making sure the horse stayed on course.
I convinced David to go back to see it. We went past the buggy and then I got out with my camera and waited by an intersection. As they were coming up to the intersection, I hit the off button instead of snapping the photo twice, cause I got so excited. (A friend told me this was the hand of God). However, they had to wait at the intersection and so I got to take these photos.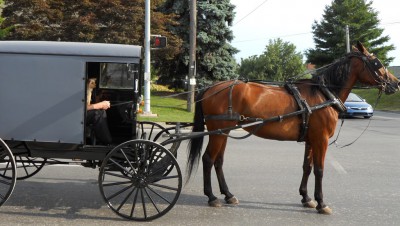 With that intent look, who do you think is driving this buggy?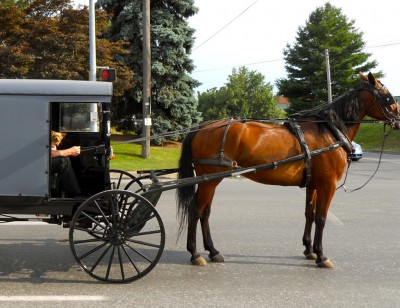 Photogenic, aren't we?
I wonder if the Amish would consider it vanity to have a picture of their dog (or horse for that matter)? Given this photo opportunity, would you have resisted the urge to take these shots? Why or why not?