So last Sunday was the Heath Fair. I ate no fried dough, I stayed away from cotton candy (what I think of as colored steel wool), and I took no rides. For me it was fun to walk around and see the people, hear authors speaking in the authors' tent, listen to music, see the animals, and watch the parade. And it was fun to experience all this through the eyes of "Rebecca" who just left the Amish a few months ago. (This is the name she chose to protect her identity).
I talked about my book in the authors' tent and Rebecca was in the audience. I introduced her to the small group and told them that she was newly out of the Amish. She had brought some baked goods and baskets, and sold some right there. John and Betsy Kovacs from Pleasure Boat Studios were gracious to accommodate all this.
There are so many firsts when you leave the Amish. Rebecca had never been to a music concert before, and there was a wonderful band there: The Sweetback Sisters. I think Rebecca felt like getting up and dancing a few times, but she said she didn't know how. The look on her face as she was listening to the music was like the pure joy you see on a child's face when she is experiencing something for the first time. Rebecca and I enjoyed talking to several band members after the show.
Rebecca moved to our house three nights ago. She is right now sitting on the front porch, listening to music and weaving her baskets. This is her fifth week baking from our kitchen, and the word is spreading, so she is garnering a nice following for her baked goods and her baskets. She will probably exhibit her baskets in local fall festivals besides selling them from here on our porch. Below is a photo of some of them. If you see one you like, please email me and let me know: salomafurlong[at]gmail.com. We can probably work something out for payment in which you would send me a check and then I give her the money. She doesn't have a bank account yet because she doesn't have a social security number.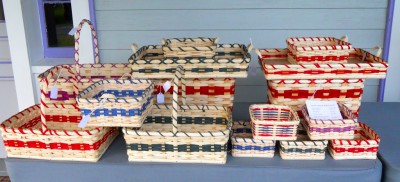 Sampling of Rebecca's homemade baskets
Watching Rebecca find her way in the outside world reminds me so much of my own experiences when I was newly out of the Amish. Interesting that she came into my life at the time when I am writing about this particular segment of my life. Sometimes things just work out that way. I find it a confirmation that I am in the right place doing the right thing at the right time.
We don't want to reveal where Rebecca is from, but if you have questions for her that can still protect her identity, she would be willing to answer them for you. What questions do you have for someone just out of an Amish community?