Before I write my post for today, I want to let those of you who read the first part of Henry Troyer's story about his educational journey that the second part of his story has been posted to the Amish
Descendent Scholarship Fund blog
. It is worth the time to read this compelling story. What makes it so compelling is Henry's persistence in overcoming the struggles of acquiring a higher education. It is a story of thanks-giving, by recognizing his humble beginnings and being grateful for how far he was able to go in his life. For any other former Amish people who want to share their education stories, please be in touch with me via email: salomafurlong[at]gmail[dot]com. We would love to feature your story. Also, if you are struggling with issues after leaving the Amish, you can email me or Emma Miller
:
emmamiller.adsfund@ gmail.com. We will be happy to lend you whatever support we can.
Thanksgiving inevitably evokes memories of past celebrations of this holiday for me. I've shared my childhood Thanksgiving stories here. This one is no exception. Because of the young woman who lives with us and bakes for a living, I am remembering the ten years when our sons were school-aged and I was baking for a living. I am sharing some of those recipes on my website as time goes on. Today I will share one of my squash bread and rolls (this is a yeast bread).
Those Thanksgivings of the past when David and I spent three days beforehand baking enough for the people in the town of Shelburne, Vermont, for their holiday needs were often overwhelming. The week before, I would have shopped for the ingredients; processed and pureed pumpkin and squash for bread and pies; made pie crust "crumbs" and whatever other preparations I could to make Thanksgiving week more tolerable. I couldn't remember how much I used to bake, until I consulted my journal from 1995. Here is what I wrote:
"Thanksgiving baking was extremely hectic. David and I ran ourselves ragged. On Tuesday and Wednesday we made about 53 pies and 50-60 dozen rolls, plus 20 loaves of bread."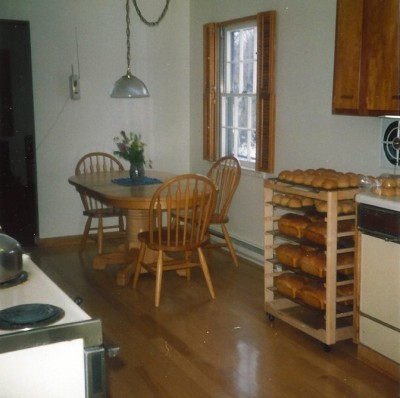 My Shelburne kitchen on a baking day
Oh for the energy of the young! On Thanksgiving Day that year, David, the boys, and I drove twelve hours to Ohio. Here is what a wrote about our trip:
"We went directly to Bernadette's (David's sister). She had a turkey meal coming out of the oven just as we got there, so we ate with them. Then I played Big Boggle with Maurice and lost badly.
"Friday morning we drove to Susie's We had a wonderful time with them. Sarah, John, Willy, Giovonni, and Jesse were there as well. We all had a good time. The meal was de-licious! Susie's turkey was really good and so was her stuffing, mashed potatoes, and gravy. I made sweet potatoes and oatmeal rolls and Sarah made cole slaw. Susie also cooked some mixed vegetables and cranberry salad. For dessert we had warm apple pie, pumpkin pie, and pecan pie that I had brought.
"We went to Sarah's at around 5:00, along with Susie and Bill's family. We had a really nice time. Saturday we went to visit Mem and Datt. That's another story. (In a later entry I described the depression I felt in going there. There were outward signs of this depression, as well as the moods people were in.)
"Yesterday we drove the twelve hours home. Now I'm tired."
I remember that trip to Ohio. All our children were still young, and my sisters and I enjoyed getting together with our families. They were newly out of the Amish and were in a different place than I was emotionally. For many of those of us who leave the Amish, we go through a phase in which no one can say anything good about the Amish without us wanting to "set them straight." In later journal entries, I wrote how we watched a film about the Amish and how it was romanticized. The Amish church singing evoked sad feelings for me, but I could not express that because of what I perceived as "Amish bashing." I understood those feelings… I'd been doing it only a few years before that. Yet there were some things I missed, and church singing was one of them.
Now that all of our children have gotten older, and our lives have become more complicated, I remember the times when my sisters and our young families got together very fondly.
What Thanksgiving memories do you have? Are some of them bittersweet?