I have no actual photos of me when I was a baby or a very young child. But I do have "Amish" photos or "memory" photos that were passed down to me from my mother. I treasure these, for they give me a snapshot in time that becomes vivid when I use my imagination.
The earliest Mem snapshot is taken right after I was born. I was born at the Amish midwife's house in Middlefield, Ohio. Mem describes how, after giving birth, she had fallen asleep. When she awoke, she saw me, all swaddled in a blanket. The midwife had placed me in a basket next to her bed. Mem claims I had the biggest headful of black hair she'd every seen on a newborn baby. She said I was sleeping, all tucked into this little basket.
I was born as someone else in the family died. On the day that my father was scheduled to pick Mem and me up from the midwife's house, he was at the funeral of his stepfather. My mother was getting worried when he finally showed up late in the day, to take us home.
There have been many former Amish people who have read my book and emailed me. A little while ago, I got one that started like this:
Dear Saloma,
Let me introduce myself—My name is Freeman Kinsinger and I grew up in Middlefield, Ohio. My parents started the Maple View Conservative Mennonite Church in Burton Station in the late 1940's. My mother was Mattie Grace Yoder, who left the Amish when she married my Dad, John Kinsinger. Dad was raised Amish in Arthur, Illinois, but never joined the Amish church. My mother was shunned all of her life. My Dad, on the other hand, was not shunned when he left the Amish because he was never baptized in the Amish Church. My grandmother (mom's mother) was Mary Ann Yoder (Hochstetler). She was a mid-wife for Dr. Shafer for many years. There were hundreds of Amish babies born in her home in Middlefield….

His grandmother was my mother's midwife when I was born… so I was one of the many babies born in her home.
To make a long story short, Freeman and I talked on the phone and stayed in touch. I asked him to write his story for the Amish Descendent Scholarship Fund blog, which he was generous enough to do. I posted the first half of his story last night and the second half will be posted this coming Sunday.
This afternoon, I was sitting down to write this post, when I first checked my email. There I found an email from Freeman. He was sending me this photo of his grandmother.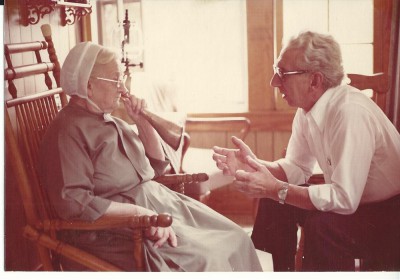 Mary Ann Yoder, the Amish midwife who delivered me.
What timing! I am so excited to add this visual image to this post. Freeman wrote about the photo:
The photo of my Grandma was taken in the summer of 1977. She was getting deaf and used a brass megaphone for magnifying her hearing, as shown in her left ear. (I always called it an Amish hearing aid). This was taken while she was talking to her nephew from Indiana. I have the megaphone and her medical bag as treasured heirlooms.

To read more about this remarkable woman and her recognition and support of her intelligent grandson, Freeman Kinsinger, click on over to read the story "Rescued by an Amish Grandmother."