From where I'm sitting, it seems to me that the perceptions of the Amish are changing for those who look in from the outside. For years it used to be that people would say "Amish!" with stars in their eyes, and they would think an Amish life is idyllic, pastoral, and "simple." In short, the Amish were being romanticized. And why not? Their farms look so pristine; their lives move at a slower pace; and their buggies and dress harks back to a simpler time.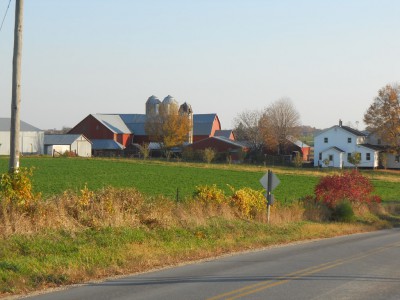 My role, since leaving the Amish, seems to be to complicate people's view of them. Whenever I would encounter this reaction, I would try to temper the view by providing examples of how the Amish were human too, and I'd remind people that the Amish have the same struggles as anyone else… especially the one that has to do with choosing between good and evil. Not all Amish people choose good all the time, the very same way not everyone in mainstream society chooses good all the time.
Lately, though, it seems the Amish are perceived quite differently. There are news stories that show that the Amish are struggling with wrongdoing within their communities. There are stories of drug abuse, violence (such as young people resisting the police or trying to overturn their cruisers), and the leader of one Amish church district who was abusing his authority being charged with hate crimes. Then there are the stories of sexual abuse. All these problems are very real. In fact, the insular nature of an Amish community can add to the complexity of dealing with these issues.
As if the "real" problems are not enough, we now have Hot Snakes Media engaging in cultural defamation and profiting by it in producing "reality" shows like The Amish Mafia and Breaking Amish. They either don't seem to know, or else they don't care, that the idea of a central and corrupt power is further from actuality than saying the Amish have a pope. The Amish have a decentralized religion. That means that each bishop only has domain over his own district. Sure, they converse with one another about the church rules or Ordnung, and they also have their deep traditions as guidelines, but they don't have any one man who has authority over all the Amish communities and districts. And so the idea of a centralized power structure is completely out of the realm of the Amish traditions. Add corruption to the mix, and it becomes even more far-fetched. So Hot Snakes Media and the TLC channel are profiting from using the Amish name and spreading lies about them.
And then there is Breaking Amish. A more fitting name would be Faking Amish. The producers take 10 percent truth and make up the other 90 percent, and call it a reality show. I think knowing the back stories of the characters is enough to show without telling how little of this is true. So far I've felt like the best reaction to these shows is to ignore them and just make as if they don't exist. But after having people ask me time and time again, "Is The Amish Mafia real?" I recognize that isn't working so well.
So, no The Amish Mafia is not real. TLC and Hot Snakes Media are corporations that have the same rights as an individual, but without the responsibilities to go with it. They know that the Amish do not sue, so they can get away with this culture slander. It is maddening that the gauge in this society becomes what people (or corporations) can get away with without getting sued. It becomes the lowest common denominator for our moral code. That basically means nothing is off limits in our greedy and corporate society.
My role again is to complicate people's views of the Amish by reminding them that the Amish are not all bad. It may seem like a contradiction for me to defend the culture that I chose to leave. But it seems I have become an accidental interpreter of the very culture I left. Because the Amish consider themselves "the quiet in the land," and do not defend themselves, it seems I cannot stand by and watch them be so misinterpreted.
Just because the Amish slipped off the pedestal doesn't mean they are all horrible people. It just means that they are human. Like in every other part of the world, the atrocities are what make the news. I have gotten to the point that I cannot read too many news stories because they distort my view of humanity. Only occasionally do news stories tell of someone resisting evil and succeeding to overcome it. Only occasionally do we hear of the incredible good someone has done. Yes, humans have the capacity to commit unspeakable evil. But we also have the capacity to do incredible good. And the essence of our human struggle is constantly having to choose between one and the other.
So, I'm here now to remind all of us that there is still incredible goodness among Amish people, despite the problems they are encountering. (I'm referring to the real problems, not those contrived by the makers of the reality shows.)
I'm reading a book by an Amish man named David Kline and it's called Scratching the Woodchuck. Contentment is so obvious in this farmer's musings, all without ever using the word. This book does not have an overt spiritual message, but it has a stream running through it that conveys a deep, abiding, quiet, yet profound faith that is the essence of the Amish belief system and world view.
So I don't think we should write off the Amish just yet. They may have some important messages for the mainstream culture to decipher, if we care to slow down our lives enough to reflect what those messages are.