How many of you know what a red-headed woodpecker looks like?
My guess is that if you do, you've lived in the Midwest at some time in your life. When I was growing up in Ohio, seeing red-headed woodpeckers was a fairly common occurrence. Yet it was always a treat. They are one of my favorite birds of all times. I've never seen one in New England. So, it's been years since I'd seen one.
David and I saw one in Minnesota in the same state park that we saw the painted turtle. We saw a few fleeting sightings of this beautiful bird, but we were sure we saw it. Apparently they used to be common in those woods, but now it is rare to see one. So David and I felt fortunate.
When we visited friends in Michigan a few days after that, we watched birds for a good part of two days and we had the thrill of seeing the male red-headed woodpecker numerous times. We even took photos of him. Alas, they didn't come out very well, but you can at least see that we caught him on camera. Seeing him through the lenses of the binoculars was a real treat.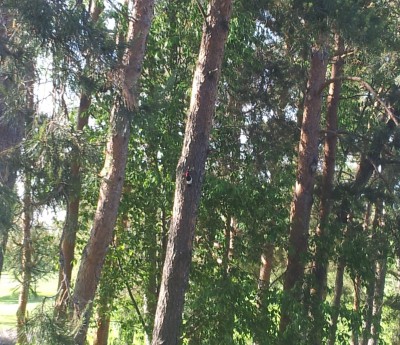 Here is a much better image, from my all-time favorite birding site "All About Birds" from the Cornell Lab of Ornithology. This gives you a much better idea why it's such a treat to see one of these woodpeckers, especially the males.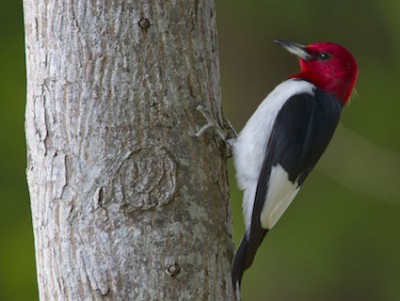 David and I are back home after our three-week road trip. We traveled just over 6,000 miles altogether. We are feeling very grateful to be safely home. We were amazed at how many dead deer we saw along the way. And how many people text and drive or phone and drive. And truckers moving too fast never makes for a safe feeling on the road. So we feel like we had protective angels watching over us.
I will be posting more regularly here on my blog. In the coming week, I will be posting an interview with Jolina Petersheim about her new book, The Midwife. She is the author of the best-selling novel The Outcast. She is offering a giveaway copy of The Midwife along with the interview. So I hope you'll come and leave a comment for a chance to win her book.
Don't forget… you can sign up to receive an email alert when I post something new. To sign up you can go to the bottom right-hand of my blog and sign up in just a few easy steps. And you can always unsubscribe should you decide you don't want to receive the alerts any longer.
I hope you are all enjoying the first days of summer. I love the longer days and the flowers that are blooming. I breath in the cool air coming through my window after a humid day and I am thankful. I hear cars crossing the bridge over the Connecticut River and the night sounds of little critters (crickets?). It is time to enter dreamland, so I will bid you good-night.