Yesterday afternoon was beautiful here in the Pioneer Valley. I had attended a church service in the morning, and then in the afternoon, I wrote. I was writing something hard, about a traumatic childhood event. At times I wanted to look away from the emotional pain it still causes to remember what happened. But I kept at it, and I wrote my way through, wiping away my tears right to the end.
About the time I was saving my document, David pointed out to me that it was raining out and the sun was shining. So we went out on the porch and watched a double rainbow form to the east of us. When we looked to our west towards the sun, we could see the individual raindrops falling, each a shiny point of light under the rays of the sun. I took photos, which don't do the beauty justice, but they give an idea of what we were looking at.
From our vantage point, it was made more beautiful because of the sense of accomplishment of this past week. David has been working on restoring the second half of our porch. He had been stripping the beam, the floor, and the pillars of lead paint over the past weeks. This past week we gave them fresh coats of paint, and David installed the pillars and removed the 2×6 props that had been holding up the porch roof. So we were seeing the droplets of rain, framed between the newly-painted and installed pillars.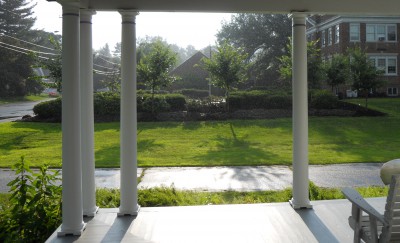 And out towards the east, towards the crossroads, the double rainbow shone down on us.
I love rainbows. They give me such a sign of peace and hope. They are nature's way of reassuring us that even in all the strife in the world, there is still Beauty. There is Peace. And there is Hope. For each person individually, and for everyone in the world.
Thanks be to God.