David and I are preparing to go to a wedding this weekend. The bride is someone I have known since she was eleven. I lived with her family for a while as I was attending editing and publishing classes at the University of Virginia's NOVA Center back in 2000.
I decided to make a gift for Sarah. I am starting to make it a tradition to braid woolen rugs as wedding gifts. When I started this project, we were having warm weather, and I was doing the braiding on my front porch. It makes such a mess, with all the wool lint and dust.
As I braided in the afternoon sun several days in a row, I thought about my mother. She was the one who taught me the craft. Over the past few months, I've been writing a letter to my mother, who died nine years ago this month. Most of the 140 pages I've written so far is about the difficult part of our relationship. Now I was enjoying the craft she taught me, and recalling some of the fonder memories I have of her. I remembered how I learned to braid baling twine from the barn into jump ropes before Mem allowed me to braid rugs. I learned first how to do the braiding, and then later how to sew together the strands, and finally how to interlace the braids together into an oval rug. This is a gift from Mem that money could not buy.
Now that the weather has turned colder, I have moved my operation upstairs to our attic space, where we have our television set up for watching movies. I've been borrowing series films from the library. David and I started with "Downton Abbey," and now we're watching "Lark Rise." As I enter and view these different worlds through films, my hands stay busy, creating rugs.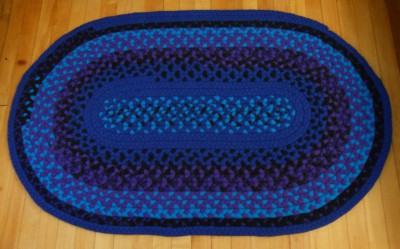 Wedding Gift
Now that I've finished the rug for the wedding gift, I've started on one for our front hallway. I'm planning on making two for that area. And I'm enjoying the films immensely. "Lark Rise" is a very engaging series. In some ways I like it even better than "Downton Abbey." I can relate to the country folk better than a royalty family.
This combination of practicing one of the homespun arts that my mother taught me while watching films is a wonderful example of how the life I have chosen is influenced by the Amish life I grew up with. I am grateful for that. When I give one of these rugs, I feel like I'm passing on a gift that money cannot buy.
There are ways the experiences of our childhood affects our lives as adults. Sometimes these things are conscious, and sometimes not.
What about you? What childhood experiences are you aware of that shaped what you do today?