It seems I needed a hiatus from my writing these past few months when my creativity took on a different form than I had expected. I just completed the seventh braided rug since I revived one of the homespun arts I learned from my mother.
Now I can feel my writing muse returning. I have an idea for my next book. I'm very excited about it, and I will be starting it in the coming days.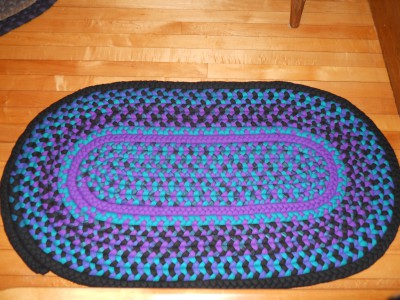 I am offering this rug in a raffle. I plan to pull the name of the winner on February 4, which is the first anniversary of the publication of Bonnet Strings: An Amish Woman's Ties to Two Worlds. and the first anniversary of the PBS documentary The Amish: Shunned, that I was featured in that premiered on American Experience. As I was braiding this rug, I was recalling how a year ago I was anticipating these two events. I was also realizing that I've had to adjust my expectations of sales of Bonnet Strings. Though book sales have been modest, they have not been outstanding.
So I've come up with a plan that I hope will boost the sales of my books and show my appreciation for your loyal readership at the same time. My offer is this: For every book you buy directly from me either online through PayPal, or by ordering through the mail, I will enter your name into the raffle. So, if you buy five books, you get five chances at winning this rug. (You pay $4 for shipping, no matter how many books you buy). This offer is good for both Bonnet Strings and Why I Left the Amish. The deadline for entries is February 3, 2015.
This rug measures 23 inches wide and 42 inches long. I used between five and six yards of new wool, which cost an average of $12 a yard. It took me about 25 hours to complete the rug. If I were to sell it, I would expect to get at least $250.
So many of you have sent me your compliments after reading my books. I want to thank you for that. Knowing how you relate to my story is a reward all its own. Should you feel so moved, I would ask that you also share your feelings with other readers, by leaving a review on Amazon or Goodreads. I love to find new reviews there, and I expect I always will. Many thanks!
Please help me spread the word about this raffle.
Many good wishes to all of you for 2015 and beyond!