Back on the farmette where I grew up, we used to have hearty breakfasts, especially on wintery mornings. Mem used to get up early in the mornings to get the fires burning, so that when everyone else got up, the house was warm. And that was important because those of us who slept upstairs slept without any heat and our walls were not insulated. And man, if you don't think our bedrooms were cold, you have another guess coming. I remember one of my sisters once taking a thermometer up there, and it went as far down as the thermometer would go — 8 degrees. I don't actually remember if it was above or below zero, but it doesn't really matter when it's that cold. And when the winds howled around the house, it felt like they were blowing right through the upstairs.
We used to change into our nightgowns down by the fire, get warmed up, and then run for our beds. We had to share beds, so we'd huddle under a load of blankets and put our backs up against each other to get warm. Usually once our body heat permeated the layers of blankets, we'd be fairly warm. Except for our heads. Sometimes I would actually wear a wool scarf tied under my chin.
Under the snug covers, in the dark and cold upstairs, it seemed like morning came almost as soon as I went to bed. And now came the hard part. Getting up out of bed, walk on that freezing cold floor, to get downstairs by the warm stove. I used to say it was like having to jump into cold water first thing when you woke up.
On the coldest mornings, Mem would make the living room available to my sisters and me to get dressed by the stove, with the door closed for privacy. And then we'd pitch in to help with breakfast, which was a much bigger meal than our supper had been the night before.
Sometimes Mem would fry cornmeal mush, and we'd eat it with homemade canned applesauce. (The fried cornmeal mush is what most people call polenta.) Other times we'd have eggs and homefries. If it was soon after butchering time, we'd have scrapple, sausage, or ham with the eggs and homefries. And still other mornings we'd have pancakes with our own maple syrup. No matter what Mem served, we always had oatmeal besides. Datt loved his oatmeal, and he would eat that as the last part of his breakfast.
Of all the breakfasts, I liked Mem's pancakes the best. She'd fry them in butter on a cast iron skillet to a nice golden brown. They came out light and fluffy. With a light amount of butter melted into the pancake and the first-of-the season fancy (light) maple syrup, it was ambrosia.
Back when I was growing up, many of the women in my community fell for convenience foods. Many of them made pancakes from a mix. And sometimes Mem did that. But her best pancakes were the ones she made from scratch. She used to say she doesn't understand why people would use a mix, when it isn't much more work to make them from scratch. I agree with that sentiment. To this day, I make my pancakes from scratch. I make all kinds of pancakes: plain white pancakes, buttermilk pancakes, buckwheat pancakes, apple-cinnamon-pecan pancakes, blueberry pancakes… the list goes on. My latest favorite is buttermilk pancakes eaten with fresh berries. Mmmm.
I thought I'd share the recipe. If you try them, please let me know how you liked them. The recipe is deceptively simple, with only 6 ingredients in the batter.
Saloma's Buttermilk Pancakes
1 cup buttermilk
1 tsp. baking soda
Note: You can subsitute 1 cup of sweet milk for the buttermilk, but then use 2 tsp. of baking powder instead of the baking soda.
1 tsp. vanilla
2 eggs
1 cup sifted flour
pinch salt
Fresh berries for garnish
Dissolve the baking soda in the buttermilk. (If using sweek milk, you can just add the baking powder to the flour and skip this step). Add vanilla. Let sit while preparing the rest of the batter and heat the griddle to medium-low.
In a separate bowl, slightly beat the eggs. Add the buttermilk mixture and beat it again. Sift together the flour and salt and add to the batter. Stir only enough to mix the flour in. Let the batter sit five to ten minutes.
Fry the pancakes until they are golden brown on both sides. Butter the tops and add maple syrup and fresh berries and serve while hot. Makes four to five medium-sized pancakes.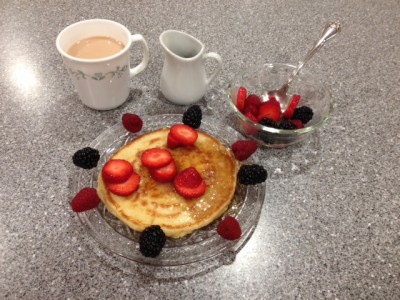 Buttermilk pancake with maple syrup and fresh berries