Our older son, Paul's best friend is named Ben. They have known one another since they were in Kindergarten. Ben became like a third son to David and me, and Paul became a second son to Ben's parents. Growing up, Paul and Ben were inseparable. Ben and Paul were names that just slid off our tongues.
Paul loves to travel, and we couldn't afford to travel as much as he would have liked. So he was invited on trips with Ben's family to places like Utah and Mt. Desert Island in Maine. And Ben visited us in Rangeley, Maine at the Furlong family cottage.
Ben was "the lucky kid." He could be walking down a crowded sidewalk in New York City and look down and see a rare coin. He would be the person whose name would get chosen in a raffle. He just seemed to attract good luck wherever he went.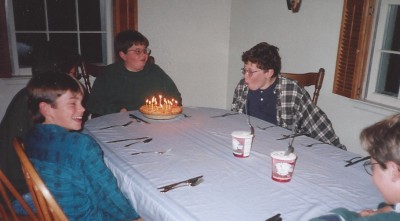 Ben helping Paul get his birthday wish…
After graduating from high school, Paul and Ben went to their separate colleges… Paul to Johns Hopkins University and Ben to Princeton. But they remained fast friends throughout their college years.
Sometime during his tenure at Princeton, Ben met the love of his life — a lovely young woman named Richa. Several years ago, they were married in a traditional Hindu wedding in New Jersey.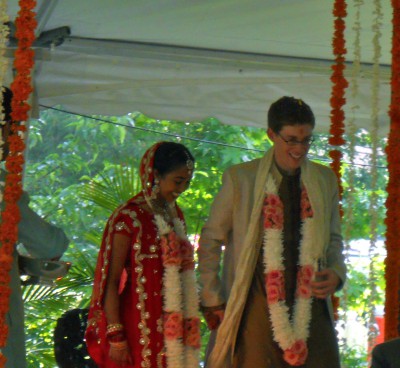 Ben and Richa during their wedding ceremony
Less than two weeks ago we received the shocking news that Ben has been diagnosed with a form of adult leukemia (ALL), which as he put it on his first post to his "Caring Bridge" website: "It's relatively rare in people my age, and it probably wouldn't be near the top of my cancer wish list, if I had a cancer wish list."
Despite the shock, I am so awed by Ben and Richa. That they have been so courageous and are rising to the challenge of what this diagnosis means in their lives. It seems to me if I were in their shoes, I would need a good bit of time to get used to the shock. But within the week, Ben was already at Dana Farber, preparing to undergo chemotherapy treatments. Ben's Mom wrote in an email, "It's really hard on the people who are not able to see him navigating this situation. He is focused, positive and determined."
In one of his posts, Ben listed all the things going for him, including the amazing support from Richa, their families, and friends near and far. He also lives within three miles of the Dana Farber Institute, which is where he is receiving treatment, and he has perhaps the best doctor in the country for this kind of cancer. And he is young (30), fit and strong.
Ben continues to infuse his posts with that Ben-style humor. He's had me laughing out loud, even when I'm alone. One of his many talents is his music. He wrote this in his post yesterday:
Some of you have mentioned or alluded to jazz in your comments here, and I want to let you know that I'm most certainly taking that medicine. I've been listening mainly to John Coltrane, whose music speaks to me more deeply than any other.

On a related note, I have signed up for the daily Reiki service, which is provided on weekdays by a volunteer program at the hospital. I don't know about energy healing, but I know that human touch is therapeutic, and I've found that when this experience is combined with the music that touches me most deeply, it can promote a state of transcendent relaxation. I've had a different Reiki practitioner for each of the three sessions I've received so far, and I had a particularly powerful experience with the second, which was on Thursday. She seemed to feel it, too. When she had finished the session and I had thanked her, she said, "You are made of music. It's as if they took music and put it in a body. That was beautiful." Yes, I had told her I play saxophone, and the scientist in me can roll his eyes, but the musician in me was quite touched.
This is so beautiful, it brings tears to my eyes. It is so eloquently expressed from someone so open to the channels of healing, even when that means suspending any disbeliefs he may have had before, like for the idea of energy healing or the words of the therapist about him being made of music.
I have been thinking of Ben and Richa and their families more than several times a day. May Ben continue to be focused, positive, and determined through his treatments. And may the love he and Richa share and the love pouring in from friends near and far, help restore him to good health.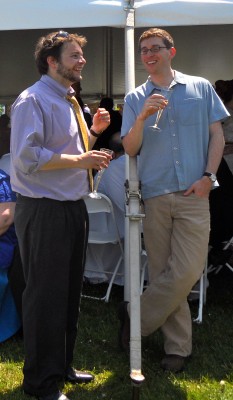 Paul and Ben at Paul's graduation from Vermont Law School
Please add your healing thoughts to those going in Ben's direction at the Dana Farber in Boston. I would say "thoughts and prayers," but the scientist in Ben might just roll his eyes. Then again, his soul may just be touched. One way or another, may he continue to receive an outpouring of love from all of us who care about him.