Sam Mullet, leader of the Amish in Bergholz, Ohio, is hoping to gain his freedom tomorrow, Monday, March 2, when a federal judge will re-sentence 16 defendants following an appeals court's decision to overturn their hate-crime convictions last August in the case that involved attacks on other Amish.
The victims asked for help because their traditions failed them. They simply do not have a way to deal with the threat of Mullet if he is allowed to return to Bergholz. It is unfortunate that this case has gotten bogged down in the politics of whether or not the attacks constituted hate crimes. We merely need to look at the facts to know that Mullet's perceived enemies are not safe if he is allowed to go free. He sent his minions out to exact revenge on his enemies. And the reason he perceived them as enemies? They had dared to defy him. And now that he has spent time in jail, he might just want to make someone pay.
The Amish have a way of dealing with "sinful" behavior that goes back centuries. If someone has committed a wrong, he (or she) is to go to the bishop and confess. If the bishop sees signs of remorse, he will accept a public confession in a "members' meeting" immediately following a church service. The "brother" who has erred normally makes his confession on bended knee and then he is welcomed back into the church.
Amish church discipline doesn't always work. Some are incapable of feeling remorse. With his arrogant self-righteousness, Mullet likely hasn't made a public confession since he was ordained. He held a position of absolute power in Bergholz, meting out whatever "punishments" he saw fit.
The Amish way of ordaining their leaders usually filters out those who are incapable of leading, those who would abuse their power, and those and who are known to be arrogant or egotistical or what the Amish call grossfeelich. Church members vote for a male who they think will make a good leader. Anyone with two (in some communities, three) votes are placed in the "lot." As many songbooks as there are men in the lot are then placed on a table. Only one of those books has a slip of paper in it. Those in the lot file in and pick up one book each. Whoever picks up the book with the paper is ordained for life.
One way or another, Mullet did become bishop. After disagreeing with leaders in Holmes County, he decided to move his clan to Bergholz, where he didn't have to answer to anyone—at least not until his victims called the police.
Mullet has been accused of being a cult leader, of committing hate crimes, and of being an adulterer. He has also been accused of "not really being Amish," which implies that the "real Amish" don't act this way.
I agree that Mullet is slippery and scary. But I also know the Amish culture, like any other in the world, does have problems with people of Mullet's ilk. I know this because I encountered them in my childhood.
These kinds of personalities still scare me, but I now live in a society that has a solution for criminal actions. And there is at least some understanding of the psychological underpinnings for devious behavior, which most Amish don't recognize.
I worry that a lighter sentence for Mullet will give him the feeling that he has won, which will only fuel his thirst for power. Reading the story of one of Sam Mullet's grandsons who left after Mullet's conviction gives a good sense of what this means for those in his clan. Hearing how Mullet's wife justifies his actions is equally as chilling.
The people in Bergholz are not the only ones who have reason to fear. Those who snuck away in the dead of night to escape Mullet's power and control are likely the most anxious about the outcome of the re-sentencing. It remains to be seen whether secular authorities can more effectively hold slippery Sam accountable than the Amish with their age-old traditions.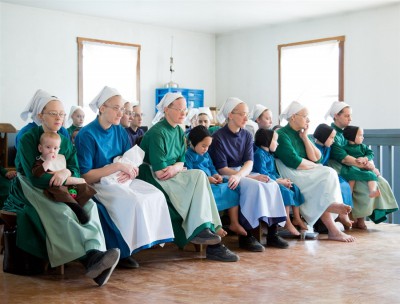 Photo by Scott R. Galvin, Associated Press