Ever since I undertook an exciting new project, starting in January, I've been trying to find a good time to reveal this endeavor to you, my dear readers. On this Sunday evening, as spring is about to burst forth with blooms here in Western Massachusetts, I feel that time has arrived.
I am applying for a Fulbright research grant to study Amish roots in Germany. I am applying for the grant through the Fulbright program at Smith College, which boasts the strongest U.S. Student Fulbright Program in the country. According to the Smith College website, its "success rate (ratio of winners to applicants) over the past nine years has on average been the highest in the nation among top-producing institutions, including the Ivy League universities and comparable elite colleges." Much of its success can be attributed to Donald Andrew, a topnotch coach for the Smith Fulbright scholarship program.
Those of you who have known me for a time will not be surprised to find out what the subject of my inquiry is.
I am proposing to study the educational practices of the Anabaptists, the ancestors of the Amish, in 1600s and 1700s Germany to find out if the Amish attitudes against "book learning" and cultivating the intellect originated in Europe. Before the 1972 U. S. Supreme Court case Wisconsin v. Yoder exempted them from compulsory education, Amish parents were often jailed for not complying with education laws. I want to discover where such a deep-seated aversion to higher education came from. There is no historical record in the United States, or even in the Amish oral tradition or collective memory concerning these conventions that run counter to the mainstream culture.
My approach to this research is informed by both my life experiences and my formal education and from having lived inside and outside an Amish community. My understanding of the German language comes from majoring in German Studies at Smith College that included studying abroad in Hamburg, Germany for a semester and completing a summer German immersion program at Middlebury College. My ability to decipher old German texts comes from my Amish upbringing — as a child, I read songbooks, prayer books, and the Bible in old German font and I taught children to write in old German script when I was a teacher at an Amish parochial school.
Right now I am doing background research for this project, reading anything I can get my hands on about the history (especially social history) of the Anabaptists/Amish in Germany and on the history of education in Germany in that time frame (which was actually the Holy Roman Empire at the time). Right now I'm reading a book called, Luther's House of Learning by Gerald Strauss, which is the most comprehensive research I've found about education in the 1500s and 1600s. What I am discovering is that there are records of "visitations" by secular authorities to the towns, parishes, and schools at the time. These should prove fruitful in my research.
I am also practicing my German. Right now I'm transcribing a book from old German font into modern font, which exercises my German skills in every way, especially when I read out loud what I have transcribed.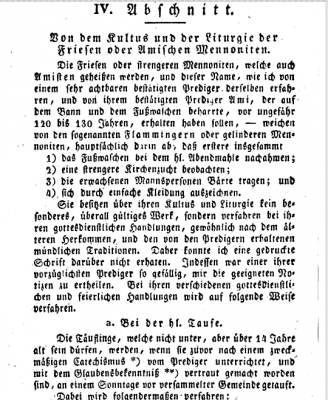 My application is due in September. There are still many steps to go, including securing a consultant in Germany who will oversee my project, writing the proposal and personal statement, securing letters of references, and a whole lot more. I will hear next year at this time whether I am awarded the Fulbright grant.
If I receive the grant, I will be leaving for Germany in the fall of 2016 for 10 months. I hope to end up in the Middle Rhine region near the archives where I plan to conduct much of my research in Stuttgart, Karlsruhe, Speyer, and Wiesbaden.
While I am in Europe, I will visit sites important to Amish/Anabaptist history and I will hold in my thoughts all those Amish people who had a longing to travel to the Mutterland of their ancestors and yet never had the chance. That would include Mem. She wrote about this longing in her last letter to me when she knew I was planning to go to Germany for a semester abroad. She died sixteen days after writing that letter, so she did not get to see me off, nor did she get to hear about my travels. I am sure she will be with me in spirit, should I get this chance to return to Europe.
I was interviewed by the editor of the newspaper at Smith College, The Sophian. I'm providing the link, in case you're interested in reading the article.
I'm wishing you all a wonderful week and a happy spring.