I'd like to open this post with gratitude to all of you for visiting my blog and website so loyally. At the end of March, the count on my blog and website turned over to 1,000,000 visits. Last year in early February, just before the PBS film, "The Amish: Shunned" aired on American Experience, that count was around 55,000. That means I've had close to one million visits on my blog and website in 14 months. Whether you visit regularly or sporadadically, you are always welcome here.
A note on the film. Recently "The Amish: Shunned" became available to watch online for free. You can just follow the link to watch the whole film.
---
Some time ago, I began digging around in my ancestral records, and I found I could trace one branch on my mothers's side of the family back to the early 1500s, with their roots deep in Swiss soil. I've traced the Rickenbach family back 13 generations to the town of Zelingen. I did not yet know that when I traveled through Switzerland in 2006, otherwise I would have gone there. I have since found out that the name Rickenbach (sometimes spelled differently such as Reichenbach or Rickenbacher) is a common one in Zelingen today. So I could likely visit relatives (however distant) if I could visit Zelingen.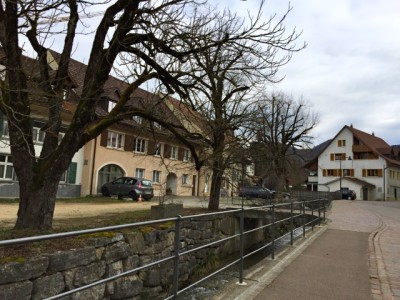 Yesterday my Swiss friend, Miriam Koch, sent me an email with photos of Zelingen. She has been helping me research this branch of the family, and so she is aware of my desire to visit Zelingen. She, her husband, Marco, and their daughter, Hadassah had gone to the zoo over the weekend, and they decided to drive through Zelingen and take photos. I am sharing the photos here, with a big thank you to Miriam and Marco.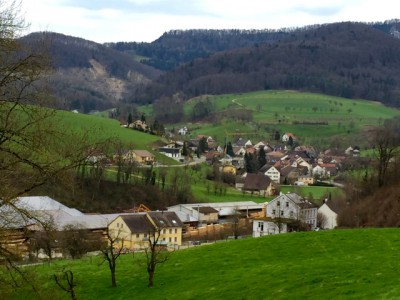 This makes me hope that I will again someday be traveling through Switzerland and be able to visit specific towns that I have been able to identify as places where my ancestors came from. And we now have friends in Switzerland who we can visit.
In May, Miriam and her family are coming to visit us. We'll be traveling to Amish country with them, visiting bookstores that carry books on Amish/Anabaptist history, which is a subject Miriam is interested in. It will be great to meet her and her family in person. I feel like I know them, but so far it is through our email exchanges that we've "met." It is enough to know that we are kindred spirits.
---
Some time ago, someone I used to work for when I was in my teens, emailed a photo of me, taken in their yard. Steve was only a child when this photo was taken, but he tracked it down and sent it to me. Thank you, Steve!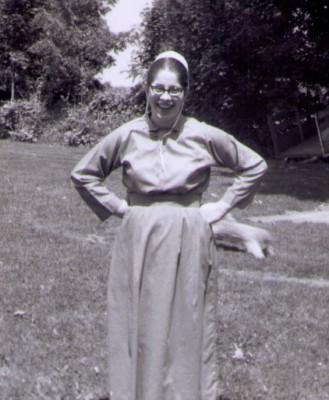 I am posting this with some trepidation. I am wearing glasses in the photo that I don't remember ever wearing. These kind of glasses don't have a very nice name. But then again they are not very nice glasses. That I ever wore them is embarrassing, to say the least. I'm also amazed that I thought I looked better with my covering farther back on my head, which was the "style" for young girls at the time. And good grief, why did I slick my hair back like that?
Now that I've found all kinds of faults with my "self" at that age, I have to say it is an amazing experience to get a glimpse of myself at that time in my life, before I knew much about myself or the world around me. Because photos are rare of my "Amish" self, this is an important glimpse of my life at that time.