On Sunday, David and I felt a little stir crazy from being around the house so much. He developed a blood clot in his leg several days after his surgery, which slowed his healing process quite a bit. He is now on blood thinner to deal with the clot and he is doing physical therapy exercises to regain the range of motion in his knee. But we were ready for a trip to restore our souls, and we knew just where to go.
Having lived in Vermont for thirty years, David and I are drawn to its beauty. We each breathe a sigh of contentment every time we enter the state… and it doesn't matter from which direction we enter it, we know when we're there, whether or not we've seen the "Welcome to" sign.
One of my favorite stretches of Interstate is 91 north of White River Junction. And I had a reason I wanted to travel that part of the highway.

Northeast Kingdom in Vermont on Connecticut River
Several days ago, I found a story in my Google alert about Amish families moving to the Northeast Kingdom of Vermont. So besides taking in the soul-restoring vistas along the highway, I had an idea that I wanted to look up the Amish families and see if they were up for visiting on a Sunday afternoon.
I did find them. And we did have a visit. The patriarch of the family came to the door, and he was soon joined by his wife. They live in the farmhouse with their son and his family with eight children. They are hoping to build a "Doddy House" for themselves.
These two families have moved from Western Pennsylvania, just east of the border with Ohio. They are hoping to be joined by several more families by the fall. They live on a 90-acre farm, and the son has bought land several miles from there that he and his family will need to reclaim, with a delapidated barn and house.
Mr. Kauffman and I soon figured out connections, since he was 15 years old when his family moved to Conewango Valley, New York from Geauga County. Ohio. So it took about three minutes for us to make connections with people we both knew. Two of my uncles lived in Conewango Valley, and he knew them. In fact one of them worked as a hired hand on his father's farm when Mr. Kauffman was a boy. My uncle died just recently, and they happened to know that he had died only three weeks after his wife.
Mr. Kauffman is a first cousin to the father of the family who bought two acres of land from my parents when I was a teenager. (I wrote about this in my book, Why I Left the Amish). One of his first cousins is married to one of my first cousins, and one of his cousins on the other side of the family was married to my uncle who was killed in a farming accident some years ago.
Mrs. Kauffman is the niece of the blacksmith who was married to one of my great aunts. We used to get our horses shod by him.
I'm sure these connections are only the beginning of those that exist. I find it so fascinating that it takes about five minutes to make such connections with nearly any Amish person anywhere. It is a function of being so interconnected to community and family.
And yet, here these two families are in Vermont, hundreds of miles from their home community. I really got a sense of what a pioneering spirit they must have when I commented on their nice garden. They told me they planted it on June 22, six days after they moved in on June 16. I asked if the garden was already there or if they had to claim it. They said they had to claim it… in fact they had to take out trees. I was amazed at how fine the soil is… that is not always the case in Vermont.
The younger part of the family had gone for an afternoon walk, down by the river. From the back of the property, they can see the cut in the mountains where Lake Willoughby is.
I asked them how they discovered Vermont. They said their son had taken a trip to Canada to visit relatives, and came through this part of Vermont. They made a connection with someone there, and became interested in buying land and starting a community.
These two families will soon figure out how to sustain themselves, I'm sure. They have bought several head of beef cattle, and several horses. They are obviously hard workers.
Mr. and Mrs. Kauffman came out to the van to talk with David before we left. We both wished them well, and conveyed our hope that others will join them. David saw their modest little sign for baked goods on Saturday and said we came on the wrong day. Leave it to David to say such a thing. He has a soft spot for Amish baked goods. We once bought a dozen of molasses cookies at an Amish baked goods stand in Ohio years ago that David absolutely loved. He still talks about those molasses cookies to this day.
We didn't stay very long, since we had imposed on their Sunday afternoon. It was good to establish a connection with my people in the state I love. In fact, back in 2011, Erik Wesner asked the question on Amish America about which state would be the next one the Amish would settle into. I wrote this:
I guess Vermont. When I lived there for thirty years, I always thought Vermont and the Amish belonged together. There were many family farms growing nothing but new housing developments for many years, but now that has slowed. So many barns are collapsing from not be used or maintained as the family farms are no longer being farmed. Vermonters would be very welcoming, I believe. In fact, a friend of ours was trying to attract Amish to settle into an area they were trying to preserve as agricultural land.
When we left, David had the idea to go to the Williougby Inn to have dinner. We used to eat there on our way back to Vermont when we traveled to David's parents' cottage on Lake Rangeley in Maine. We had a very tasty dinner in a beautiful setting. I went out on the porch and took several photos of the lake. Though the lake doesn't look that big, it is 320 feet deep.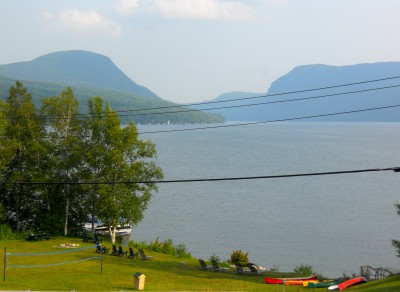 Our trip up and back were more beautiful than I had remembered. We stopped on the way up and took several photos. There were many, many more vistas that we didn't capture on camera.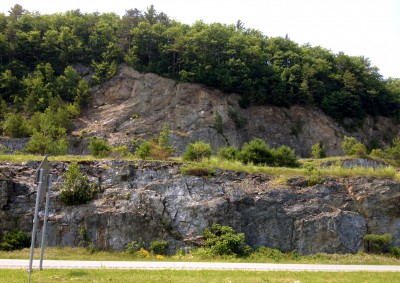 One of the things that fascinate me is how much rock they had to cut through to make that highway. I've only ever taken one geology course in my life, but I am captivated by what kind of rocks are found where. These hills they cut through have all kinds, in all colors. Some are layered vertically and some horizontally, and still others are halfway between, at an angle. I saw a lot of veins of white, which would be quartz running through them.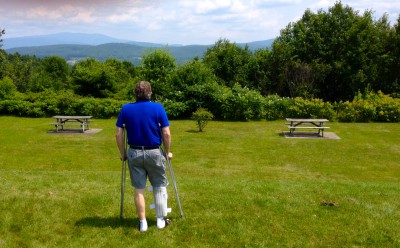 By the time we arrived home, less than an hour after sunset, David and I both felt restored. The Bible phrase "He restoreth my soul" came to mind.