I have been focused on spring cleaning. I don't clean the inside and outside of my cupboards very often, but during this week of rain we've had, I did. I could not wash the windows inside and out, so I tackled the cupboards instead. It was a satisfying feeling, wiping out that last drawer.
In the process of cleaning the cupboards, I also cleaned glassware and other items that have been living on the top shelves. As I was washing my set of a pitcher and glasses, I realized that this glassware has been with me longer than just about anything else. I don't know if I own anything else I bought when I was 17 years old.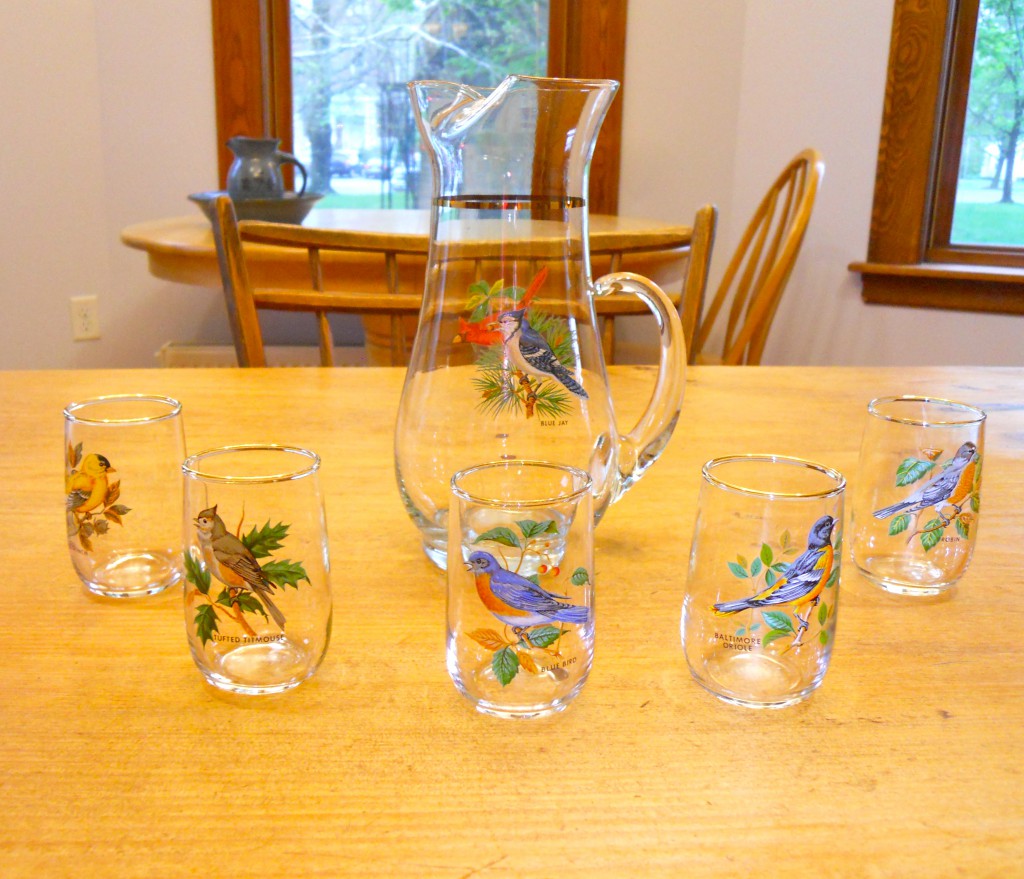 When I was a teenager, it was common for young women to "get together a load" [of other young women] to travel somewhere. I don't remember who organized this trip to the Fenton Glass Factory in West Virginia, but I do remember that my sister, Sarah, and I were part of the vanload of Amish young women who traveled there the summer I turned seventeen.
Traveling to new places was such a big deal. I don't remember if I paid for the trip by saving up my three-dollars-a-week allowance, or if Mem paid for it. But I do know that I enjoyed the trip. I loved the feeling of the moving wheels under the van, seeing the new sights out the windows, and being part of the group, even if only for the day.
Sarah and I stuck together. We toured the factory as a group, and then we split up into different groups to see more. Sarah was very much drawn to watching the glass blowers. She has been an artist since she was a toddler. Back then, there was so little paper in our home, that she sometimes took to drawing on the walls. She observed the glass blowers with keen interest. I felt bored and hot after a while and I moved on to see other things.
Many of the other girls spent most of their time in the gift shop, deciding what "pretties" they would buy. It was common for young girls to have a shelf for pretty dishes in their bedrooms.
Sarah and I didn't have much money to spend. Just because we were used to being the poorest in the bunch didn't mean we liked it. After much deliberation, we bought identical sets of bird pitcher and glasses. We both loved birds, though Sarah was more observant and knowledgeable about them than I was.
So, as I washed out the pitcher and the tiny glasses, I remembered how I've been washing these same dishes for forty years. I could not help but compare my life then with my life now. Back then I could not have dreamed of one day living in a lovely restored home with such a beautiful kitchen. I certainly could not have imagined sharing all this with the love of my life. I did not yet know that David existed. So I was buying a keepsake for a future I'd not yet imagined.
Before I climbed on the chair to place the set back up on the top shelf of the cupboard, I decided to take a picture of it to write this post. So I placed them on the dining room table to photograph them.
Then I realized something else. The table represents memories for David since he was a young boy. He and his family would visit their cottage on Lake Rangeley in Maine. This furniture had lived there since he was ten. He and his siblings and friends played board games on this table during rainy days. His family ate meals around the table, where they could watch and see loons that would swim up to their dock and dive for minnows there.
I remember the first time David took me to visit his parents at their cottage in Rangeley. It was just as beautiful as David had described it. The table was in the center of everything. Sitting there looking out over the lake on a quiet afternoon, hearing the wall clock ticking away and hearing the wind and the waves through the open windows, one could fall into a trance.
We visited the cottage in Rangeley over many years. We took several vacations every summer when Paul and Tim were growing up. We ate at the table, we played games at the table, and we did projects at the table. In the quiet afternoons, David's mom (Ruth) would get out her prayer book and read. Then she would tuck away her prayer book and get out a deck of cards. She'd sit at the end of the table and flip the cards quietly in her game of Solitaire, then scoop them up and play another game. Eventually she would scoop them up, put the rubber band around the deck, release the brake on her wheelchair, turn herself around, and tuck the cards into the little drawer underneath the wall clock. That usually signaled it was time to get dinner ready.
I loved Ruth. Her multiple sclerosis did not prevent her beautiful spirit from expressing itself in so many loving and graceful ways. She was so appreciative of my cooking skills. She and I would work like a team in the kitchen. She embodied neat and tidy, and I have always been a messy cook. She would clean up after me in between setting a beautiful table.
Ruth died in 1999, when Paul was thirteen and Tim was eleven. We did not return to Rangeley often after that. David's father remarried shortly after Ruth died, and so the family dynamics changed. The cottage sat mostly empty for quite a few years.
David inherited the table, along with six chairs and two end tables. They were made by Hunt's furniture, and the table top was originally crafted with hand planing marks and finished with linseed oil. Over the years, the planing marks had worn down to ripples in the wood. The linseed oil finish had become gummy with all the years of sitting in the cottage unused.
I thought I could clean the table top with the same cleaner that I'd used on the chestnut woodwork in our home. It cleaned it all right, but in an uneven manner. There were places where the wood was raw, and other places where it was rough. Now I didn't know what to do. David didn't want me to sand it down, because it would remove the planing marks completely. So for several years, I just kept it covered.
A few weeks ago, I decided to tackle the job of finishing the table top. First I researched finishes, and decided to use Danish oil. But now I had to prepare the table top without sanding it flat. That is when I thought of using steel wool. After several hours of rubbing the table down with fine steel wool, I felt satisfied that it was ready to be finished. Then I applied several coats of Danish oil. For days I had to keep the windows open because it was strong as it was "drying in the wood, not on the wood" as it is supposed to do. Now I feel like the table has been restored.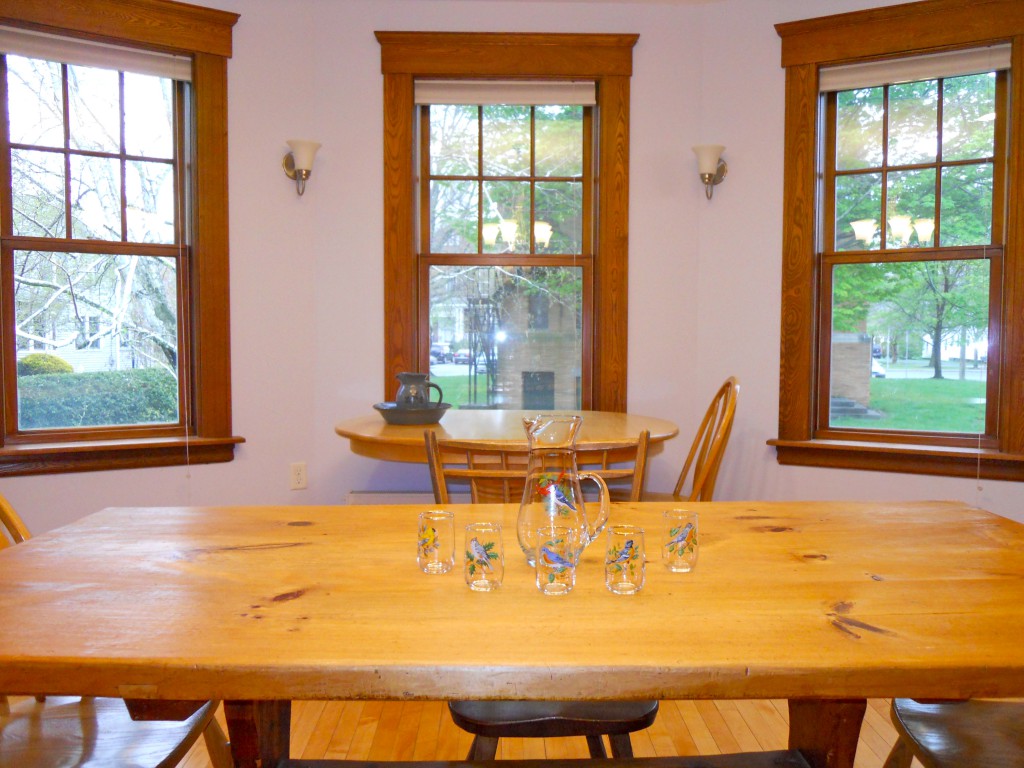 The pitcher and glasses would likely not have been something David would ever have spent his money on. Pine furniture would not have been my first choice. However, after recounting the memories that these items represent, I am committed to keeping them for the sake of evoking memories. I suppose this is why we call them keepsakes.