I am writing a third book, so far called Mem: Life Lessons I Learned from My Amish Mother. This title will likely change when I find a publisher. This book is about my relationship with Mem, so I've been reading her letters from years ago. That is what prompted me to post excerpts of her letters in my recent posts.
When I started out this book, I was reluctant to write about my relationship with Mem, and yet I felt compelled to. So I decided to go where the muse takes me. More than halfway through the book, it has taken on a life of its own. I am no longer doing this reluctantly. Rather, I am inspired to finish this book and get it published. I am hoping to find a good agent and a mainstream publisher. I feel this book will have a near-universal message, given everyone has a mother. It will likely speak more to women than men, given it is about a mother-daughter relationship.
Over the next several blog posts, I will be sharing the introduction to my book.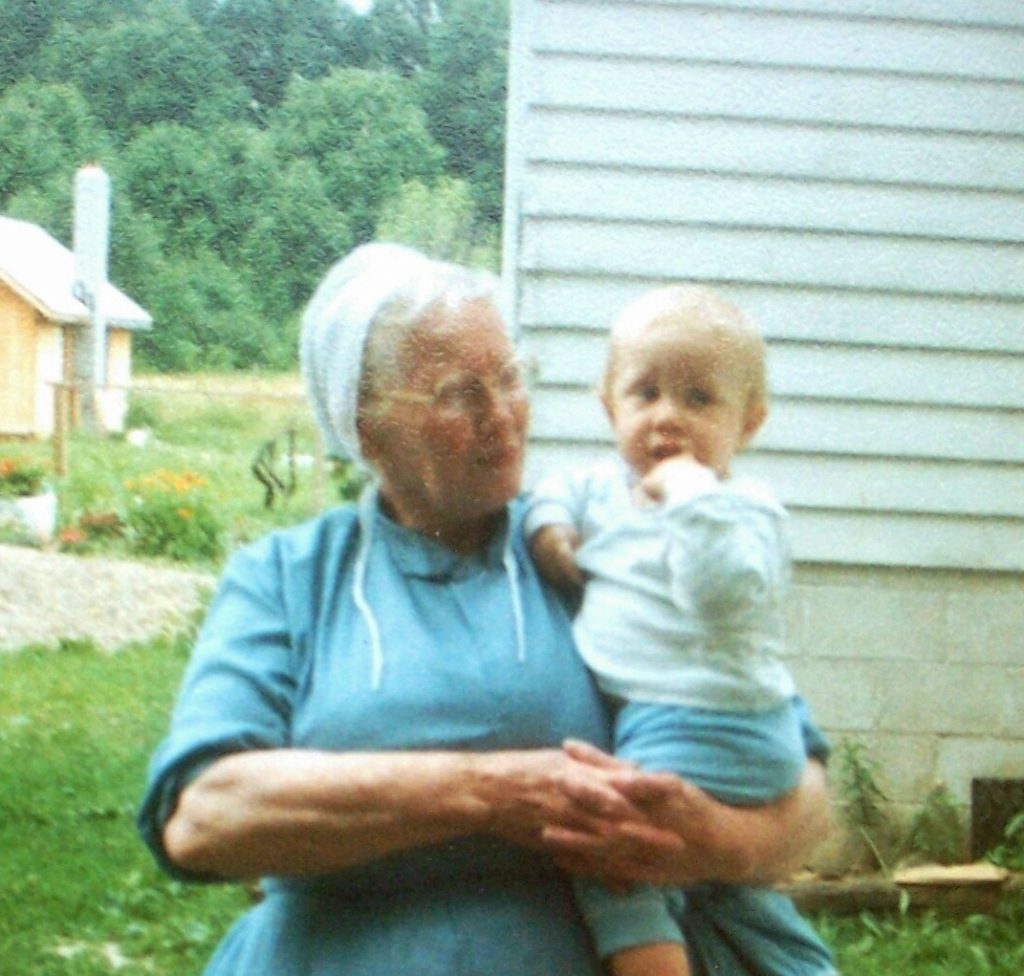 A rare photo of Mem holding our son, Timmy, when he was a toddler
Photo by David Furlong
Introduction, Part 1

I too forgive, but I don't forget. In the forgetting we miss something important about the climb, the loss of life, the loss of dreams. My responsibility as a poet, as an artist, is to not look away. ~ Nikky Finney

Two years ago, I found myself in the top room of my home, braiding woolen rugs. I often thought about my mother (Mem) as I was braiding. It was she who taught me how to braid rugs. She kept one room in our house where she braided her rugs. My siblings and I resented that because it meant there were fewer bedrooms for us to sleep in and we had to share beds.  Now, for the first time, I realized this was Mem's way of having a room of her own — a space where she could go to braid and meditate, just as I was doing in my own "rug room" that looked out over the park and library next door.

It wasn't until some years after Mem died that I realized I had unresolved issues with her. They first showed up around my feeling that she was an obstacle to the success of me getting my first memoir published. Perhaps it was only the lasting influence of knowing how Mem felt about me writing my life. When she first found out that I was writing for publication, she wrote this to me in a letter: "Let me give you some advice: you should write only good things about the Amish, and then your books will sell better." Mem was right, if I go by all the romantic versions of Amish life depicted in "bonnet fiction." But that would not have been telling my truth.

Poet Nikky Finney wrote a piece in Poets and Writers magazine several years ago that really resonated with me. She described how her grandmother made a stunning, fervent request after reading one of Finney's books — she asked that it be her last. Finney wrote: "I would've promised to sail the seven seas in five days if I could have, for my grandmother. She meant that much to me. 'Promise' she said. But I couldn't. Even for her, I couldn't."

This story reminds me of the day when Mem had truly lost her dignity — she had no hair from chemotherapy, the scarf she tried to wear on her head for a covering kept slipping off, and she couldn't wear her teeth. It was in this pathetic situation that she asked me "to not publish anything bad about Joe or me." I could not promise Mem, any more than Finney could promise her grandmother.

Even with my intention to publish, it didn't happen for years. Four years after Mem died, my manuscript still had not been accepted for publication. I felt as though Mem's request was still between us. I decided to write a letter to her spirit. In it, I wrote in part: "Please, Mem, remember that you had seven children, all of whom have hopes and dreams. I plan to accomplish my dream of publishing my books, whether it takes me one year or twenty years. I hope if you have been standing in the way, that you will now move aside and let this happen. To ask your blessing for getting my story published may be a stretch, but at least do not stand in its way. I will be forever grateful to you and the other forces that be when these books are finally published."

One August evening at dusk, I walked up onto the bridge over the Connecticut River. One page at a time, I dropped the letter into the river and watched them float away. I asked that Mem receive the message. I turned around, and there above me, hovered a small hawk, just above my head. Then it turned and flew silently into the dusk. I felt the hair on the back of my neck rising. I remembered reading in Native American lore that hawks are messengers. I took the hawk as a sign that Mem had received my message. And then as if to confirm this, the katydids began their chirping, calling Mem by name, as I walked down off the bridge: "Katydidit! Katydidit! She did it! Did it! Katydidit!"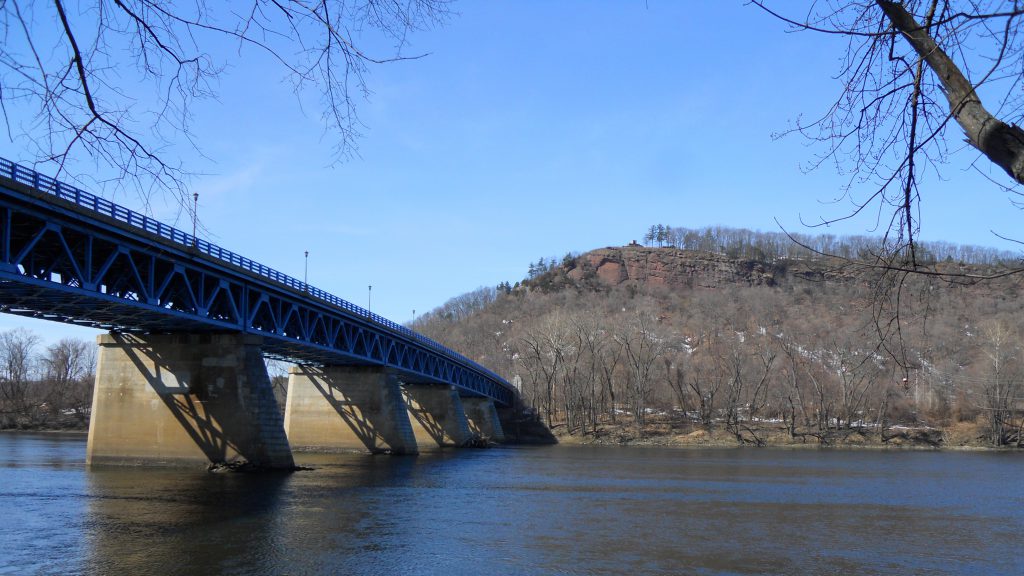 Photo by David Furlong: Bridge over the Connecticut River
Perhaps it was only because I pursued publishing my book with more intention, or perhaps there really was a shift in my relationship with Mem, because Why I Left the Amish was accepted for publication 14 months after I wrote and delivered that letter to Mem. It had been 16 years since I'd first begun writing my story for an audience.
To be continued…