I want to thank all of you who responded to my last three blog posts. It was so gratifying to feel such solid support for this book project. I cannot tell you how moved I was by the comments, especially for those of you who shared of your own stories. It makes me realize how many of us have struggled with coming to terms with our childhood.
I have finished the first draft of the book, and now I am having several readers provide me with feedback. My next step is to query agents, and then find a publisher. I will keep you posted with my progress.
On October 11, I will be speaking at Bluffton University in western Ohio, which means I will be making a flying trip to Ohio and back.
Remember several weeks ago when I promised that I would post photos of the attic when David was finished with the railing he was putting in? This past weekend, he finished constructing and putting it up. Now he still has trim work to do, but there is a solid railing and ballister to lean on to come down the stairs. It looks fabulous!
Ever since we lived in Fairfax, Vermont, when David and his brother ran their toy business, we've had several unusual pieces of birch lumber. What made them unusual is how wide they were. We had on piece that was 19 inches wide! and two that were 14 inches wide. We have been moving them with us wherever we moved, and they have been sitting in our garage ever since we moved here. David decided to plane the wood and use it for these ballisters, and they came out so nice. I sanded and finished them with Danish oil, and now they look really nice.
Without further ado, here are the photos: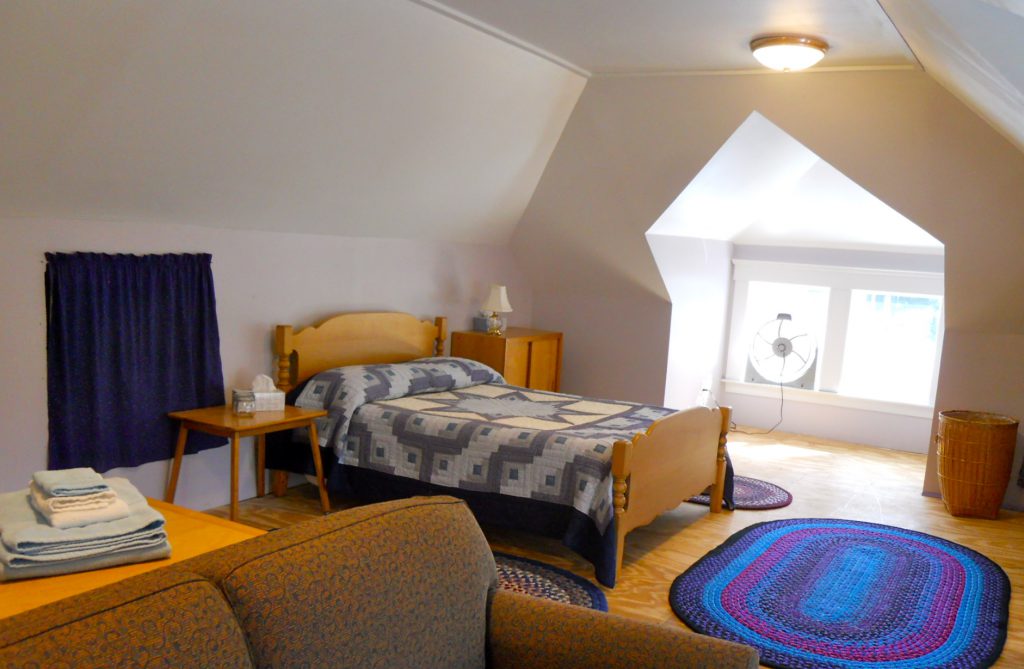 Bringing fresh autumn air into our third story studio space with our "turbo" fan.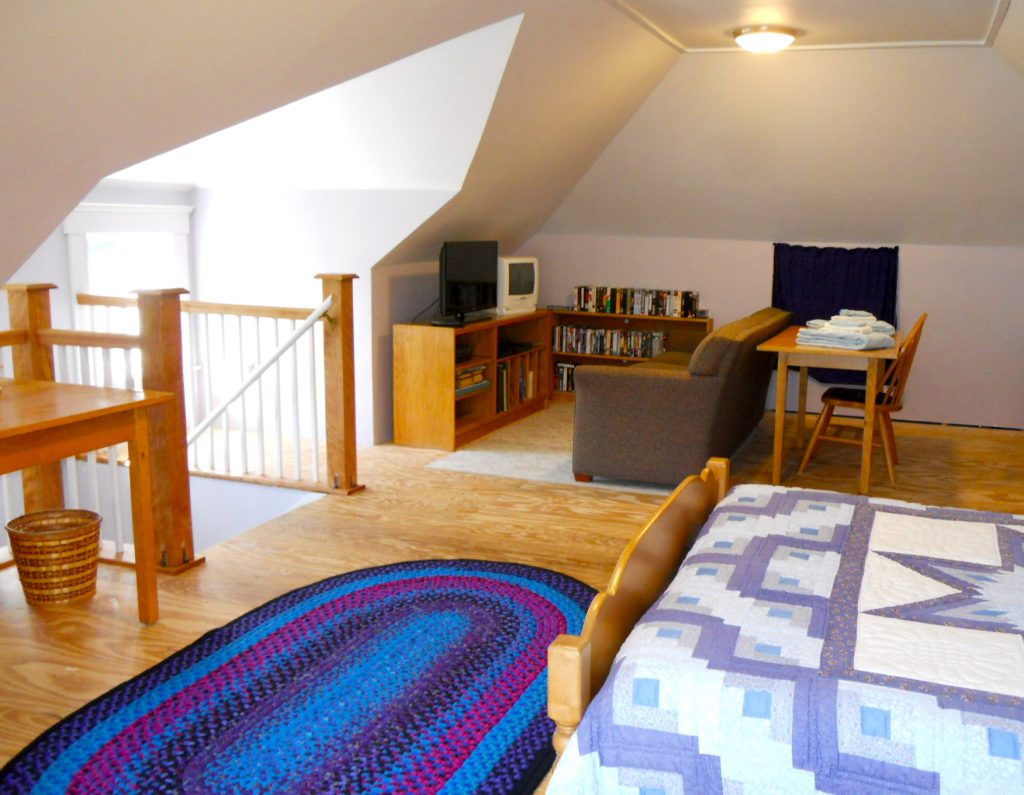 This is also where we watch television.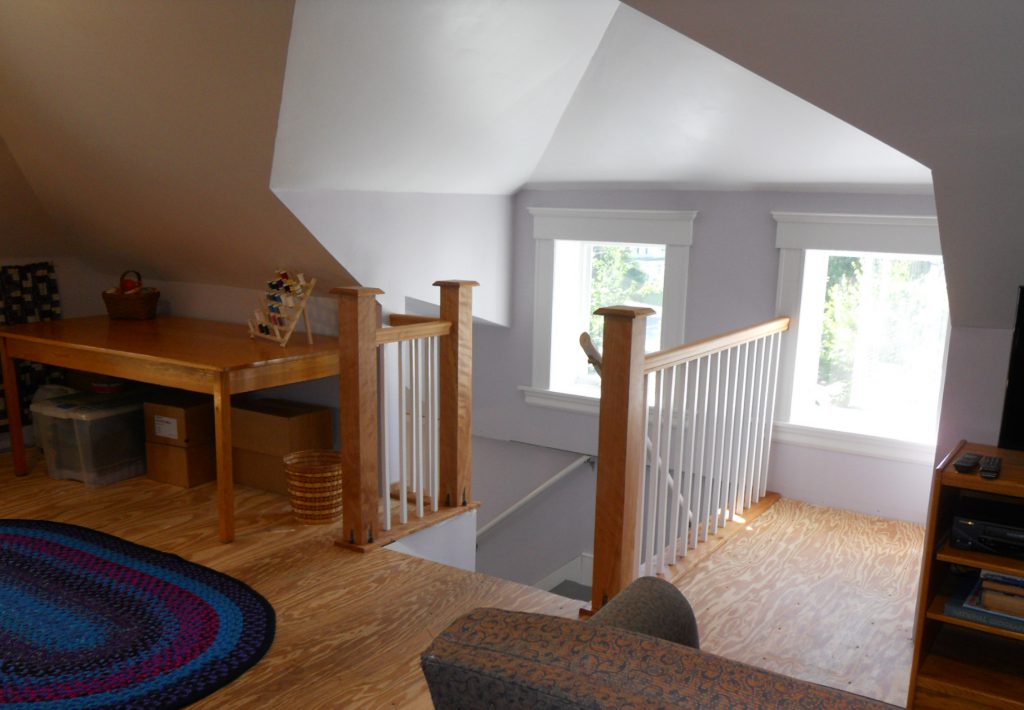 And the ballister and railing…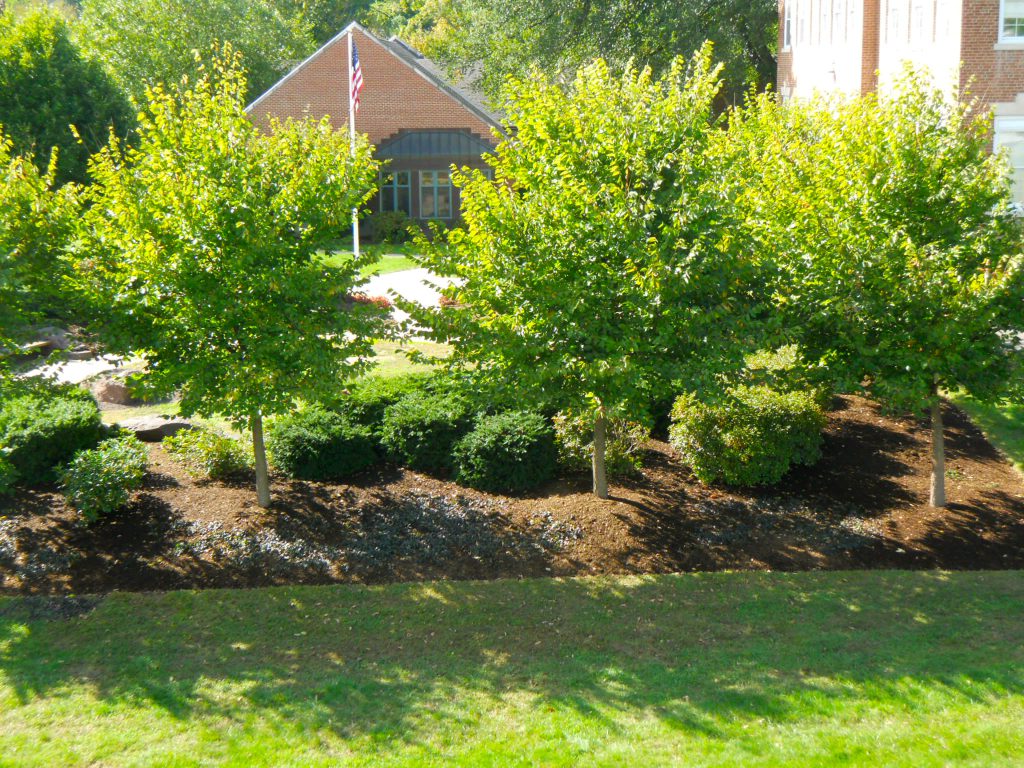 We have a bird's eye view of the park next door from the west windows
I have posted our attic space on Airbnb as another option. We can accommodate families in this attic space with the sofa and an inflatable mattress. Several of our guests have already used this space for their accommodations. We were told by one of them that he was able to play Pokemon from the bed. Because I don't play the game, I take his word for it.
Business has been brisk lately. We've enjoyed meeting new people over breakfast in our dining room. I love being a host. Hanging sheets out to dry and bringing them in smelling like the fresh breezes that blew through them is such a pleasure. I find I keep a tidier and cleaner house, knowing that I have guests arriving. So playing the innkeeper suits me.