On February 12, 1644, Michael Ammann and his wife Anna nee Rupp, had their infant son, Jakob, baptized in the village church in the town of Erlenbach in the Simmental Valley in the Canton of Bern. Jakob was their third child. They would have had no idea that their son would grow up and become a member of the Swiss Brethren and reject the idea of infant baptism. Nor could they have known that he would become a prominent leader of that group who would prompt a schism and that he would become the namesake for the group that followed him — the Amish.
There is a wonderful summary of Jakob Ammann's life and the schism that happened in the Swiss Brethren movement in 1693 on Wikipedia, so I won't go into too many details here.
In my last post, I mentioned that I decided not to go all the way down to Montreux on the Golden Pass Line. When I realized that I was going right by the town where Jakob Ammann was born, I knew I had to get off in Erlenbach and take pictures and get a feel for the place. Unfortunately, when I tried getting off the train on the way south, the button in my train car wasn't opening the door. By the time I got to another door, the train was moving again. So I traveled down to Zweisimmen, and then waited there for the next train going north. This time, I did step out of the train in Erlenbach. I had to walk up a steep hill to the middle of town, and there I took photos of the church and the surrounding countryside.
As I was walking up the hill to the church, I was thinking about how thirsty I was. I had a water bottle with me, but it was empty. I came around a bend, and there was cool, clear spring water, running into a trough. I filled my water bottle and drank, and then refilled my bottle for later. Oh, that water tasted good!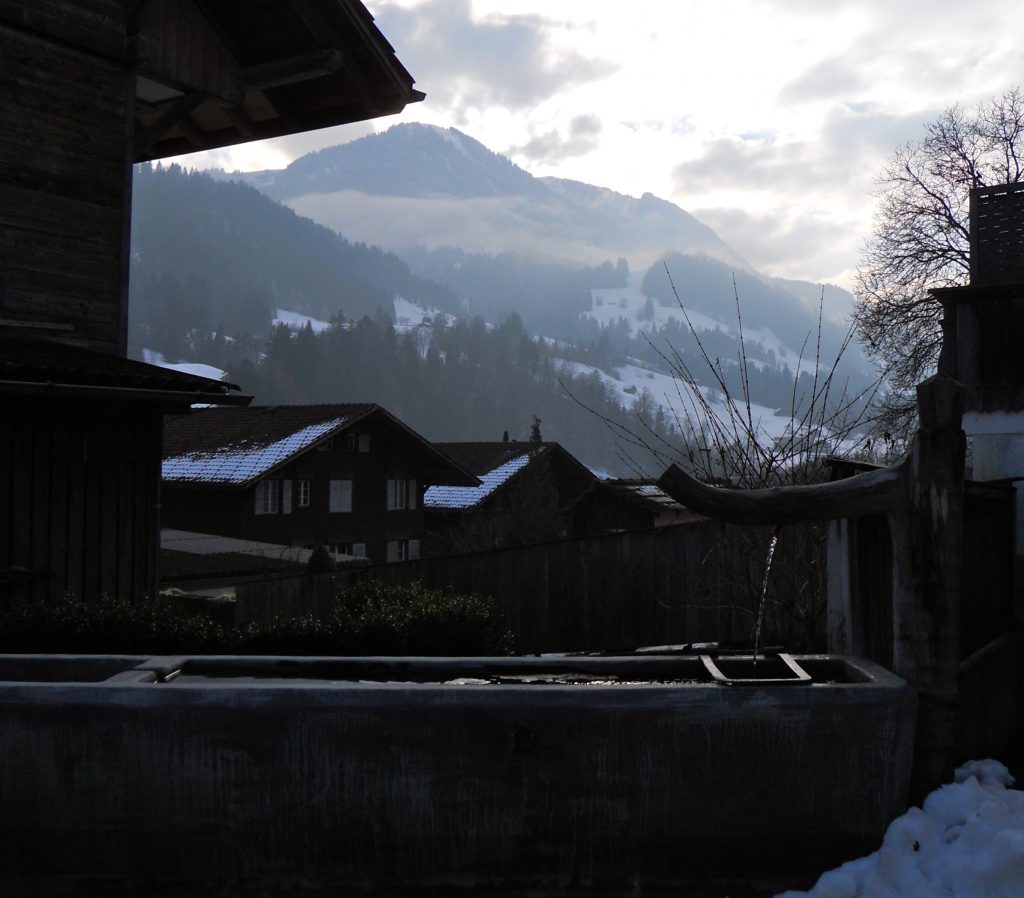 Photo by Saloma Furlong
I continued further up the hill, where I found the church. And what a beautiful church it is! I have looked up the history of the church on Wikipedia, and it is very likely that this is the church where Jakob Ammann was baptized. I wish I had thought about going into the church, especially once I saw pictures of the murals painted on the walls that date back to somewhere between the 13th and 15th centuries. (See link to Wikipedia above). I have a feeling I will be returning to Erlenbach, and I will be sure to visit the inside of the church then.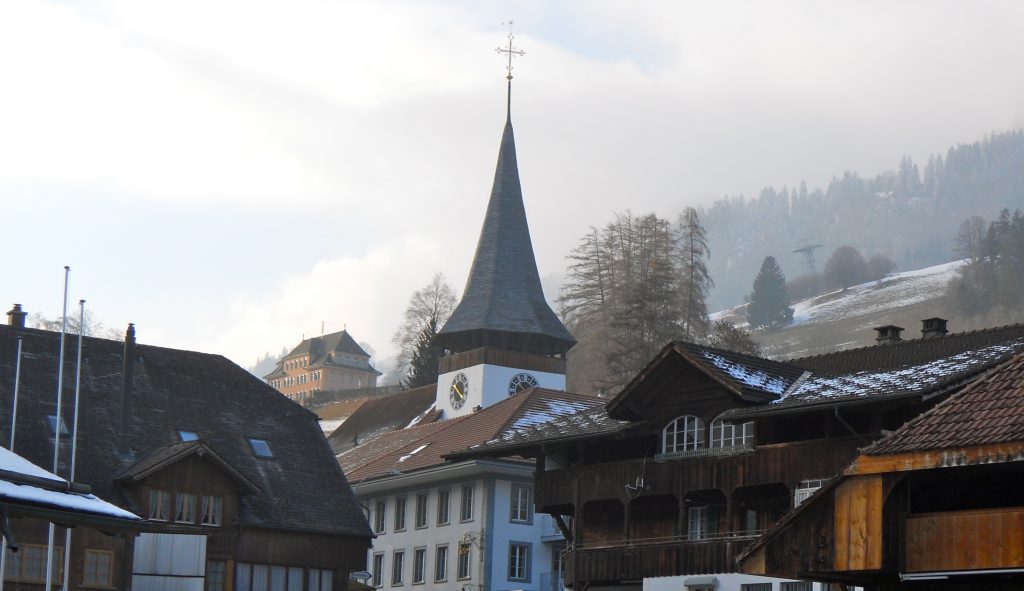 Photo by Saloma Furlong
There was a wooden covered stairway going up into the church. I didn't notice until I looked at this photo days later, that there is something carved into the beam at the top. It reads D. T. B. (a symbol I can't read) 1816.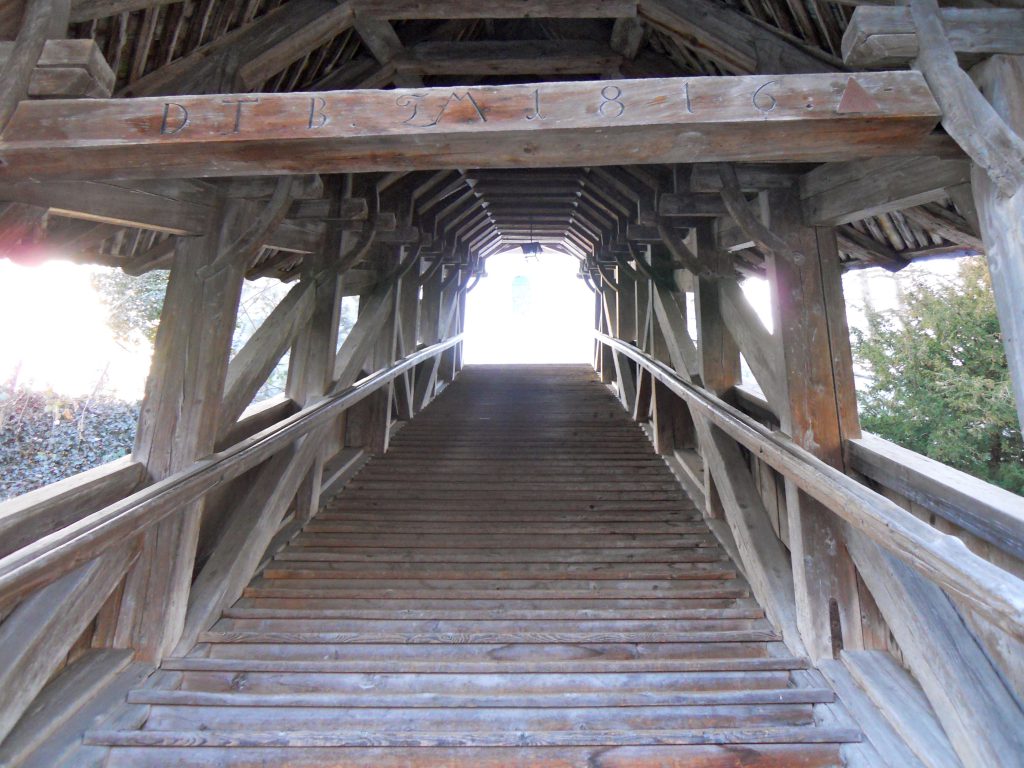 Photo by Saloma Furlong
Just below the stairway was a bubbling brook. There was a water theme going on in Erlenbach. I'm not sure what that means, but I noticed it.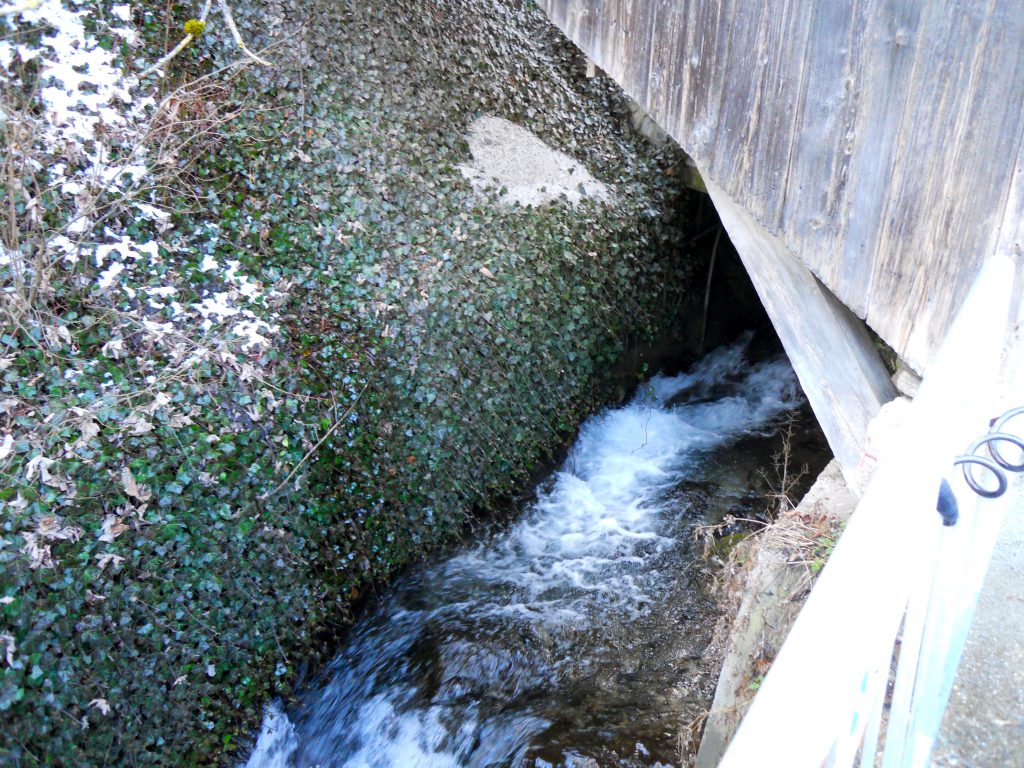 Photo by Saloma Furlong
I stopped in to a little grocery store where I bought a few postcards. I asked the person at the cash register in German whether she was aware that Erlenbach is the place where the Amish started. She said, oh yes she is, that there are sometimes busloads of Amish who come to Erlenbach. I was surprised by that, but then when I thought about it, I realized I shouldn't be. There are Amish who go on a pilgrimage to their "Mutterland" and of course Erlenbach would be part of that.
I took lots of photos of the mountains around Erlenbach, and wandered about the town until it was time for the train, and then I descended back down the hill. Below are several of the photos I took.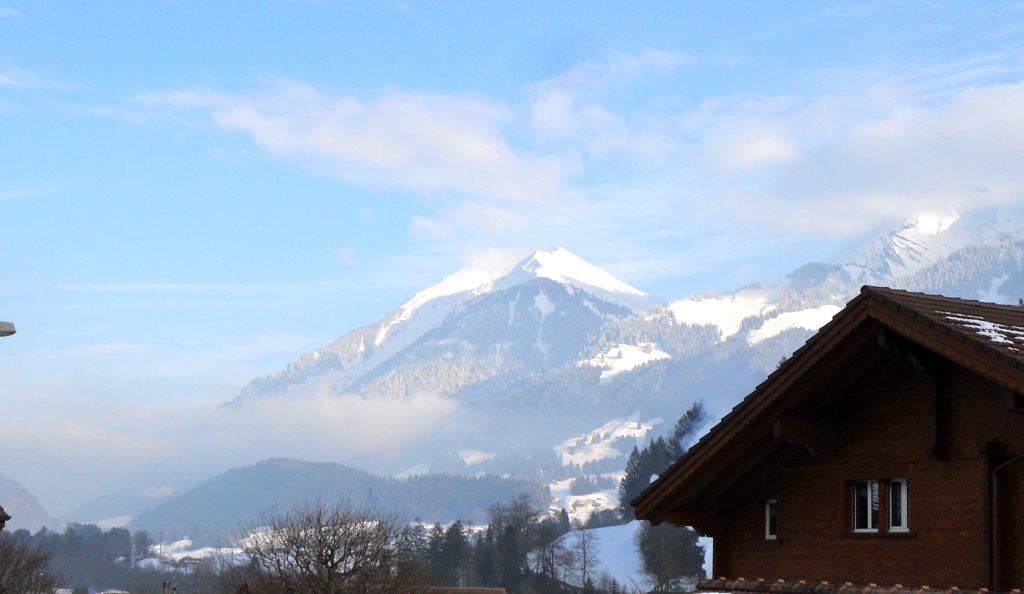 Photo by Saloma Furlong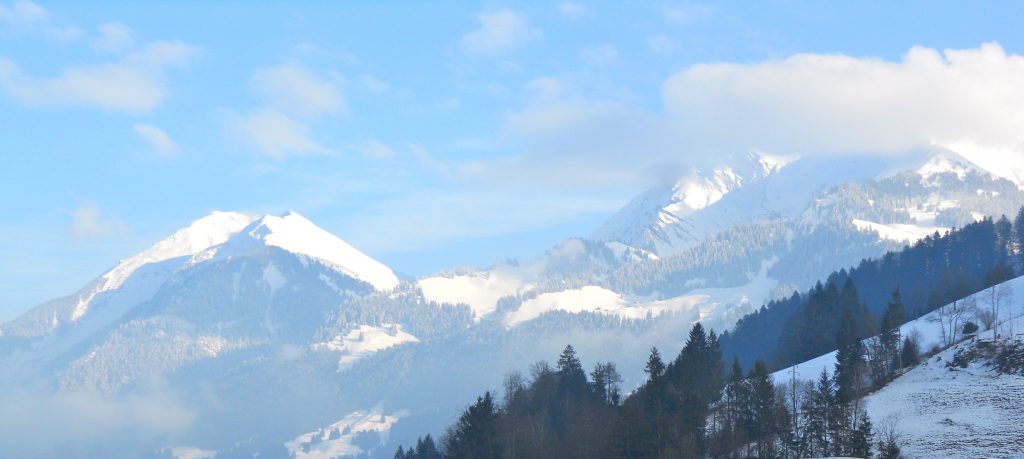 Photo by Saloma Furlong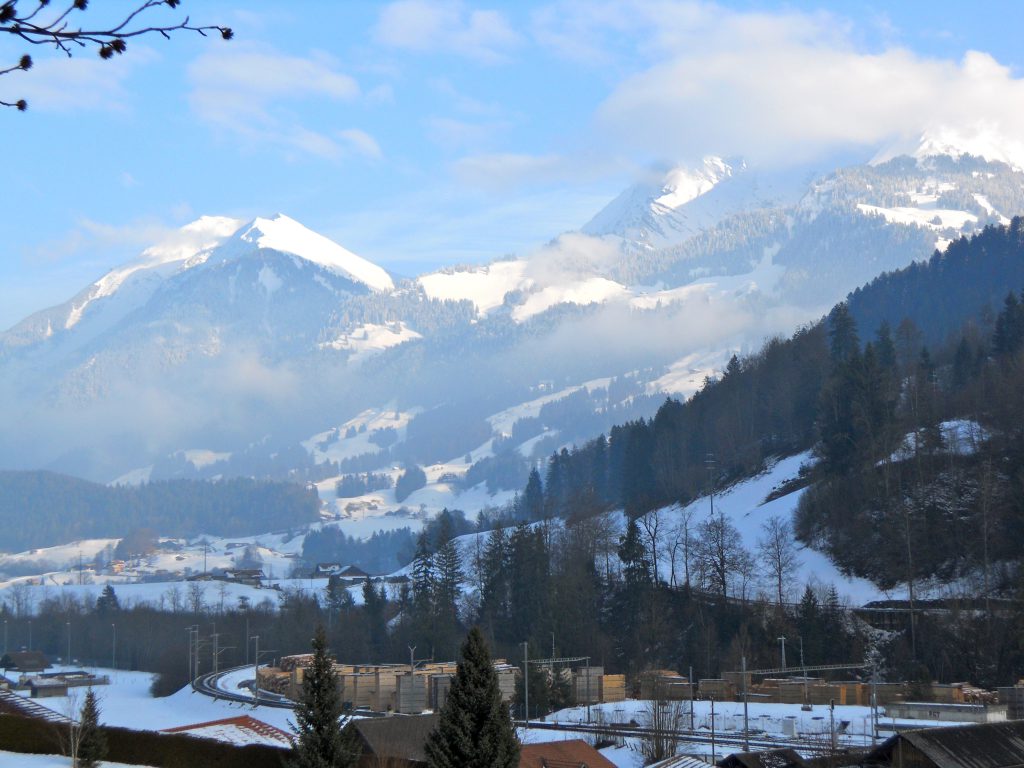 Photo by Saloma Furlong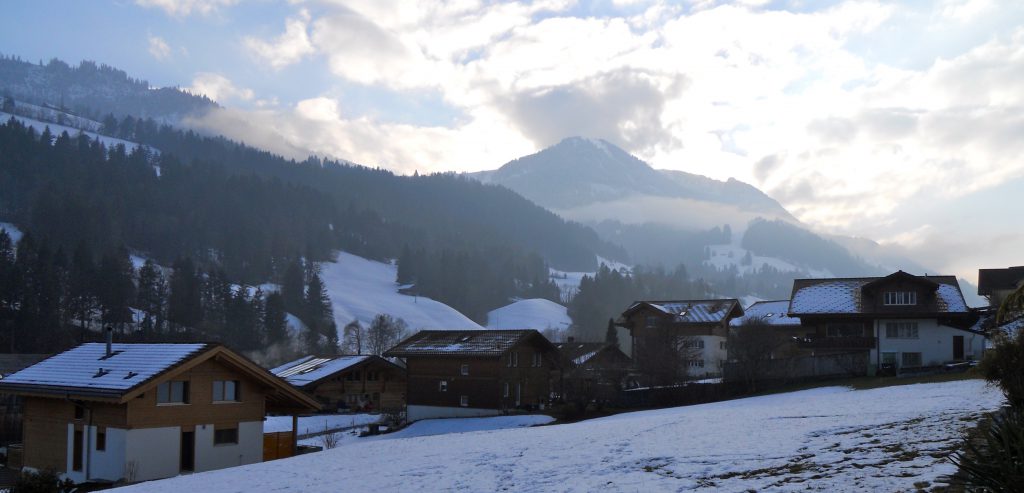 Photo by Saloma Furlong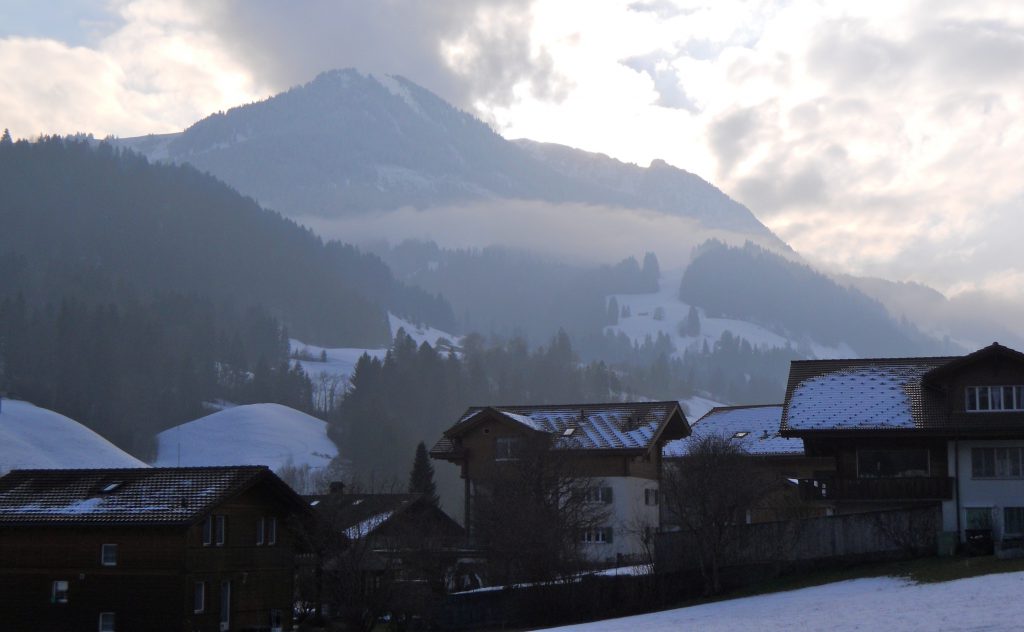 Photo by Saloma Furlong
I just realized that I was in Erlenbach right around the time of year when Jakob Ammann was born. I was there on February 10, and he was baptized on February 12. I had no idea when I started out from Luzerne on Friday morning, that I would be visiting the town where he was born. I felt like the places I visited chose me, rather than me choosing them.
I found out on my train trip back in the direction of Luzerne from a Dutch woman who now lives in Erlenbach, that the train ride between Zweisimmen and Montreux is breathtakingly beautiful. It was one of those times when I wished I could be in two places at once. And since Erlenbach chose me, I am thinking that I am meant to discover Montreux with David someday. I hope so.
In my next post, I will be making a connection between the owner of the farm Hockboden (the farm I was visiting earlier) in the time of the Anabaptists, and Jakob Ammann.