I will now be going back to the beginning of my Switzerland trip to the day that the Kochs and I visited the Trachsalwald Castle. It was what the Amish would call a dreab day. Drab and dreary is the closest translation in English. I didn't mind it, actually. I felt it set a sombre mood, fitting for this part of my pilgrimage.
When we were underneath the castle, Marco said I should let him know if I wanted to stop for photos. I told him I would use his photos, which are superior to anything I would take. But then, just as I said this, I looked up and saw a good photo opportunity, so he stopped while I took this photo from the car window.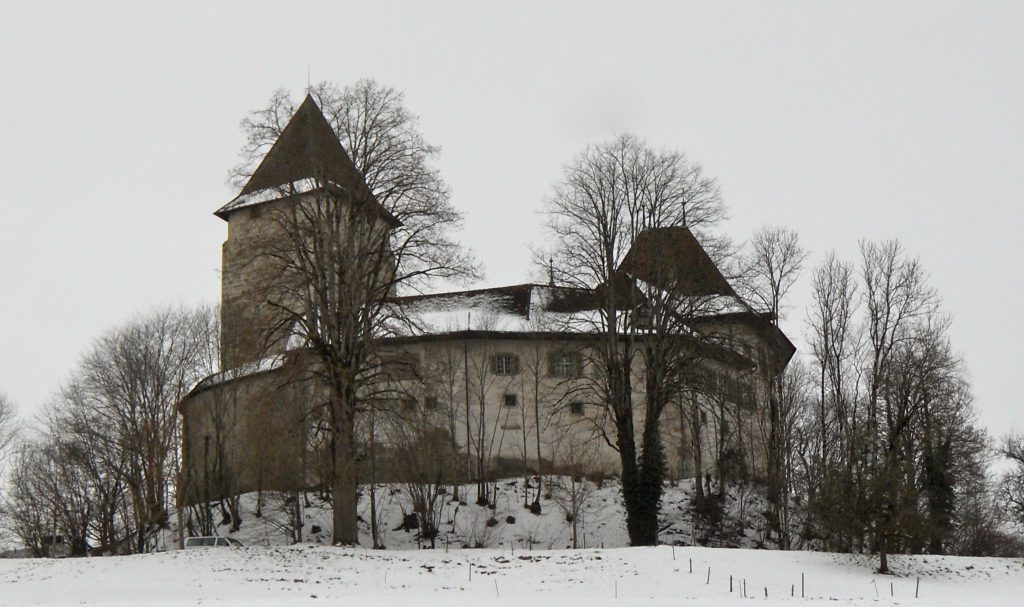 Photo by Saloma Furlong
According to Wikipedia, the main part of this majestic building may have been built as early as the 10th or 11th century. The names of the rulers of the castle were first named in 1131. It belonged to several barons before it was sold to the Canton of Bern, and they turned it into a sheriffhood. This is when the castle was used for imprisoning, torturing, and executing Swiss Brethren or Anabaptists.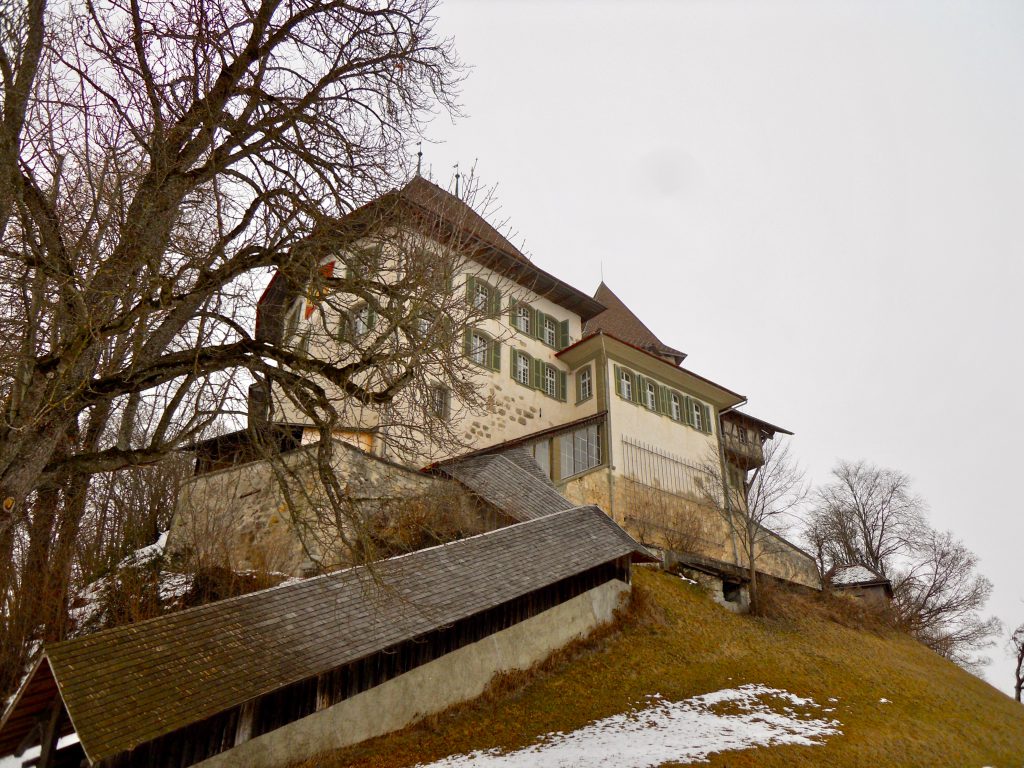 Marco dropped Miriam, Hadassah, and me off at the bottom of the stairs leading to the courtyard. The steps looked daunting. It felt like we were going through a dark tunnel. I could only imagine being led up those long, steep, stairs as a prisoner, not knowing what to expect at the other end of the tunnel, though knowing that my fate was in the hands of my enemies. Here is a photo looking back down the stairs before going around a bend for another set of stairs.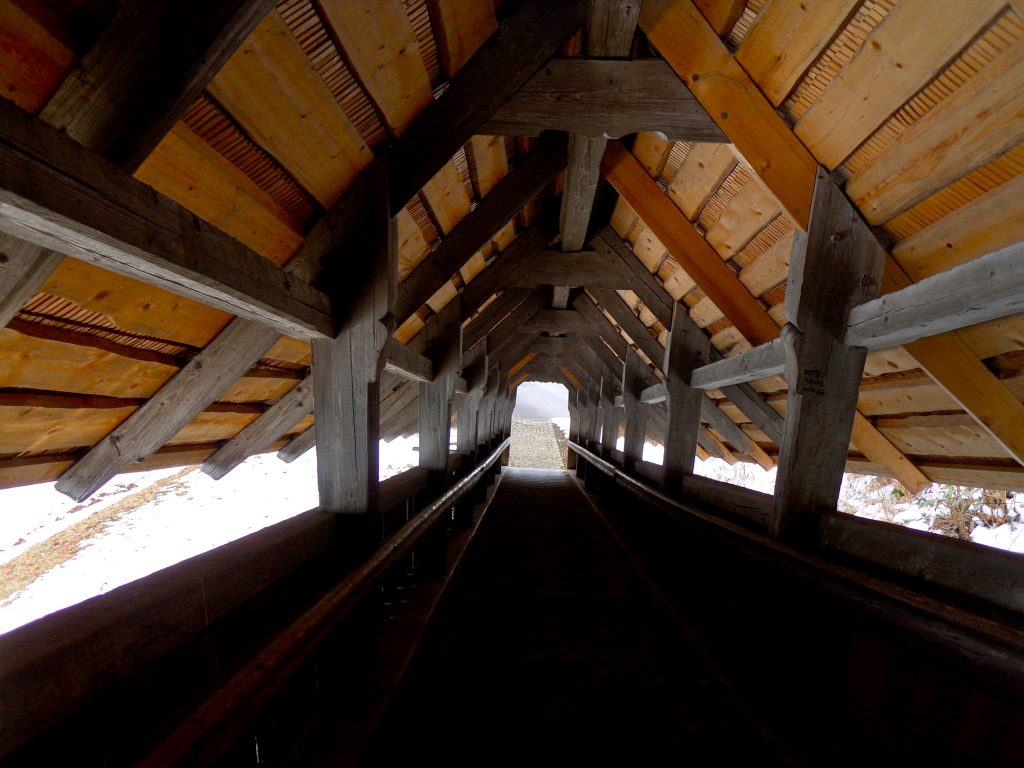 I decided to count the steps: 101 from the bottom, to the courtyard. And there we found Marco, with Michael in the stroller. He had driven around to the other side of the castle, where he could push the stroller up into the courtyard.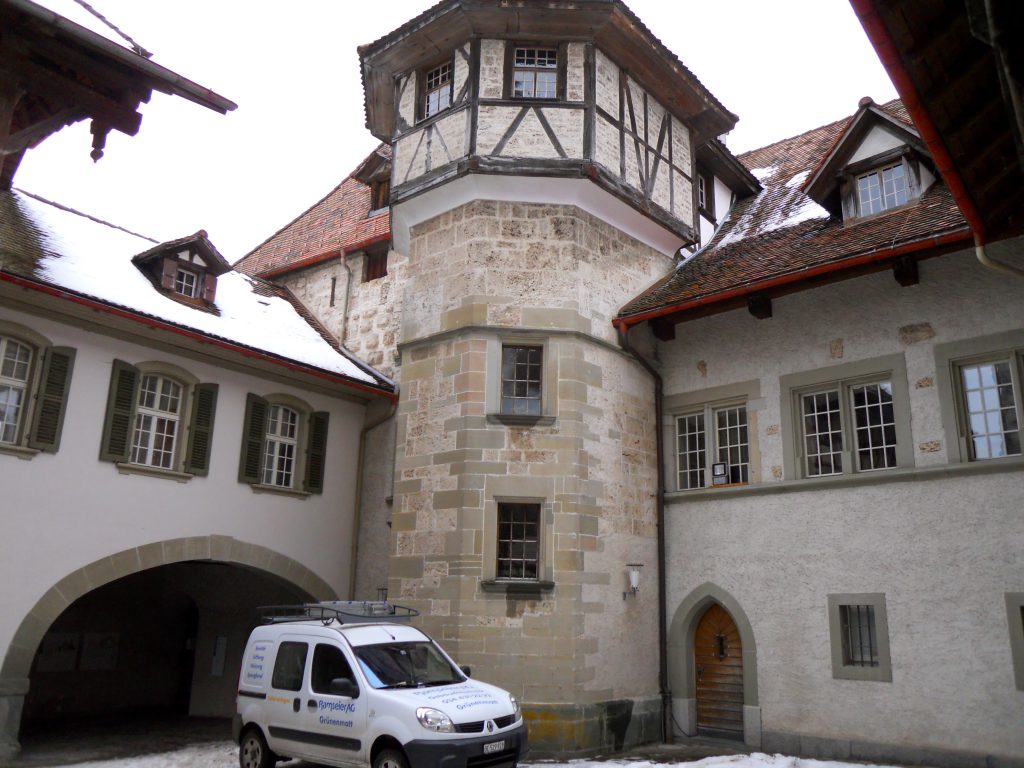 Photo by Saloma Furlong
And there was the stair tower, apparently built by a master craftsman in 1641, according to Wikipedia. It was the place Anabaptists must have feared, and for good reason.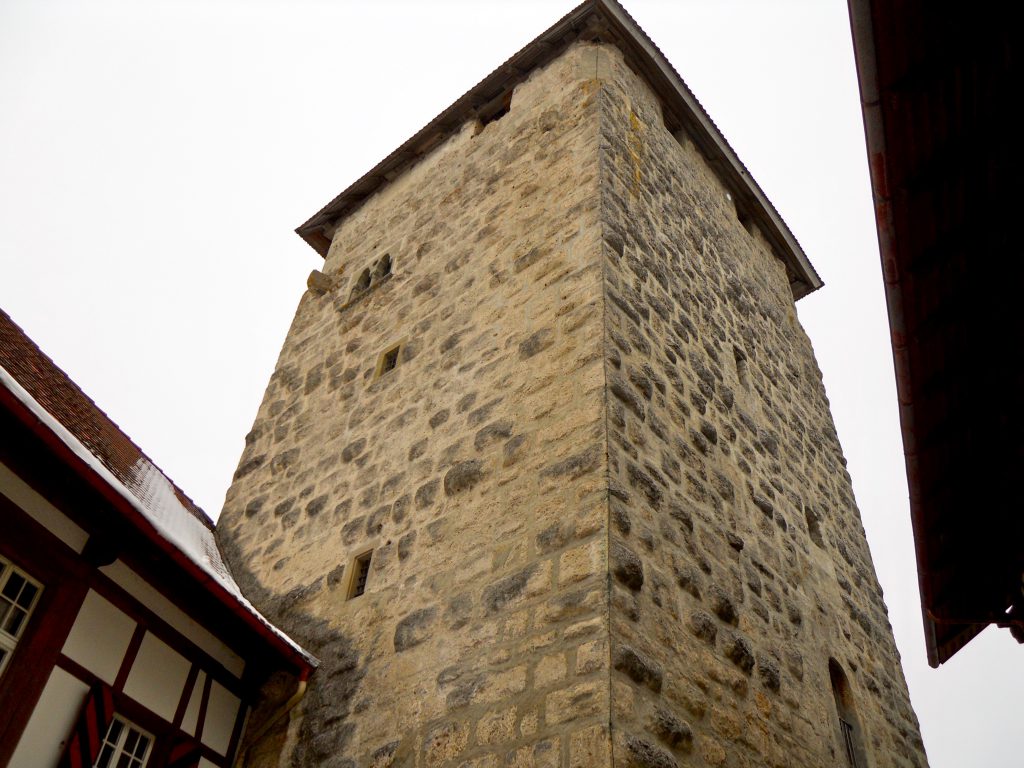 Photo by Saloma Furlong
We could not go into the main part of the castle, but there was a room with spring water flowing into a trough, much like in the center of most towns in Switzerland.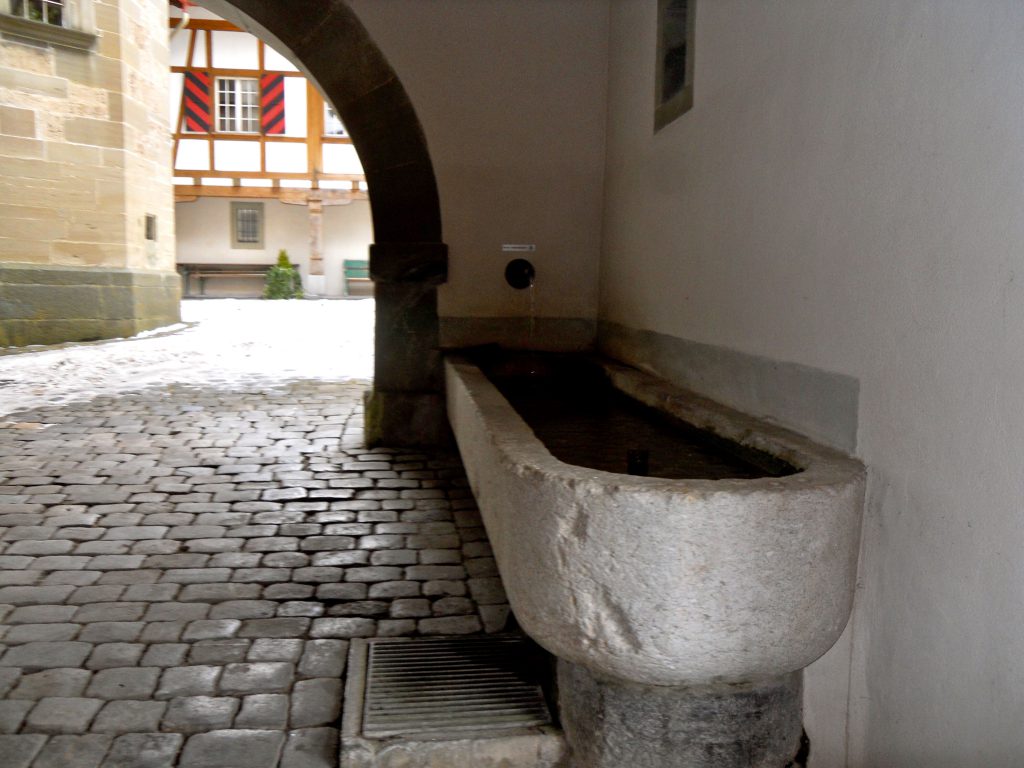 When we stepped inside the tower, it was as I had imagined… dark, gloomy, dreary, and sombre. Perhaps it is because I know of the history, or maybe the tower holds the energy of the evil committed inside its walls, but I could feel this energy. Walking the same ground as those tortured prisoners was humbling.
On the ground floor of the tower was what looked like a dungeon to me. I imagined it was used for solitary confinement, but I have no way of knowing for sure.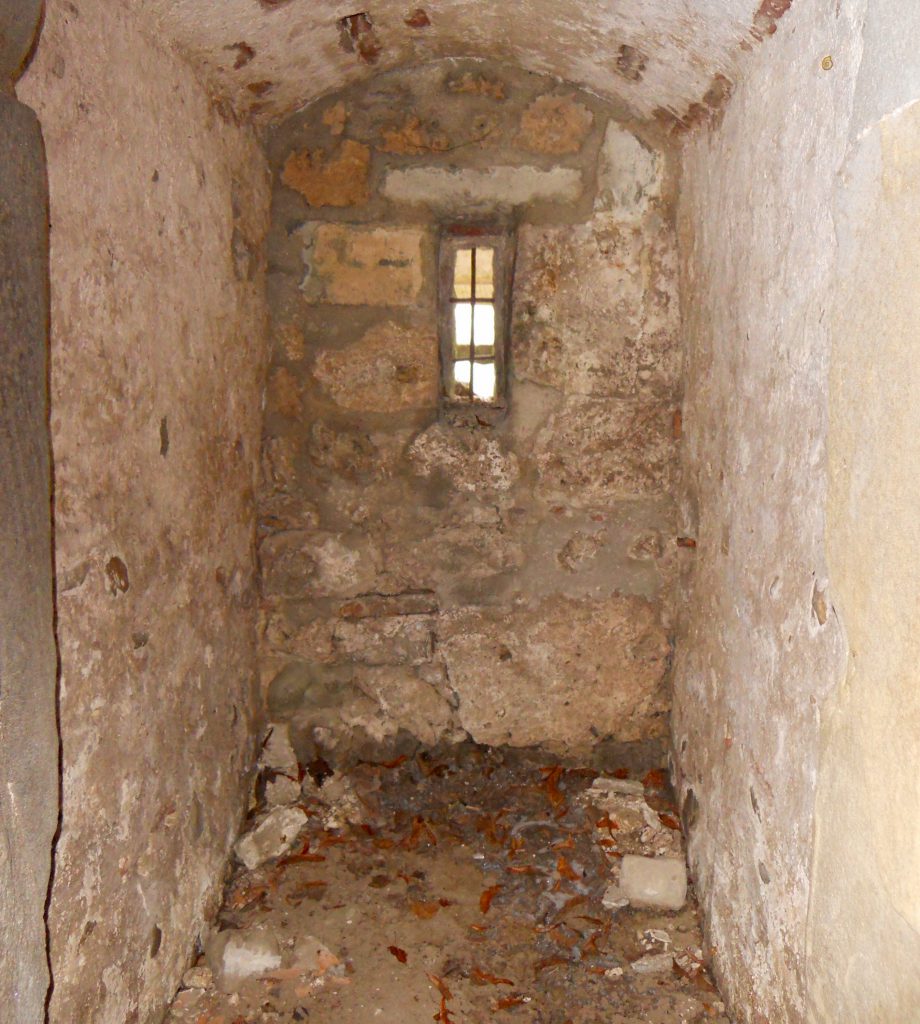 Photo by Saloma Furlong
Miriam, Hadassah, and I began climbing stairs up into the tower. The stairs were steep, and little more than a ladder.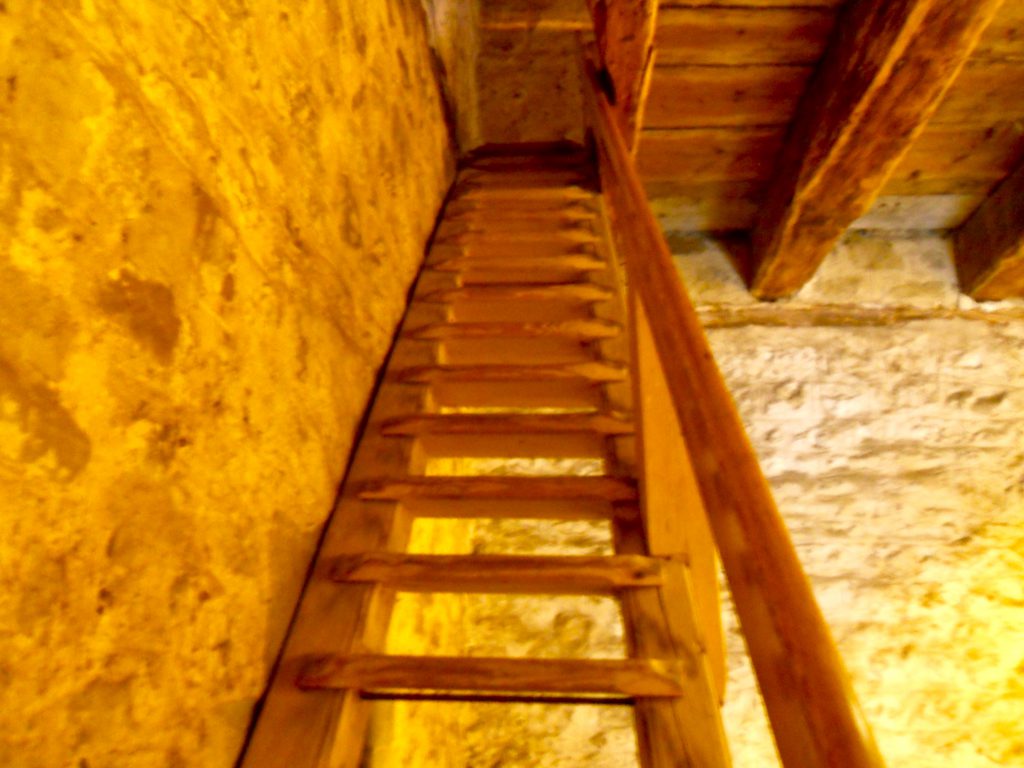 One floor up were the sleeping quarters. My photos did not come out very well because I had the camera on the wrong setting, so I am posting photos that Marco took back in 2014: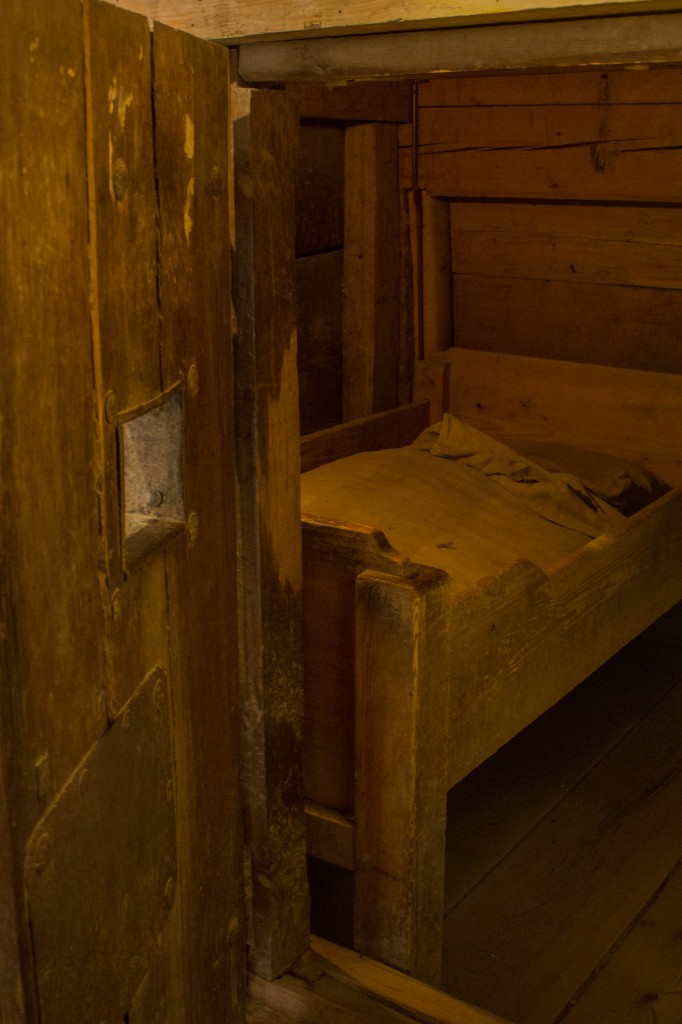 Photo by Marco Koch
Here I wished I had brought my purse with me, so I would have a pen. Outside the sleeping quarters, visitors have been writing their names. I recognized a whole lot of Amish and Mennonite names. I hope to return there with David, and I will be sure to write my name with the others. You can see some of the names in Marco's photo.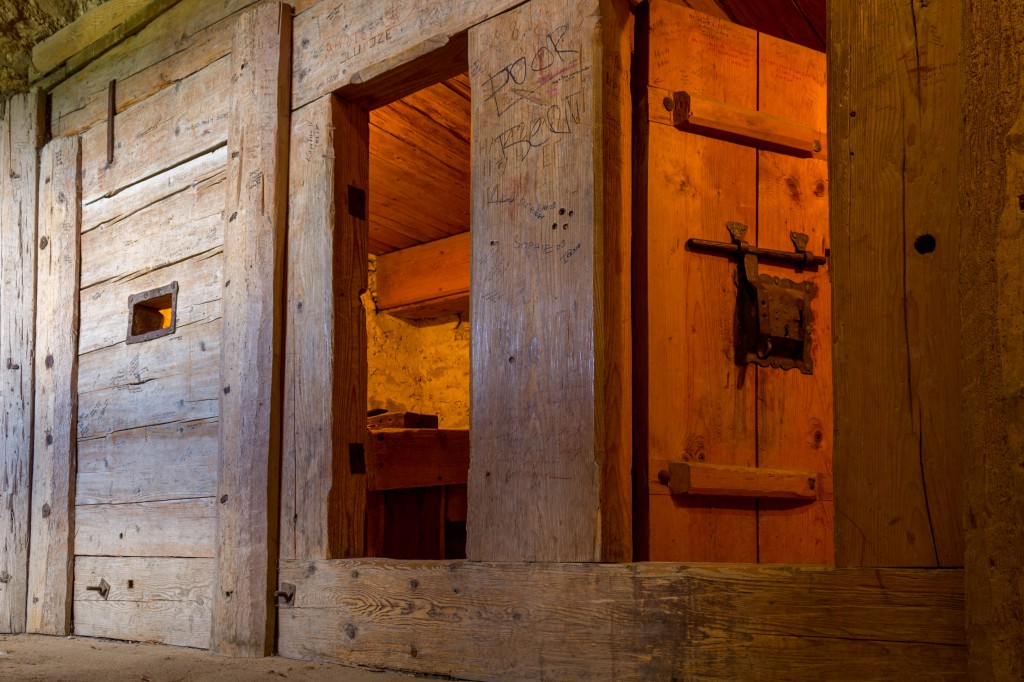 We continued up into the tower, where there were torture chambers.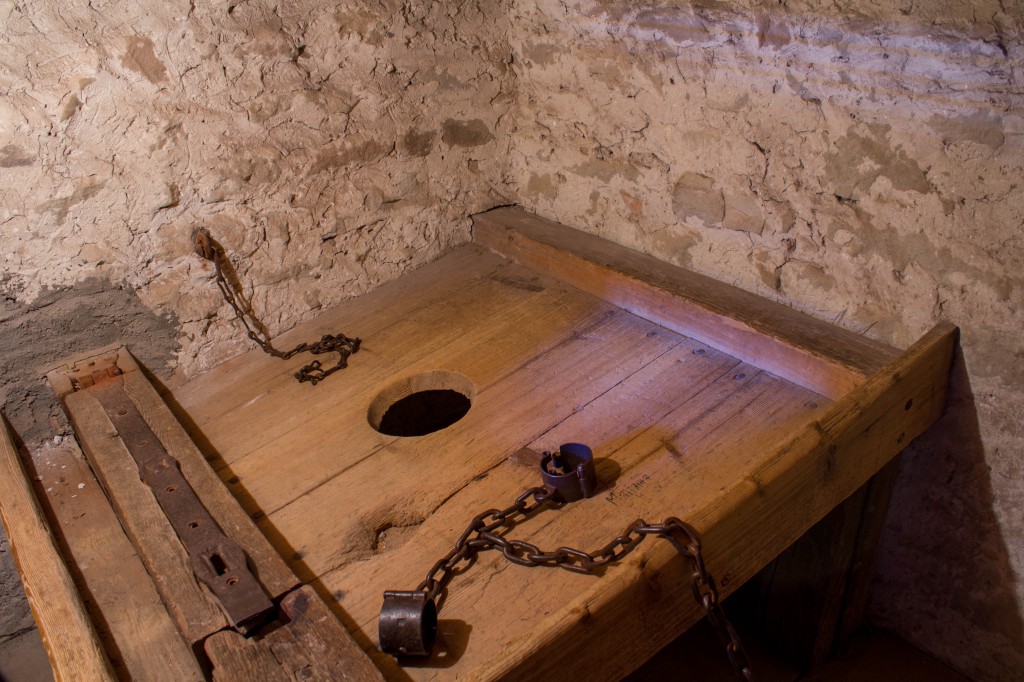 Photo by Marco Koch
After ascending several flights of wooden stairs, Hadassah and I started climbing cement stairs that were really narrow and confining, steep and curving. I was having to talk myself out of claustrophobia. And there, I saw the most eerie sight of all, especially when Miriam told me the significance of this bench, which I could only get shadowy photos of, no matter which setting of my camera I used: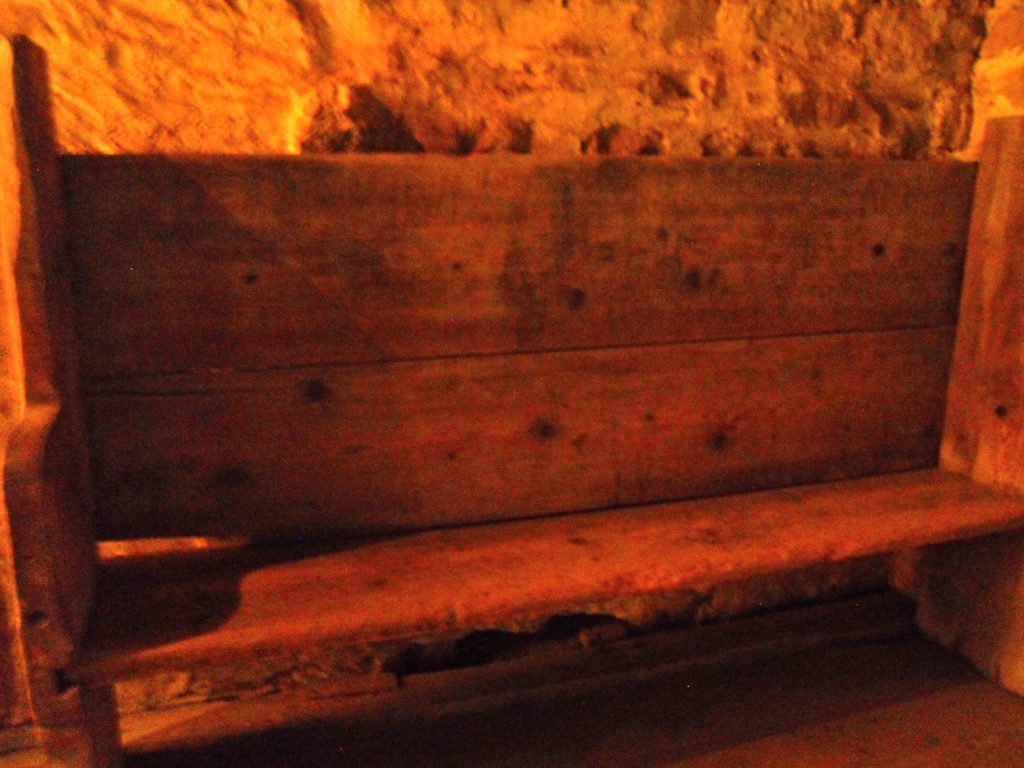 Photo by Saloma Furlong
Apparently, prisoners were made to sit on this bench, awaiting their turn to be tortured at the top of the tower. This was just below the very top of the tower. Putting myself in their shoes, I can only imagine that the cries of agony from those being tortured above was a form of torture all its own. And I would have known that my turn was coming.
When I tried squeezing up that last set of narrow stairs to the top, I could not do it. I could not make it to the torture chambers. Perhaps this was meant to be, though I was curious and would have gone up, had I been able to talk myself into it.
While I was up that high, I took photos out the window of the castle.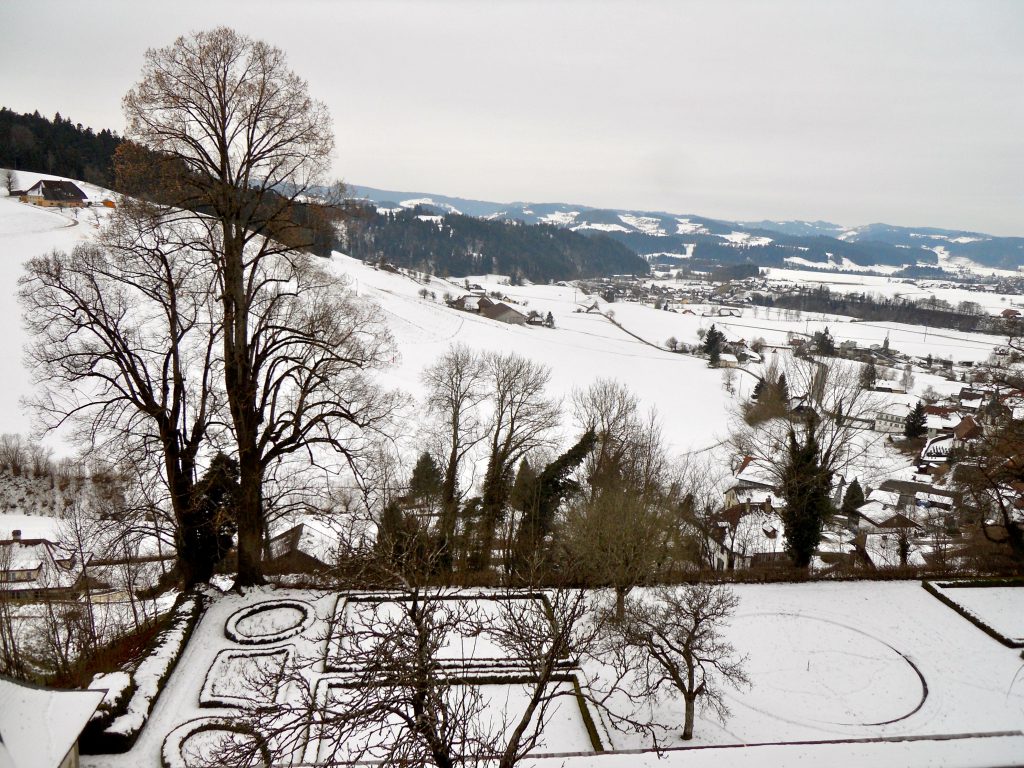 Photo by Saloma Furlong
And then I began descending back down the narrow spiral stairs, and then back down the sets of wooden stairs to the courtyard below. Without hand rails, I had to talk myself down the stairs, by concentrating on putting one foot before the other. I thought of David then. He would have taken my hand to steady me, had he been there.
If I get the chance of visiting the castle again, I hope to take time to read more of the history on the information boards on the walls. I have to concentrate hard on understanding German these days, and this was not the right time. I would like to know how many Anabaptists were held within these walls, and during what years.
So this was another chapter in my pilgrimage to the land of my ancestors.
---
Back in 2014, Miriam Koch wrote a blog post about visiting the Trachsalwald Castle and I posted it along with Marco's phenomenal photography. They first visited it on a sunny and bright summer day, so his photos have a very different feel than the ones I took on that dreab, February day. I just today updated Marco's photos on that blog post. Back then I didn't know I could make my photos larger by using the "custom" option. So today I made them bigger to do Marco's photos justice.