A memorial service was held for Marie yesterday morning at the church she'd been part of for more than 50 years, which David and I attended. Neither of us felt like the service quite fit Marie, but we don't know why that was. Normally when I attend a funeral or memorial service, there is a catharsis and a feeling of closure. Both of these were missing for me, and so when I returned home, I could not concentrate on anything. At 9:30 I could not keep my eyes open, so I went to bed and slept for 11 hours.
When I awoke this morning, I realized that yesterday marked the end of one chapter of my life, and that today marks the beginning of a new chapter. Or maybe I am at an interlude: between chapters, between books, between homes, and between lifestyles. I trust that it will all unfold according to the Master's plan, and I need to be patient and wait to find out what that means. I usually like to see a little way down the road, when I've driving,  but in this case, I'm driving after dark, and I can see only as far as the headlights illuminate my way. I trust that whatever is in store, Marie will be with me in spirit.
Already I've been inspired with an idea for a different beginning of my new book, A Martyr's Myth: Discovering the Truth About My Amish Mother. I'm in the process of making those revisions. This came because I realized that I've been asked for the beginning pages or chapters of my book by agents several times, and yet no one has offered to represent it. I think the new beginning will be more compelling. One thing is for sure… I have nothing keeping me from sitting down and writing this week. I do need to finish a woolen rug for a wedding gift, but I have no other outstanding commitments.
In the meantime, I have had a volley of new interest in my first two books in the last few days. It has been more than six years since Why I Left the Amish and more than three since Bonnet Strings were published. There are months that go by in which all is quiet in terms of hearing anything from readers, either through online reviews, or directly from readers who send me emails or comments on my blog. Now just in the past few days, I've had several people let me know they've read my books, plus I have two new book reviews on Amazon for Why I Left, one of which is positive, and the other negative.
I am grateful to the anonymous author of Out of a Great Need for featuring my books on her blog. It is always gratifying to find out when my books are valued by a reader, and even more so when the readers let others know they enjoyed them.
Today I also got an email from Miriam Frey, a fellow conference attendee at the Eastern Mennonite University. She left a group of Black Bumper Mennonites in Ontario, and she and I had several conversations at the conference about the parallels in our story. So thank you to Miriam Frye
You may remember that I mentioned Anna Wall, also a fellow conference attendee, in a previous blog post. She left the Old Colony Mennonites in Mexico, and she is writing her story, one blog post at a time. It starts here. (Warning: if you start, you may not be able to stop and you'll be pulling an all-nighter).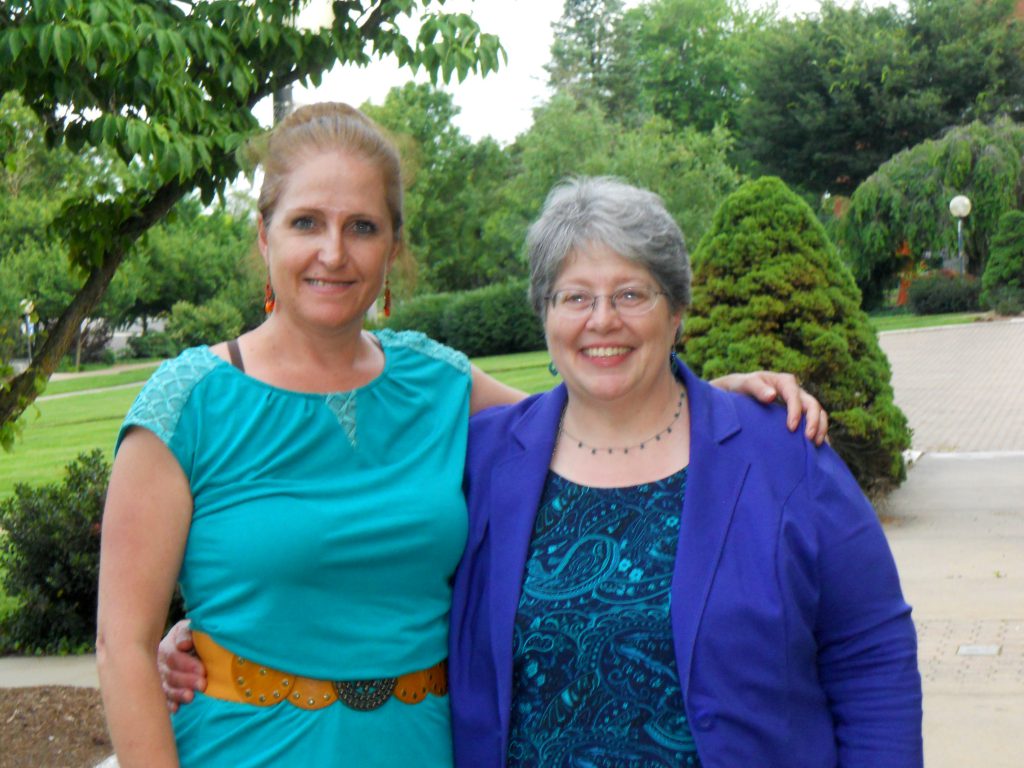 Anna Wall and me on Eastern Mennonite University Campus
Anna has written about the conference, and she included me in her post. For the first time, I realize what it feels like to be a character in someone's writing. Even though what she had to say was glowing, it's weird to see myself through another person's eyes. It's like someone pulls out a camera and takes a candid shot when I'm least expecting it. Or like someone is holding up a mirror and I see myself in a whole different way. I suppose any of the characters I've written about could say that the shoe is on the other foot, and quite honestly, it's an awkward feeling. Perhaps it's also because I realize that Anna had me on a pedestal when she read my book and she conveys this in her post. I certainly hope by the end of the weekend she had me walking on the earth like I actually do instead of raised up like that.
It will likely be a while until I write my next post. This coming weekend, David and I will be leaving for a trip to Virginia and North Carolina. First we'll be visiting friends in Harrisonburg, Virginia. And then we'll be heading to Charlotte, North Carolina for my nephew's wedding. I'll be posting any new developments upon my return.
In closing, I want to thank all of you who read and/or commented on my last blog post. It was so healing to read your comforting and insightful words.