It has been ever so long since I've written a blog post that I hardly know where to start. I thought it'd been about a month, but it's even longer than that! So I will attempt to catch up today and then make a concerted effort to stay up with it.
About a month ago, my niece, Kate, came to visit. She is such a dear heart and we so enjoyed her visit. She is a nanny for a family in the DC area, so she is less than two hours away. BUT, she is heading off to live in Dallas, Texas. She has lived there before and loved it, so she is off on an adventure. I really admire her courage for being able to follow her heart's path and trust she will find a job and a place to live soon after arriving in Texas. She'll be living with a friend as she re-enters her Dallas world.
Here is a photo of Kate and me during her visit. Sorry about how much I'm squinting in the bright sunlight.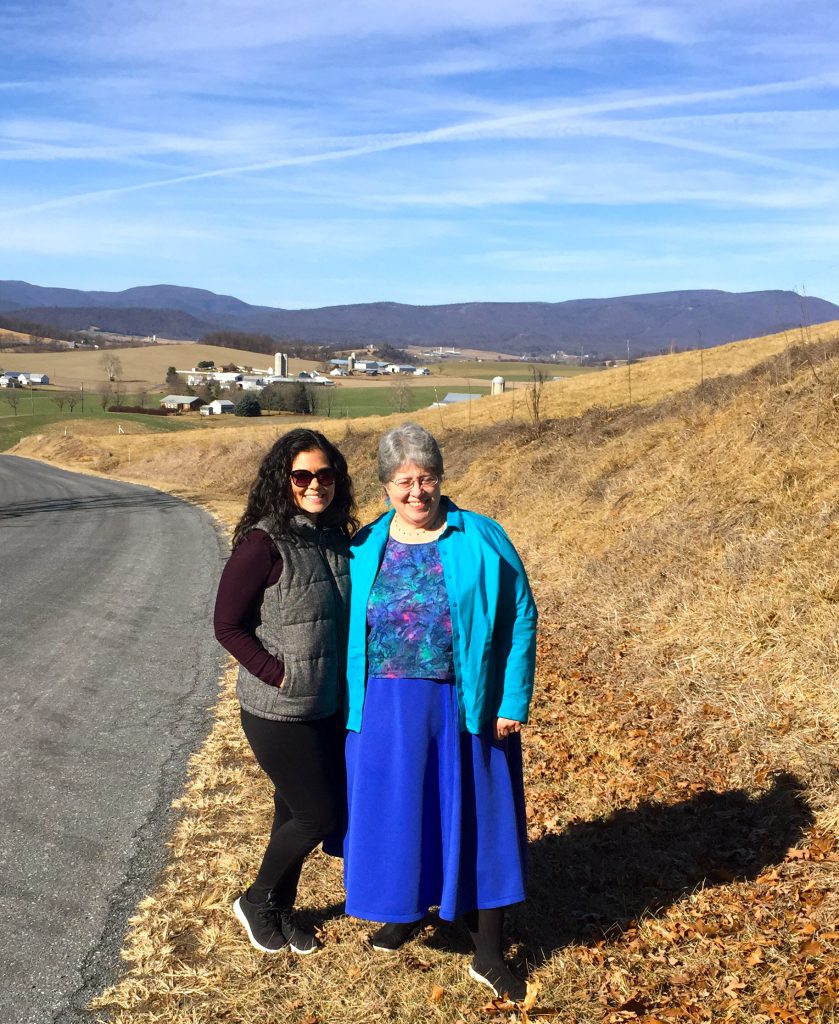 Kate Mast and me
---
David and I are still house-hunting. It's a tight market here in Harrisonburg. In the last month, we've made more than full-price offers on two homes on the first day that they came on the market. Both times someone outbid us. The first home received seven offers, and the second one received five. So David and I are really starting to scratch our heads, wondering what it takes to buy a house in this market. I've never seen such a tight market before. We've decided to stay with it until we find something. Our real estate agent claims he's seen this many times before, and he assures us we will find a home that is right for us. More are coming on the market, so we are trying to go with the flow.
---
David and I've been sick this past week. The flu that's been going around here is one anyone wants to avoid. I don't often get as sick as I did this past week, and neither does David. To top it off, I got a debilitating migraine Thursday afternoon. I don't often get those, but I did that day. Every other flu symptom you can imagine… I got it. So this is another reminder for me to always be grateful for my good health, and never take it for granted. And if any of you out there have a chance at avoiding this flu, do take whatever precautions you can. It will be worth it.
---
We're getting ready to go to the Southwest for a ten-day vacation that ends at the Tucson Festival of Books, and I will also be participating in a Masters Workshop at the University of Arizona for two days. We plan to fly to Denver, then drive to the places we plan to visit: Santa Fe, Albuquerque, Petrified Forest, Flagstaff, the Grand Canyon, and Tucson. For those of you who have visited those areas, if you have tips, we'd love to hear them.
---
David and I needed to get out of the house today, so after church, we drove to Harpers Ferry, West Virginia. We'd been there before, but it's the kind of place you can easily visit often. We walked about the town and then came back. I had my camera ready to go, but we left it behind be accident. So I can't share any photos.
---
I came across a story about a young woman who left her Amish community and is thriving in her chosen world. I love stories like these, so I thought I'd share the link with you. Her name is Susan Miller and she is going to nursing school in Rochester, Minnesota.
---
So this my catch-up blog post. As always, thank you for reading.