Sometimes we discover something just at the right time to give us that "AHA!" moment. This happened the day after I wrote that last blog post. I was reading the book Nature and the Environment in Amish Life by David McConnell and Marilyn Loveless. I've mentioned their study in an earlier post. I will be coming back to more about their book in a later post, but today I'm focusing on one aspect of it.
You know that idea of buggies sharing trails with bikes and pedestrians? It's already being done. I could not believe my eyes when I turned the page in the book to a photo of an Amish buggy traveling through a beautiful wooded area with a cyclists up ahead. The authors write about a bike path in Holmes County, Ohio, that is being shared with buggies, and another one in northern Indiana. These two trails ways came about quite differently. There was cooperation between the Amish and the local government to build the one in Holmes County. An Amish bishop was on the Rails to Trails Coalition, "which paved the way, literally and figuratively, for a fifteen-mile trail from Fredericksburg to Killbuck." (Page 205) This byway includes an asphalt lane for cyclists and a chip-and-seal lane for horse and buggies. I had to look up what chip-and-seal is. It's the process of pouring liquid asphalt, followed by pouring gravel and then compressing it, as apposed to having the asphalt already mixed and applying it to a surface.
The Amish embraced the idea of the trail as an alternative to the busy Route 83. The trail has become a recreational magnet for the Amish and those in the mainstream culture. An Amish man is quoted as saying, "Initially we wanted it to get to town, but we've come to love it for Sundays and it's where the girls got (buggy) driver's ed."
The other byway shared between horse and buggies and cyclists/pedestrians in northern Indiana was pushed on the Amish, who were initially unwilling to buy into this plan. The steering committee, which had no Amish members on it, sued the Amish and other land owners to have the right to build the path. The authors write:
Many landowners who where initially skeptical, however, have warmed to the plan. Amish-run bicycle shops and other businesses have even sprung up along the trail, and while it does not end at Walmart, the Dairy Queen right off the trail in Middlebury did so much business after the trail was completed that it embarked on a major expansion. (Page 206)
Imagine my surprise in discovering this a day after I wrote that last post. How very cool.
I wish I could share the photo with you, but of course I don't have the rights to it. So I substitute with one I took in the Amish settlement near Cashton, Wisconsin. This is a good example of how buggies can get lost in "dips" when the road is hilly. You can barely see the top of a buggy several hills from the one in the foreground. If you are driving a car, you may not see a horse and buggy on a road with dips and rises until you come over the top of a rise.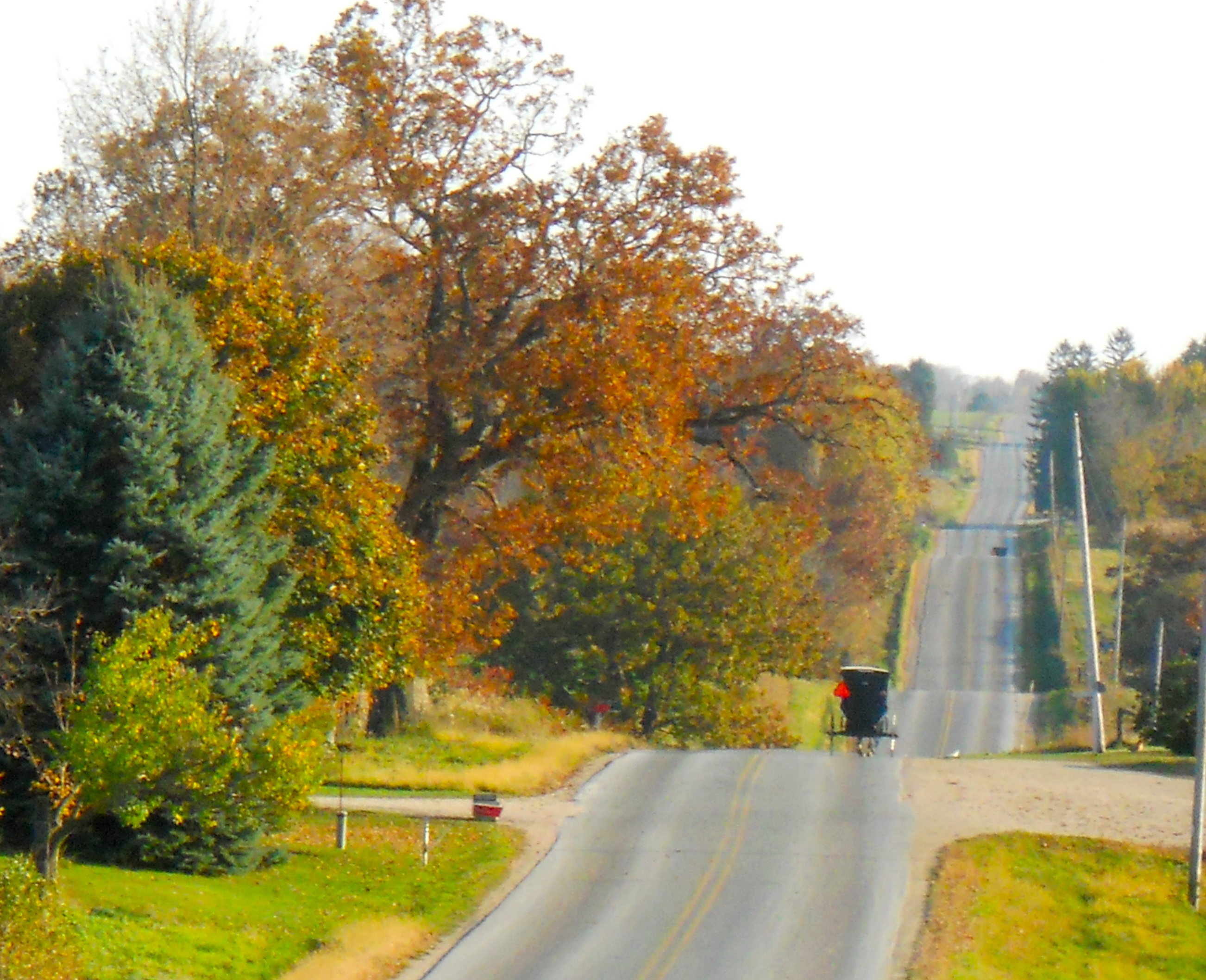 I mentioned the combined trails to a friend yesterday, and she said such a trail has been discussed here in the Shenandoah Valley for the Old Order Mennonites. Apparently there was concern that the cyclists would spook the horses. That sounds like an excuse to me because the Old Order Mennonites use bicycles. So the horses on the roads would be used to them, along with the huge tractors that they drive, and then there is car and truck traffic on their roads as well. Horses have to be traffic safe before they can be used on public roads. I wonder where the resistance is coming from? There is quite a strong group of activists in Harrisonburg who are advocating for more bike trails for the area. Perhaps it would be good to present these two examples to them.
So it's been fun sharing my discovery with you all. Let me know what you think.