Several weeks ago, just before I attended the Amish Conference in Elizabethtown, I was approached by a reporter named Domitila Dellacha who writes for an Argentinian newspaper, La Nacion.  Ms. Dellacha was writing an article about Amish culture that was published today. Unfortunately for many people in the U.S., the article was published in Spanish. It looks like a great article, and my story is only a part of it. So I had it translated, one paragraph at a time on this website. I'm sure it's not very accurate in terms of finding the right words, but I was able to get the gist of the article. Emma Gingerich, the other person interviewed for this article, and I come out a "he" in the translation. I didn't realize that gender is an issue in Spanish-English translations.
Here is part of my interview with Ms. Dellacha: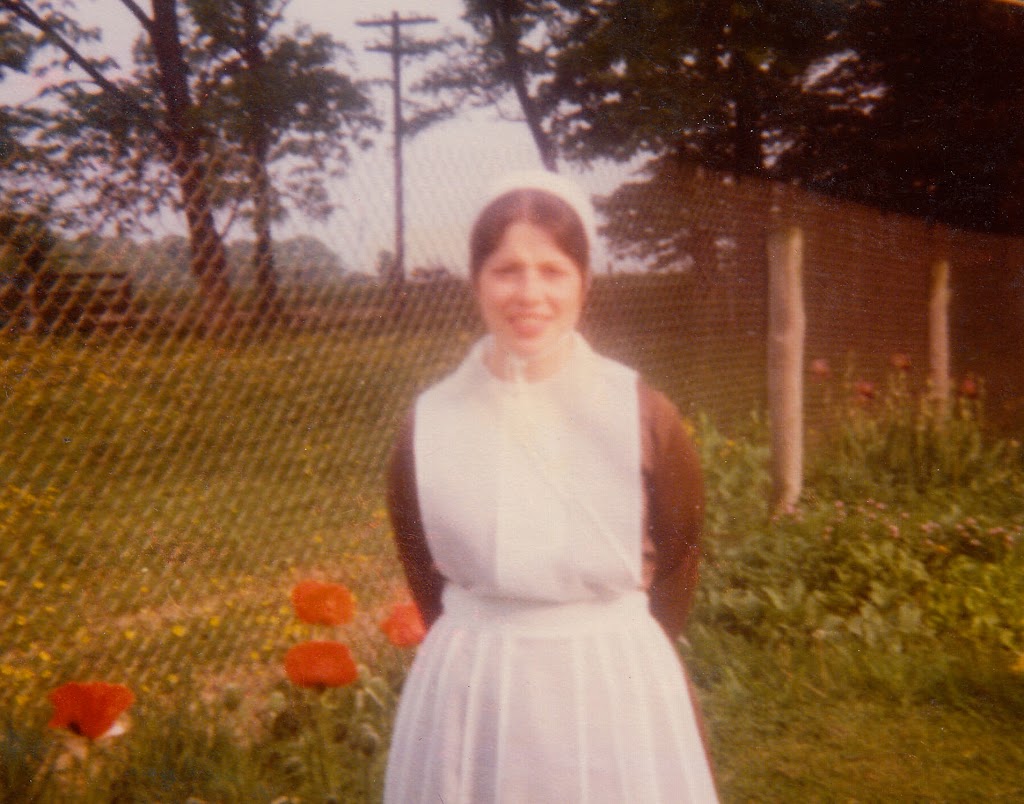 DD: It's been over 40 years since you left the Amish. Who was Saloma back then and who is she today?
SF: I was "Lomie" back in my Amish community, which was my Amish name. At her core, she is the same as the Saloma I am today. The major difference is that Lomie did not have the freedom I appreciate today. It's as if she was a butterfly in a jar. No matter how much she fluttered against her confines, she could never get to the freedom on the other side of the glass. Today I am like a butterfly in a meadow of flowers — I can light on flowers to feed on the nectar, and then flutter off to explore the meadow and the world beyond without constraint.
I believe we humans learn the most through our struggles. My childhood experience of having my freedom restricted gives me more of an appreciation of what a gift my freedom is now. I hope I will always be grateful for this and never, ever take that for granted.
DD: Why I left the Amish narrates the stories of your childhood and your eventual departure from the Amish community. What would you say was the worst of living in an Amish community? In that order of ideas, how would you analyze statistics that suggest that most people remain in the communities?

SF: The worst part of my childhood was enduring abuses of all kinds and having no one I could talk to about my experiences. Silence always shrouds abuse. But there are extra layers of silence that abused Amish children face, because the communities try to take care of their problems from within in their attempt to stay "separate from the world."
I am not trained to analyze statistics, but I can tell you why I think so many Amish people remain from the point of view of having lived that life. I wish I could say it is because 85 to 90 percent of the people consciously choose that life. But an Amish life is not about self-awareness or making conscious choices. It is about going along with the ways and traditions without question. Unfortunately, the punitive religious beliefs also instill fear and guilt in their members so that many don't dare to leave.
On the other hand, there are those who are contented to live their lives within an Amish community. They are usually the ones who can accept the beliefs, ways, and traditions without question.
I would love to know how many Amish people would remain if the children were to have the choice of continuing their education, and if young people were given a conscious choice about joining the church and becoming a baptized member. This would have to include the choice of not joining the church, rather than being pressured into it when they reach the age when they are expected to join (which varies from one community to another).
DD: Once you said that when they came after you, David said there was "no light on your eyes and no feeling in your voice." Did you ever feel happiness while living in the Amish community? In that case, when?
SF: Yes, I had happy times in my Amish days, especially in the years when I had returned to the community, but was not living with my parents. I used to get together with other young women for board games on Sunday nights, or we played Frisbee or volleyball outdoors in summer. I loved traveling with a group to places like Cook Forest in Pennsylvania when the rules were relaxed and we could ride bicycles and engage in activities that were otherwise frowned upon in the community.
DD: Did you face many prejudices when you came to live in the English society? Which one was the most difficult to endure?

SF: I don't feel I faced many prejudices. There is one that I would call a reverse prejudice. Some people just could not understand why I would leave the Amish, which was seen as an idyllic community. Many of these people didn't want their view of the Amish changed, and so they tended to minimize what I experienced.
The most difficult prejudice to endure was my own. I had such low self-esteem when I left that I didn't believe in myself. Slowly, over the years I built up self-esteem and confidence. The intensive therapy I went through in the early years after leaving helped me to gain confidence in myself.
DD: Can you recall what was the most liberating feeling you ever experienced after leaving the Amish? (Maybe some clothes, cutting your hair, watching some show, getting to know new people…)

SF: A moment that stands out in my mind is waking up on my first morning in Burlington, Vermont. I walked out into the blustery November day and looked out over Lake Champlain. The expanse of the lake was symbolic of my newfound boundless freedom. For so long, I had dreamed of being in Vermont, and here I was. Then I walked up the hill to view Mount Mansfield, and I thought of my favorite bible verse, "I lift mine eyes unto the hills, from whence cometh my help." I had finally realized my favorite dream.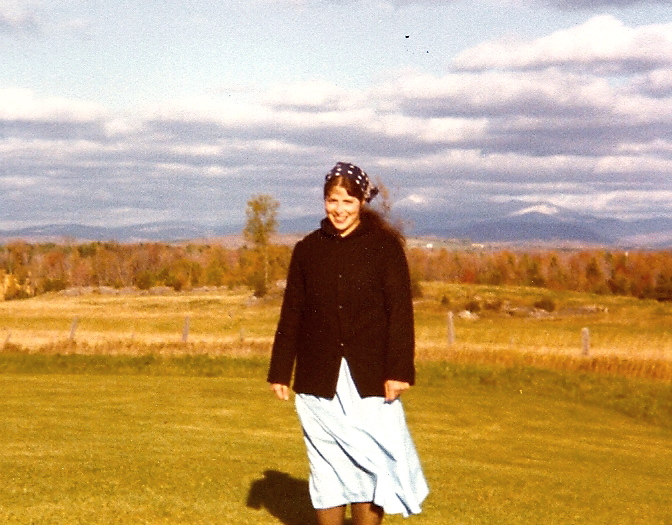 Mount Mansfield under the clouds to the right of me. This photo was taken in a happy moment in my life, which happened to be in the same week I admitted I was in love with David.
DD: Would you consider Amish ways (education in particular) are good for the nowadays society?

SF: There are some of the Amish traditions and patterns that endure and are still relevant in present-day society, but limiting their children's education is not one of them. I have written extensively of this great injustice to their children's potential on my blog, most significantly a series of posts that starts here: The Ramifications of Wisconsin v. Yoder, Part 1.
DD: Last but not least, what advice would you give to a girl who is thinking of leaving an Amish community?

I have decided this question is such an important one that I will be writing a future post with my answer.