Courtney asked: What town in Ohio did you grow up in? I Used to live in Hardin county so I was just wondering if it was there.
Hardin County is south of my home community, which was in Geauga County. You were near the Holmes County community, which is the largest Amish community of all. The Geauga County community is fourth largest and is about two and a half hours north and a bit east of Hardin County.
For more on Amish settlements and statistics, you can visit the "Amish Studies" website, done by the Young Center at Elizabethtown College http://www2.etown.edu/amishstudies/Index.asp. They have done extensive research on Amish settlements and statistics.
The Hardin/Holmes County area is a very beautiful. The Amish farms in the valleys and on the hills keeps it very picturesque. It is quite a bit hillier (and prettier) than Geauga County. When one of my Vermont friends visited my home community with me, she made the remark, "It's so flat, it's almost downhill!" There is a certain charm to the area, though, due to the well-kept Amish homesteads.
In my next post, I will describe the work that the arrival of spring brought about on the little farmette on which I grew up.
In the meantime, spring has arrived to the Pioneer Valley. I need to go visit my favorite cherry tree, in front of the Academy of Music in Northampton, Massachusetts. Below is a photo I took of the tree in full bloom two years ago. I've been visiting this tree since 2005, my first spring at Smith College.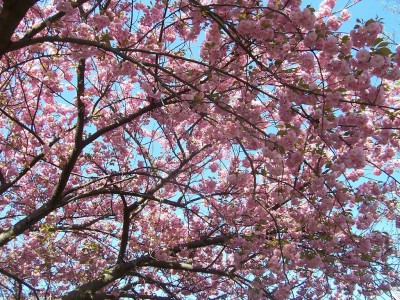 Each blossom is so perfect — and there are so many of them — how could they be more beautiful?