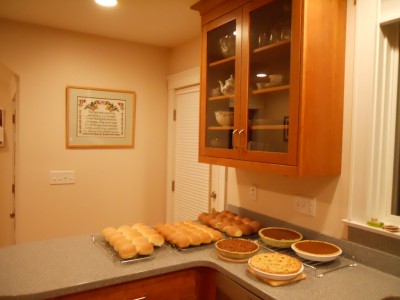 'Twas the night before Thanksgiving…


I hope you all had an enjoyable and happy Thanksgiving. I sure did… it was one of my best ever. I had prepared as many dishes as I could ahead of time, so on Thanksgiving morning I only had to prepare five things: turkey, mashed potatoes, gravy, stuffing, and a vegetable. As the smells of turkey roasting filled the house, I turned on "Winter Solstice" music and prepared the rest of the meal. The house was quiet except for the music. David had gone out to pick up the construction trash lying around, so I had some time to reflect on all the things I am grateful for in my life. It actually took quite a while for me to go through my mental list because I am truly blessed this year… there is so much bounty in my life, and there are so many exciting adventures that David and I are embarking on.


It occurred to me that Thanksgiving is a time we often take stock of where we are in our lives. There have been many years when I didn't feel this fortunate. Three years ago on Thanksgiving Day, David's father died. Two years before that my mother had died in the fall. A year before that, my father had died, also in the fall. Some years I was feeling unhappy about something unrelated to losing a loved one. Having experienced all these less fortunate Thanksgiving seasons makes me appreciate these good times in my life all the more. My thoughts went out to those who have tragedies or other struggles going in in their lives this Thanksgiving season. I hope they find comfort and that they may experience great joy again.


David and I were joined for Thanksgiving dinner by our two wonderful sons, Paul and Tim, and Paul's girlfriend, Kathy. I so enjoyed all three of them. This was the fourth time we have had the pleasure of spending time with Kathy, and and as always, we enjoyed her company very much. And it's always good to welcome Paul and Tim home for a good meal together. I am so blessed to be their mother.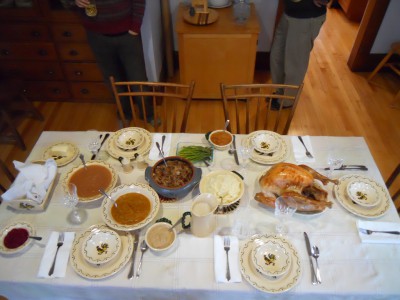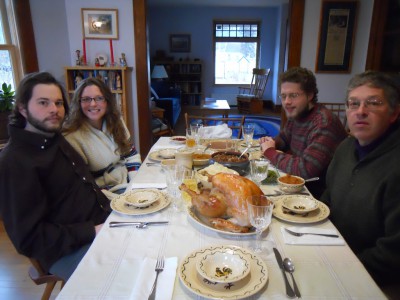 My people: Paul and Kathy on the left, Tim and David on the right. Do you see the glint in Tim's eye, as he looks at the food in what the Amish would say is a "gluschtich" manner?


Paul and Kathy joined us to go to Vermont for a family gathering with David's siblings and families the day after Thanksgiving. David's older sister, Bernadette, was celebrating her 60th. birthday. We ate merrily and had a good time. It was a long drive up and a long drive back, but it was good to see everyone. We dropped Paul and Kathy off at Vermont Law School on our way home. Our bed felt very good last night. Yet another thing I gave thanks for.