David and I spent untold hours with all the details… David had to build out all the trim because of the extra insulation and he stripped the lead paint from the frame. The little panels on both sides of the door are now filled with insulation, the door has a double pane, and David installed weather stripping. This makes the whole entrance more energy efficient. I just finished painting the details today. And note that the siding is done around the door, too. Progress is being made. Someday soon maybe the whole outside of the house will look this good.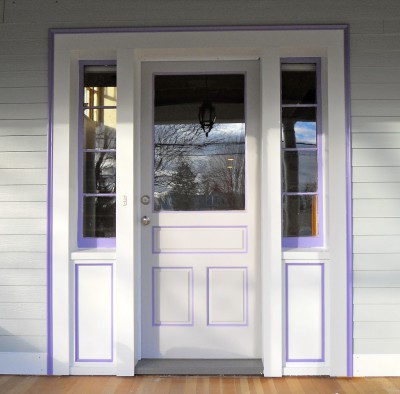 Below is a picture taken with David's work in progress when he was stripping the lead paint.
Soon what it looked like before will be but a distant memory…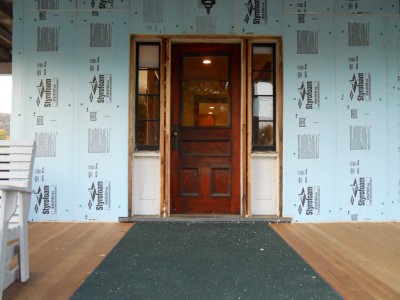 To me this door looks more original to the house…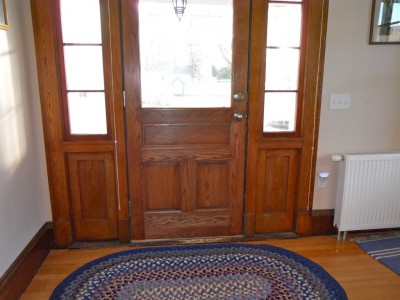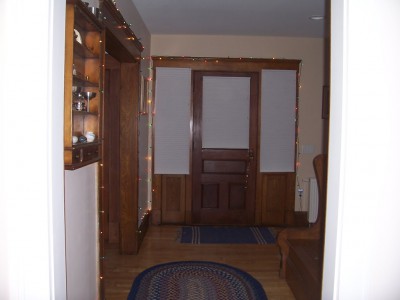 Perhaps you can tell that I am happy with my new front door and the progress being made on the house. Next we will build/restore the window trim in the living room. We will keep what was there, but more has to be added because of the extra insulation on the outside of the house. The original trim is chestnut, but we are using oak to fill in. I will stain it to be the same color as the original trim, like I did on the door.
The roof will be finished this week… what a wonderful feeling that will be!