At Christmastime when I was a little girl, I used to gaze across the yard and admire our "English" neighbor's colorful and sparkling Christmas tree. I used to ask my mother, "Why can't we have a Christmas tree?" She would normally sigh and give me the usual Amish answer, "It's just the way it is." Sometimes this would be followed with an admonishment that I should not ask such questions and just accept the Amish ways.


When David and I were first married, we began our tradition of cutting, putting up, and decorating a Christmas tree. Even though I have to put up with the cranky mood acquiring and trimming the tree inevitably gets David into (yesterday he threatened to buy an artificial one, to which I responded with an emphatic "NO!), I love when the tree is up and I get to unwrap all the special ornaments that we've acquired over the years, putting on some Christmas music, and settling in to decorate the tree. I always follow up with setting up the creche that David made some years ago. There is a quiet space I get into then, which is the same one that I enjoy on the dark winter nights when the tree and the creche are lit, and I can sit in the living room with a cup of tea or hot chocolate, often with David. We either sit quietly or have conversations, surrounded by the festive lights.


One of the reasons that the Christmas tree is my favorite tradition is that it represents so many things to me… not only is it a celebration of light in the darkest time of the year, but it is also a reminder of the message to the travelers on that long-ago night when the shepherds were given the message about the miracle birth. The tree was the center of the magical Christmases we tried to create for our boys when they were little.


Here is a photo of the tree we put up last night: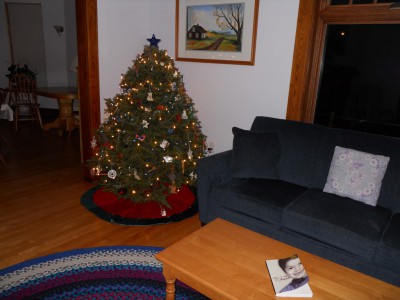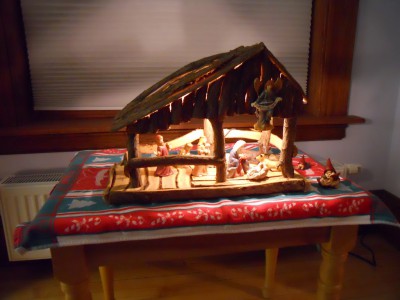 As I was taking these photos, I realized how the living room represents who I am, past and present. My mother could teach me how to braid woolen rugs, but she could not teach me to squelch my inquisitive nature. This was eventually one of the reasons I left the Amish, which is represented in the book.


I love all the traditions… the homespun arts I learned from my mother, and the traditions David and I started when we got married. I love the blend of my former life and the life I now live represented in our living room.