Yesterday (Saturday, January 22) I had my first book talk. I had a talk scheduled here in Sunderland before, but it was rescheduled twice. I am hoping for good weather on Saturday, February 5, so we can actually have that one.
This is how it happened that Burlington, Vermont, was my first appearance. It was well-attended, with approximately 160 people. The events coordinator said there was only one other event that she ever hosted at the Fletcher Free Library in which the turnout was bigger — and that was when Ambassador Peter Galbraith did a book talk there.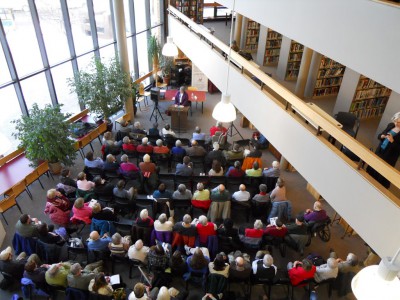 I was a bit nervous in the beginning, but when I focused on the faces of so many friends in the crowd, I relaxed and was able to deliver my talk without too many glitches. I found for the most part my sister was right when she said a little while ago, "I can just imagine that when you get up in front of an audience, you will just be in your element." I was. I gave a talk that was designed for the Burlington audience, which focused on my journey to Burlington when I left the Amish in 1977. The reception for this subject was favorable.
My favorite part of delivering a talk was answering questions. That is my chance to interact with the audience, which I find so engaging. The people asked really good questions, including how the community I came from could grow so quickly (going from 30 districts in 1980 to currently around 85 districts), and wondered whether there were people joining the church from the outside. I explained that the Amish have many children, and that is how the community grows. Someone also asked if I attribute the dysfunction in my family to being Amish. I answered that I thought that in the same way we cannot romanticize the Amish and think that they don't have the same problems as all humans, I cannot necessarily blame the Amish culture for my family problems. Someone else asked if more women than men leave because of the male domination. I answered by saying that I thought that the men may leave for different reasons, and in a different manner than women, but that I thought the numbers were about even. I thought that many women who leave do so because they are oppressed. I need to actually research whether there are more women leaving than men, because I don't actually know the answer to this question.
Overall, this was a very rewarding experience. I look forward to my next appearances with a great deal of anticipation. I only hope that my audiences will be as warm and embracing and as appreciative as my first one was. Thank you to all who were there!