I long, as does every human being, to be at home wherever I find myself.
~ Maya Angelou
One of my sisters, before my book came out, said that she thought I would just be in my element when I got up to talk in front of an audience. I agreed with her then, and now that I've been in front of 24 audiences, I still agree with her. This past week David and I went on a nine-day tour in which I gave eight talks in eight days. This was the most intense stint of talks yet. I talked in front of 319 people collectively, with my smallest audience yet being 17 people, and my largest one this week being 67. I still like conducting talks, especially the question and answer period, when I get to discover what is on the minds of the audience members.
I love doing book tours, but I am also very happy to be home. David and I have unpacked our bags and are taking a deep breath. It feels so good! Now we can get back into the daily routine of taking bike rides together, and keeping up the house and yard, besides making as much progress on the second book as possible. People we have read the first book are clamoring for the second, so it is inspiring to know we have an audience waiting with anticipation.
Several of you commented or left questions on my last posting. Thank you. Erik, you left several, which I want to address:
Saloma, hope you have/had a great trip. I'm really impressed by your energy level to have so many events scheduled in such a short time! I would think that reflects your passion for your topic and book. I'm sure it will go/went great.
My topic(s), I guess for when you return, and of course if you feel like answering:
What was the "toughest" question you got from your audiences?
What do you think are the most common misconceptions people have about the Amish? And the most bizarre?
Hmmm, the toughest question I've gotten? That itself is a tough question. There is a set of questions that have to do with why the Amish don't allow their children to go beyond the eighth grade, why my home community did not allow bicycles, or why the Amish are allowed to ride in cars, but not own them. In one case an earnest young girl of about nine asked me "Well, why didn't the Amish allow Christmas trees?" These questions are tough in the sense that I never knew the answer to them myself, so I don't feel I can answer them properly. But in exploring the one about limiting education, I discovered something I had never thought of before — this is not actually a "rule" in the Amish community, in the sense that the bishop of each district will include it during Ordnungs Church twice a year when he reviews the rules of the church (details about how women should dress, how they should dress their children, how men should dress, which forms of technology are not acceptable, etc). Education is not even discussed, because it is just a given that children will not continue school beyond the acceptable age (in my home community it was the eighth grade). Because it is such a given, it has become a tradition that people don't even think of challenging.
In nearly every audience, someone has asked me what my spiritual beliefs/affiliations are now. This I find particularly tough, partly because I am usually rather private about my spiritual beliefs. It is one of the things I agree with the Amish about — that my deepest beliefs are not that easy to articulate, and even if I could, I may not want to. Like the Amish, I feel that to talk about them reduces their power and authenticity.
I would say the most common misconception is the notion that young people during their rumspringa years, get to go out and taste of the world, and get a conscious choice about whether to stay or leave. I've addressed this issue several times over here on my blog: To Leave or not to Leave, That Sticky Wicket, and Rumspringa Revisited.
Perhaps the most bizarre misconception? I would have to say it's the one that the lifestyle depicted in Amish fiction is actually what it's like to grow up Amish. Very few Amish fiction authors grew up Amish. Nearly anyone who did grow up Amish will agree that there are some things you just don't "get" if you were not — you have to be there, or have been there.
Erik, thank you for your thought-provoking questions.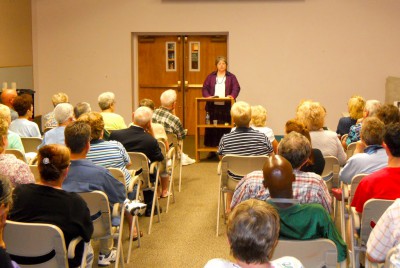 My talk at the Lancaster Public Library
There were 54 people in the audience — the librarian said this was double how many people showed up for Beverly Lewis. Ira Wagler was there, which was the first time I'd met him. His memoir "
Growing up Amish
" is coming out on July 1.