Thank you all, for your good wishes about the book tour. It's always a bit hard to know how many details are too many about my book promotion, because the main focus of this blog is "About Amish," at least what I know about it having grown on in an Amish community. But your comments have inspired me to talk more about my trip and the various venues.
David and I had several adventures on this trip that we had not expected. Our first venue on Sunday was at the
Whippanong Library
, where a nice crowd of about 45 people showed up for the afternoon tea that the librarian, Sulekha, who was a wonderful host (we would yet find out just how wonderful) had coordinated. After the event, when we were saying thank you, Sulekha said if we ever need a place to stay in that area, we should call her and gave us her phone number. David and I thought that was very nice of her, but we had already made plans, and we said good-bye to her before heading over to our friends', where we were planning on staying the night. We found a note on the door that let us know there had been a medical emergency (which turned out fine, thank goodness). We decided to go have some dinner at a restaurant we knew about in Mendham, New Jersey and talk about what to do from there. Just before this trip, we had signed up for "Mennonite Your Way," and we thought about calling someone on the list. Then I said to David, "You know what's weird — the librarian said we should call her if we need a place to stay."
A long story short, David and I enjoyed our evening in Sulekha and her husband's home. She made excellent Indian Chai, and we talked about our different cultures — they both grew up in India. We had a comfortable night's sleep in their wonderful home and by the time we headed out the next morning, we felt that everything happened just as it should have.
On Tuesday, David and I had lunch with
Lynn Kimmerle
, and then I did a talk at the
Chester Library
. That was a more intimate audience than I've had yet, with seventeen people. One of the things I enjoy most about talking in libraries is that I get to meet the librarians, who I find a congenial group of people as a whole. I enjoyed meeting Mary Murphy, who coordinated this event, who was a pleasant host. Sometimes it's nice to have a smaller audience, because then everyone who has questions gets a chance to ask them. We returned to Lynn's house for overnight. Lynn and I talked until 3 o'clock AM — something I haven't done for years. (She remarked that we are both old enough to know better).
On Wednesday, we went and visited our friends, Pat and John Anderson, who I first met when I was still Amish. I stayed at their home for several nights when I took a New England trip, and their daughter, who was in fifth grade, took me to her class for "show and tell." I subsequently left the Amish, less than a month after my visit with them and we lost touch for 33 years. Then they found me after my book was published. They have kindly hosted us several times when we were in New Jersey on tour. We look forward to hosting them at our house this summer. There are only a few people I knew when I was Amish with whom I am in touch with now. John and Pat Anderson are two of them. I feel very fortunate to have this connection, and David has really enjoyed getting to know them.
Wednesday night we had our largest crowd for the week, at the Warren Township Library. Marcela Dunham contacted me through Lynn Kimmerle some months ago, and she did a phenomenal job of promoting this event, so that she ended up with a full house (67 people).
I was very impressed with Marcela's dedication, especially when she said she was going to call everyone on her sign-up list, to let them know that there were people on a waiting list to get in and that if they were not coming, to let her know. She had also been proactive in letting me know what she thought her patrons would want to know about, so I tailored my talk to include the topics she suggested. Judging by the comments and questions people asked, she was a good judge of what her patrons like.
To add to her dedication, Marcela sent me an email with feedback and pictures. Below is a photo that shows a large part of the audience.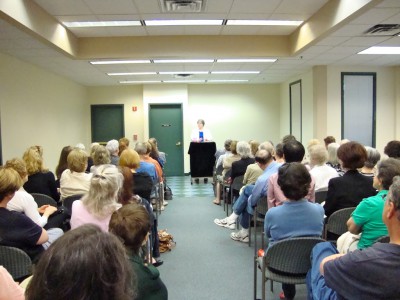 Talk at Warren Township Library in New Jersey
Marcela
kindly wrote: "
Our patrons at the Warren Library enjoyed your talk tremendously, and are still talking about it. Apparently some people congregated outside the library after your talk, still discussing the information you provided. It was informative and fascinating. Since then, every time I meet one of the attendees they tell me that it was one of my best programs!!"
On Thursday, I did two talks — one at Marion Manor for a book club. Frances Larkey, the events coordinator at the
Caldwell Public Library
, set up this talk. She thought we would have about 12 people show up, but more like 36 showed up for the talk. Then Frances took us out for a very enjoyable meal and chat before my talk at the Caldwell Public Library. Between 35 and 40 people showed up for that talk. I had a very pleasant surprise while setting up for the talk. I normally put on a CD of Amish church singing, as people are arriving. In this case, a woman was reading the New York Times, and suddenly she put down her paper and said, "Can you tell me what that music is?" I told her what it was, and she said it sounded just like the kind of singing that she grew up with at a Primitive Baptist Church, which I found fascinating. I invited her to give the audience a sampling of the singing she described, and she graciously did so — and wow, what a powerful voice! Her name is Johnnie Jones Tucker, and she is a Gospel Singer/Songwriter/Writer/Poet. It was a pleasure to meet her.
Frances Larkey is another example of a librarian who is not only congenial, but she also went above and beyond. She was a gracious and enthusiastic host, who was fun and easy to talk with. And she had obviously done a super job of promoting the event, judging by the enthusiasm of the comments and questions and the number of people who showed up.
I already mentioned the talk I did at the
Lancaster Public Library
, which was another great talk, with Sue Bowser as the host for that event. Another great job! David and I stayed overnight with the Wenger family in Lancaster for two nights. What a great family, and what fun their two daughters — Anna and Naomi — are!
Our last event took place on Saturday afternoon at the
Main Library
in Arlington, Virginia, when 23 people showed up for my talk, including four friends from that area. It was a great group. We then enjoyed our evening with our friends, Tim and Anne Hunt. We had dinner out, then we sat by their water garden, and chatted until we saw our first fireflies of the season.
So, one hearty thank you to all the wonderful librarians and hosts who helped make our tour a success last week. David and I are so grateful for all your kindnesses.