I've always loved autumn. Perhaps some of that comes from my childhood memories of the time when summer would change into autumn. I still notice the shift: the days are shorter, the nights cooler, the air gets that fresh and nutty smell, and I change what I cook to accommodate the autumn harvests of apples, pumpkins, winter squash and root vegetables — new potatoes, parsnips, beets, and sweet potatoes.
This time of the year also brings a certain nostalgia for what autumn would bring in my childhood. I remember Mem had been sewing "school clothes" for us all summer, so that on the first day of school, I could choose from two or three new dresses that had been ironed and hung in the closet, ready to wear to school. I loved to sit at my own desk at school and pull out clean sheets of lined paper and open the books that had been stored in the entrance of the schoolhouse all summer — each page held a new lesson — something new for me to learn. At recess I ran with the other children, playing Kick-the-can, Prisoners Base, Softball, or Freeze Tag until the schoolbell rang and we resumed our lessons.
I loved to go into the woods to gather hickory nuts and snip bunches of elderberries off the bushes by their stems as the blue jays screamed out their protest that we were taking their food; walk deep into the woods and find the brightest and most colorful autumn leaves and take them home and iron them between waxed paper or dunk them into melted paraffin; find a big acorn cap and place my thumbs just so and then blow into it to make a loud, shrill whistle that made the squirrels scamper up the trunks of large oaks; try to catch the leaves that fluttered down from the tall maples, beeches, and oaks surrounding our house; make piles of leaves that was taller than me and then bury my siblings in that pile, or have them bury me; or sit quietly in the "autumn woods" by a spring and observe the little birds and creatures of the forest.
Columnist Doug Larson wrote, "Nostalgia is a file that removes the edges from the good old days." Perhaps he's right. But that also means we have some good memories that we want to separate from the rest. And once in a while I am grateful for these good memories, even if I have to file the edges.
What memories do you have of autumn? What is your favorite season?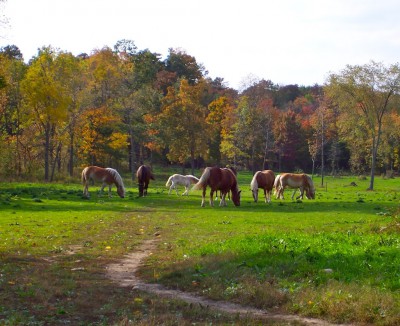 The woods behind these horses is where we used to gather hickory nuts and elderberries.
P.S. I've had a fairly hectic travel schedule, which is not letting up anytime soon. I will post again as soon as I can. I appreciate your visits and comments in the meantime.