For the first ten years after I left the Amish, I didn't want to go into my home community or any other Amish community. Since then, my inner struggle to come to terms with my Amish past has brought me more peace with the culture. Now, thirty-one years after my final exodus out of the Amish, I find myself drawn to Amish areas. I look for similarities and notice differences from my home community in Geauga County, Ohio. Traveling to various communities in Indiana was no different. Below you will find several photos I took in Northern Indiana, along with comments.
160 people showed up for the talk at Goshen College
The talk at Goshen was wonderful — very attentive audience and great questions. At some point Ann Hostetler, who had coordinated this event, asked everyone to raise their hands if they were of Amish descent within the last two generations. I was astounded when the majority of hands went up! I was so glad Ann thought to ask that question.
I encountered something in Indiana that I hadn't experienced much before. I had several people of my parents' generation tell me that they were former Amish, and that they were never shunned. Then two people proceeded to let me know that my experiences are not typical. I felt I had given a fair and balanced viewpoint of my experiences among the Amish, as I tend to do. I also try to convey that this was my experience within my family and my community and that I have no idea how "typical" my experiences were. At least two people were very defensive on behalf of the Amish culture, to the point that they didn't want to hear any criticisms. I encountered at least five people of that age group in that part of Indiana who said the reason they left is for more formal education. One person was not the least bit defensive and explained how there was an exodus out of the Amish in Northern Indiana by quite a few people to achieve higher education during his generation. He claimed that at the time he left, there was only a 57 percent retention rate among the Indiana Amish (according to the
Amish Studies
website, the current overall retention rate is around 85 percent, though I don't know what Northern Indiana's is by itself.) I found this fascinating, because when I was growing up, my parents' generation had us young people thinking that with each generation, more of our heritage or adherence to Amish principles are eroding. As I learn more about the various Amish communities, it seems that there have been times that the Amish Ordnung was more lenient and somewhere along the way some communities became stricter. Very interesting!
When former Amish people romanticize the Amish to the extent I just described, my obvious question is, "Then why did you leave?" And whether that reason is for more education, because they had a conversion experience, or that they wanted more freedom, it seems some of these people think theirs is the only valid reason for leaving and they become staunch defenders of the faith. I've had several Amish people in my audiences, none of whom were defensive and yet several of the former Amish I encountered in Indiana were. Again: very interesting!
You are probably ready to just scroll down to the pictures… so here they are!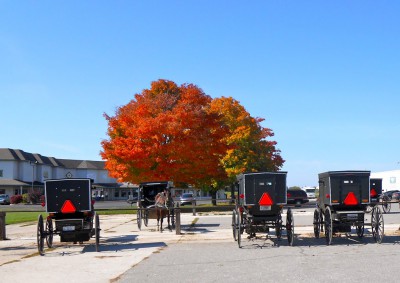 Autumn in Shipshewana, Indiana
These buggies are shaped differently than in my home community. In Northern Indiana, the Amish have licenses on their buggies. I don't know what went into that decision, but I cannot imagine that it was something the Amish volunteered to do. Though the Amish in this area are more lenient on many rules, I find it interesting that their buggies are not more visible at night, especially from behind — those two red lights or reflectors are not much. In Geauga County the Amish have many lights and reflectors, so that they can be seen from a long way away, at least in the flat areas.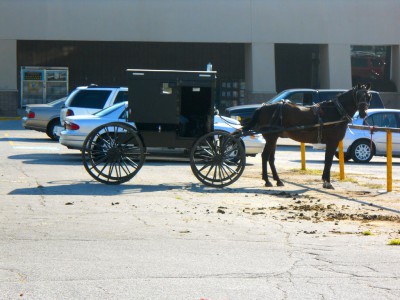 This horse seems to be posing — in Geauga County the horses are more modest.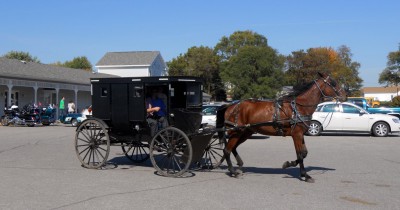 Profile shot in Shipshewana, Indiana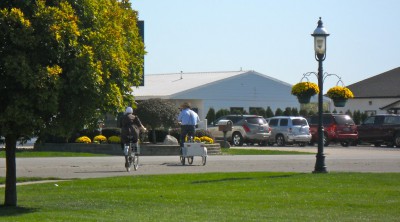 Bicycles were not allowed in my home community. I often wonder if I'd have left if we had been allowed to have them.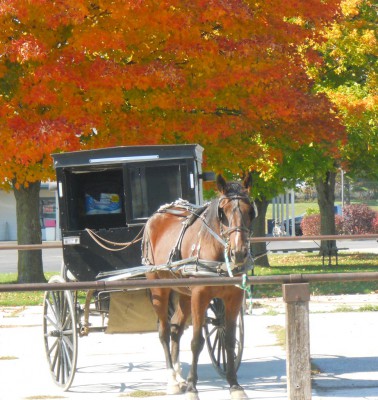 No, this horse and buggy did not travel all the way to Vermont, though that tree looks like it belongs there.