I was cold the other night, so I took our thick comforter out of the cedar chest and got under it. I was soon warm, but what I noticed first was the smell of the cedar transported me back to my childhood. In a flash, I was back in the cold upstairs of my childhood, shivering under the covers, with my back up against one of my sister's to get warm. I recalled how, as each cold season approached, we would put a warm blanket on our bed. When that was not warm enough, we'd pile another on our bed, until we had a pretty big and heavy pile of blankets that would have to keep us warm through the winter.
We had no heat in our upstairs, and our walls were not insulated, which meant it got as cold in our upstairs as it was outside, minus the wind (mostly — if we got too close to the windows, we could feel the wind coming through the cracks). We'd take our nightgowns down by the wood stove and change into them. We'd wrap a blanket around ourselves and then run for our beds and dive under the covers. As a young child, I would do that in my bare feet, and then the challenge was getting my feet warmed up. Later, I wore white cotton socks, which helped a lot.
Getting up in the morning was brutal. I used to describe it as having to jump out of a warm cocoon into freezing water. Most of the time we didn't have privacy by the wood stove in the mornings, so we had to get dressed upstairs. Brrrr! Our teeth would chatter!
Most Amish homes had a register in the floors upstairs, which would allow the heat to rise. My sisters and I kept asking for us to put one in, but it never happened.
Memories like this always make me ever more grateful for what I have now. So this Thanksgiving, I will add "living in a warm, comfy house" as one of the things I give thanks for.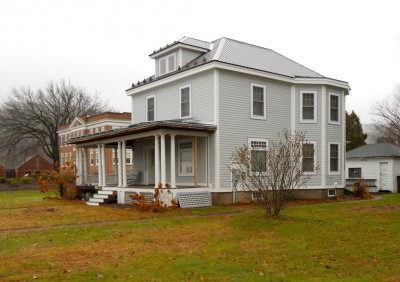 Photo of our house today after completion of a "deep energy retrofit"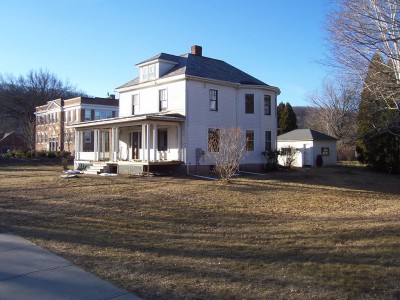 Before the house was insulated and when we could feel the wind coming through the cracks of the windows.
What is one thing you are grateful for this Thanksgiving?
I hope you all have a holiday filled with love, health, warmth, and good cheer!
See you soon!