I'd like to send my condolences to the family members, friends, and colleagues of Stephen Scott, who died last week. You can click
here
for his obituary.
I got to know Stephen Scott when I was doing my internship at the Young Center. I could usually count on him when I needed help with anything, including solving technology glitches. He remarked on that one day… how it's ironic that a Plain person ends up becoming a technology geek. He was a member of the Old Order River Brethern and was therefore close to the subjects he wrote about the Amish, like the book "Why Do They Dress that Way?"
Stephen and I had several philosophical discussions about Plain cultures while I was working there. In his own quiet way, he helped me see things from a different point of view at times. And he was a calm listener, which made it easy to discuss such things.
Stephen Scott will be missed by many. My heart goes out to his family and colleagues at the Young Center. May he rest in peace.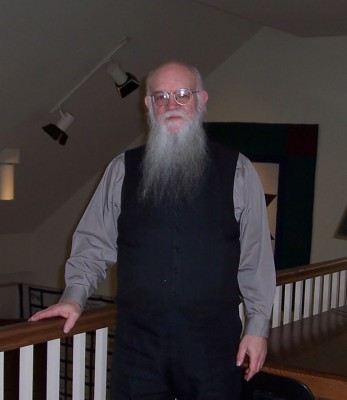 Stephen Scott in February 2006 at the Young Center