When I was a child, our nearest neighbors were English. They lived just across the lane from us. Their two youngest were my sister Lizzie's and brother Joe's ages. Susan and Brian were fun children to play with. I mentioned in my last post that we used to play school with Susan in their old barn. She was a born teacher. She went on to become a special education teacher in Holmes County, Ohio, where many of her students were Amish.
Brian wasn't into playing school. He was much more into playing baseball and other sports. He and Joe used to be good buddies. Here is a photo of Joe throwing a ball to Brian. It looks like he was in charge of us younger children, for he is holding onto the handle of the wagon with a younger sister in it.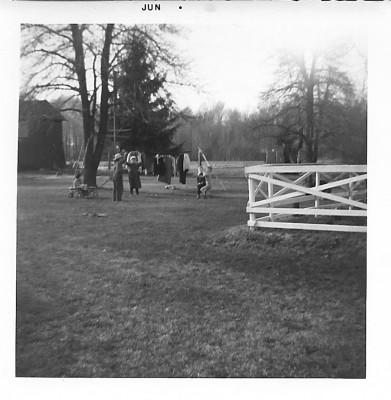 Brian was also into playing musical instruments, though this is not something I would have noticed much, given we were not allowed to have musical instruments or listen to music. He is now the Principal Trumpet player of the Winnipeg Symphony Orchestra and the Manitoba Chamber Orchestra.
Below is a photo of an outdoor birthday party at the Sykora's picnic table. I don't remember whose birthday it was, but most likely either Susan's or Brian's.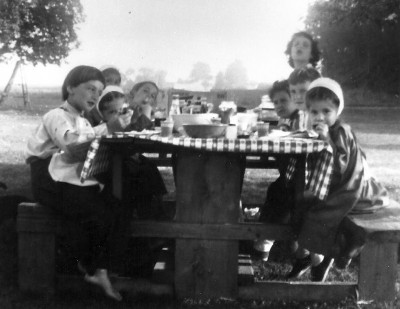 Joe is on the end on the left, I am on the end on the right. I think that's Brian blowing the bubble with the gum way back on the left hand side. I think Susan Sykora is standing up on the right, in the back. 
In this next photo, I think Joe, Lizzie, and Brian might be teasing me, judging by the body language, but it's hard to tell. I would have been six years old, Lizzie and Brian would have been seven, and Joe nine.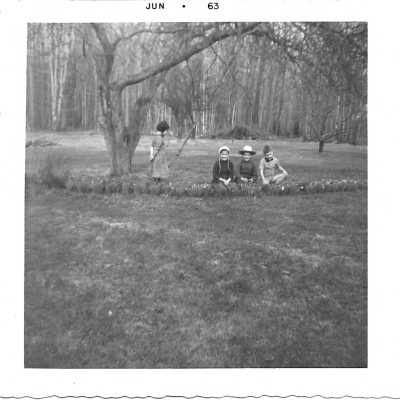 Their father was an avid gardener, as you can tell from the background of this next photo.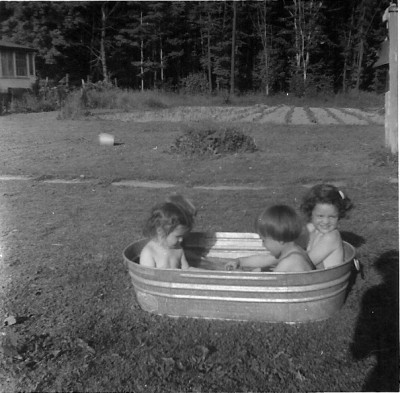 From left to right: Lizzie, Joey, Susan Sykora, and in the far left, back, you can just see Brian's head. This is the bathtub that we used in our living room on winter nights to take a bath. Aren't they all so cute?
So these are some of the photos that Susan's and Brian's mother snuck of us as children. I'm so glad she did… these are great reminders of what it was like to play in the Sykora's yard with Susan and Brian. I have such fond memories of that.
What fond memories do you have of playtime in your childhood? Did you play with your siblings or also with neighbor children? I have to wonder if a neighborhood of children playing together is a thing of the past. What do you think?