Erik Wesner is the author of Success Made Simple: An Inside Look at Why Amish Businesses Thrive. I had the pleasure of meeting him at the Forgiveness Conference at the Young Center in Elizabethtown, Pennsylvania last year. He is a thoughtful and insightful researcher of Amish culture. Success Made Simple is his first book, but I don't think it will be his last.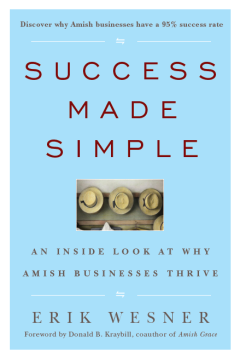 Erik is also the writer of the blog Amish America. If you haven't already, do check this out. I told him when I spend more time on his blog than my own, it must mean that his is more interesting than my own! He is very good at examining issues that I tend to take for granted.
Here is my interview with Erik Wesner:
How did you conceive of the idea for your book, Success Made Simple?
It hit me one day when I was out jogging.  I had an unusual job for a number of years–selling books in Amish communities (mainly a 10-book set called the Family Bible Library).  Doing that job, I visited a lot of Amish homes and Amish businesses as well.  I was impressed that these places seemed so busy and simply to be doing well.  
I had read a book called Amish Enterprise: From Plows to Profits by Donald Kraybill and Steven Nolt, which gives an in-depth look at the migration of Amish from farms to business.  It struck me that it may be interesting to hear more about the businesspeople's stories and their ideas on how to prosper in business.  So it was inspired by Amish Enterprise but is a different format–more a business how-to book, told in large part through Amish voices.  
What vision did you have for it? (For its audience, reception, sales, and overall success?)
Since it takes the Amish as its subject it's an atypical starting point for business books.  I wasn't sure how it would be received–I figured it would get some attention, but I was surprised that quite a few major media outlets took interest in it, including Time magazine, CNN, and numerous business publications.  I wrote it for an "English" audience, while also trying to make it appealing to an Amish readership.  I've had a good bit of readers in both categories, and some nice feedback from both Amish and English.  Overall I've been pleased with how it's been received. 
How long did it take to get this book published after its conception?
From conception to actual publication date was about 3 and a half years.   After I signed a contract with a publisher I had about 18 months to get a final manuscript together.  
You obviously did a lot of research for this book. What were some of the challenges you faced? What about surprises?
I interviewed 60 Amish businesspeople for the book.  My road was paved in a sense by the relationships I had established beforehand, stemming from my own book sales experience.  Some of my interviewees were friends and acquaintances I had kept in touch with since selling books.  
Others were just people that had purchased books from me a few years before, and we hadn't been in touch since.  Still others were referrals from people I knew.  The vast majority of people I asked for an interview agreed, so I felt good about that.  Most were interested in the topic and quite a few have read the book since it came out.   
Challenges included writing the book while living in Poland.  I made 6 or 7 total trips to Amish communities during the research phase, but most of the actual digestion of info and putting things on paper happened when I was overseas.  Not the typical way to write an Amish book I guess.  
I was surprised at how candid some of my interviewees were.  Some people were more guarded about what they said, others were very comfortable discussing the topic at some length.  I think the fact that I assured people that I wouldn't use their real names helped (although at least one of my interviewees asked why I even did that–"we don't have anything to hide!").  
Do you think the Amish were forthcoming about safety issues concerning themselves, their employees, and their children involved in the business?
It's a good question.  The issue came up a couple of times during my interviews, but safety wasn't really a primary area of focus for the book, so I simply didn't explore it deeply.  My feeling is that an Amish existence is on balance more physically dangerous than a suburban one, for both adults and children (I asked the same question on a post on my blog last year).  It's closer to the rural experience that past American generations had.  
Have you received any feedback from readers who used your book's principles to help them succeed in their own businesses?
I have gotten positive feedback from readers who've applied the ideas.  The core message is getting back to basics, doing the simple but sometimes overlooked things well.  I think that idea resonates especially now in times of economic uncertainty and also following examples of businesses and people who maybe lost track of that idea.  
You have several overall messages in this book — I like the one that we do not need to become Amish to use their business principles. Do you think this is true in other aspects of life as well?
I think "Amish principles" for lack of a better term (those positive things outsiders admire about Amish) work–or rather, work to the degree that they do–to some extent by virtue of being in an Amish context.  In other words I think it helps to have a more-or-less uniform group having the same beliefs and same commitments to the group, and a unifying religious motivation.  
I think we can be good to our neighbors like the Amish do, though, without being Amish.  Amish are in some sense bound to act well towards their neighbors (though Saloma I'm sure you can attest to examples when that wasn't the case!), so there is probably a greater certainty of seeing  happening in an Amish setting.  That said ideas such as frugality or neighborly cooperation or treating others like you want to be treated are hardly exclusive to Amish and do of course exist in other settings.  
Has your vision for this book been realized?
That's a broad question, but part of the vision is simply getting a first book published.  As you know Saloma it can be hard to measure the impact your writing might have outside of the things you hear from people who take the trouble to share.  But on that scope I feel good I was able to publish a book with a positive message that I hope has ideas people will find useful. 
Do you have plans for writing any more books? If so, on what topic(s)? 
I have another book in the works now.  It's subject is lesser-known facts about the Amish.  I get a lot of questions via my website, some of which I don't have answers to, so it grew out of that (maybe I need to interview you again Saloma!).  Things like: "Do you have to be a certain age to become a bishop?" or "Are quilts in Amish homes the same as the ones in shops?" 
It's been nearly done for awhile, but things got delayed a bit.  As of this month (Feb 2012) I'm revving up to get it finished.  Has been a lot of fun to research and (I hope) read.  I'll have more info upcoming on my site.  
Please tell us how we can buy your book. 
Success Made Simple is available at all major online sellers; I'm a fan of Amazon.  You'll also find it in some bookstores in Amish areas.    
Please tell us about your blog "Amish America" and provide a link. 
At Amish America we explore a wide range of Amish themed topics, including Amish settlements, beliefs, practices, use of technology, controversies, and much more, with a new daily post Monday-Friday.  
One thing I like about the site is the atmosphere of people sharing their ideas and experiences.  We have many wonderful readers who contribute a lot themselves.  So feel invited to pay a visit and share your thoughts in the comments.   You can find us at amishamerica.com.  
Erik is kindly offering a giveaway of his book. To enter, please leave a comment or question below and state clearly whether you would like to have your name included in the drawing. I will draw a name next Friday, February 10.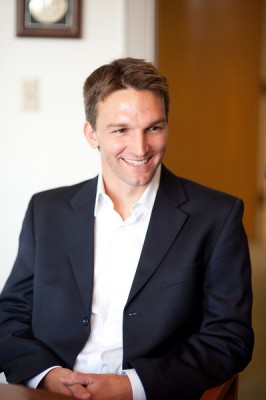 Photo courtesy of Belmont University