One of the questions I get frequently at my book talks is how I was able to come up with money to leave home the first time.
As soon as I was through school, I began working out of our home. I babysat for more than a year, then I took on cleaning jobs. I cleaned house for seven different families, Monday through Saturday. At the time I was making $15 a day, but I had to hand my wages over to my parents because I was not yet 21 years old. I did get $5 a week for allowance. All the families I cleaned for knew I was not allowed to keep my own money, so they would often gift me $10 or $15 for my birthday and also at Christmastime. For the five years that I cleaned, I kept depositing this money into my bank account. In the back of my mind, I would think, "It's there if I ever need it." I wouldn't allow myself to go as far as thinking that I could use it to leave home, but that is exactly what I ended up doing.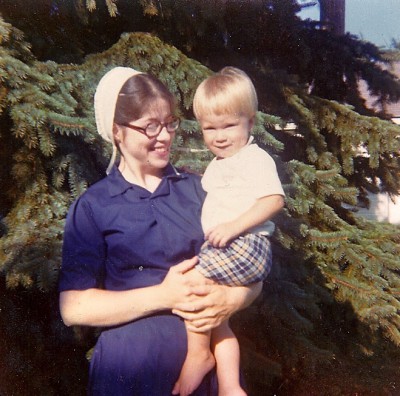 Me at my Monday job with the little boy I babysat, Scottie Bartholemew.
The day before I was scheduled to leave, I asked Mem if she wanted to share the taxi fare (hiring a neighbor to drive us in her vehicle) to go to Middlefield. She did, and that is when I emptied out my savings account. I had been planning my trip out of the Amish for a little more than a week, so I also kept some from my earnings, before I handed the rest to Mem.
When I left home that Tuesday morning, November 7, 1977, I carried just under $400 in my little overnight suitcase, along with my underclothes. This is what got me by until I began earning it in Burlington, Vermont. First I earned money by cleaning houses, and then I began working in pizza kitchens, until I got my dream job — a waitress at Pizza Hut! I was working there when the Amish came to escort me back to the community.
I'll never forget that morning when I stopped by the Pizza Hut to turn in my uniform and tell my boss that I was returning to the Amish, where I had come from. He kept peering under my bonnet, as if he was trying to put together this person with the one who had been waitressing in the restaurant the night before in a uniform. He also kept looking at my two shadows — my sister and my friend, who were assigned to walk lock-step with me wherever I went. I really would have loved to have given him a penny for his thoughts at the moment I walked out in my plain clothes with Sarah on one side, Ada on the other.