I just realized that I never posted this, so I am doing it now… though a little out of order.After I was back in my Amish community for more than two years, I was getting restless. I knew that I would most likely be going through life without a marriage partner, for the Amish men were not asking me for dates. I think the word was, "She left once, she could leave again." And as I always say, "They were right!"I had been teaching for two years, but when I was asked to teach again, I declined. I wanted to travel, and being in the classroom did not allow for that.I was in counseling at the time, and at some point, I had decided that I wanted to leave. Now it was just a matter of where I was going, for what reason, and when. I had learned from my counselor that in the South there were many inexpensive colleges and universities that I could work my way through. I was considering that. Then came my birthday, and with it a card from David.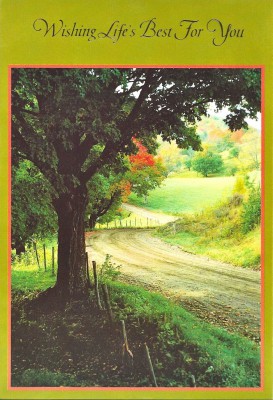 He knew just what I loved. This scene was exactly what I needed to see — it rekindled my desire to again be in Vermont — the land of my dreams. And what a nice line: "Wishing Life's Best for You." How did he find such perfect cards? The inside of the card read:
Happy Birthday! It is not hard to remember your birthday since it is the day after mine. Whenever June comes around, I find myself thinking of you. 

Are you coming to Vermont this summer? If you manage a visit you are welcome to come over and see me. Bring along anyone you may be traveling with. It would be nice to see you again and I have so much  to talk about. 

Saloma, if you are unable to visit Burlington this summer, then you must write and tell me how things are going in Ohio. I do enjoy hearing from you.

Your friend,
David
So, David was still — after more than two years of waiting — offering me his outstretched hand. It wasn't like I didn't know what I was getting myself into — David and I had been romantic with one another before I left Vermont to go back to Ohio.David came to visit me (on the sly) one August night when the moon was shining bright. We walked and talked, drove around in his pickup and talked; and around 2:00 AM, he dropped me off, with a kiss, and left.I did travel that fall instead of teaching — I bought a fifteen-day bus ticket to anywhere in the U.S. and traveled to New England. David's sister was getting married, so I went to her wedding. This was the first time I met his family.Then I spent seven glorious days with David. We drove around Vermont, biked in Woodstock, Vermont, listened to Paul McCartney on tape. We both loved "Mull of Kintyre."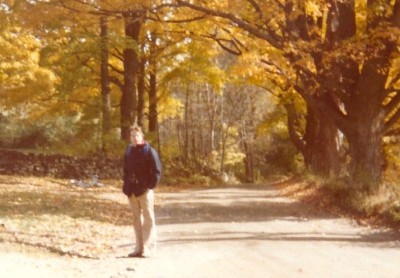 David in Woodstock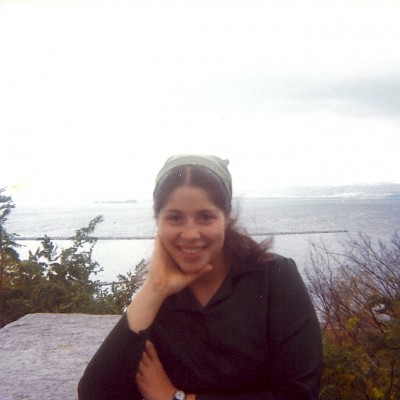 Me by Lake Champlain; I am dressed "half-Amish"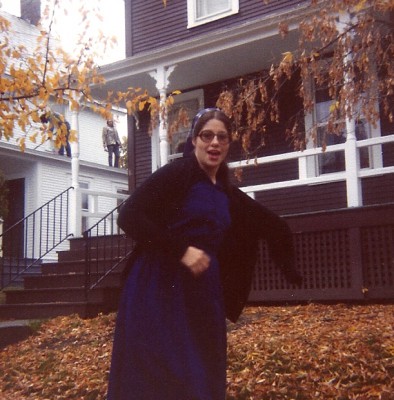 Caught me by surprise
In David's backyard with Mt. Mansfield in the background
Sometime that week, sitting by a waterfall, David and I finally talked about our feelings for one another. Now we were in a fix — we knew we wanted to be together, but we had to figure out how that was going to happen. Before the week was out, we decided I would go back and stay until after the holidays, but then David would help me leave.
I did go back — but I didn't make it through the holidays. I left on November 7, 1980. It was exactly three years after the first time I'd left. David came in this little yellow Datsun pickup truck to take me, along with my belongings, to Vermont. It was the land of my dreams, and I would be with David, the love of my life.
Recently, at a book talk, David and I were talking about this part of our story and a man in the audience declared, "Well, then David is the hero of this story!"
I wholeheartedly agree.